NBA Finals Schedule 2012: X-Factors That Will Send Series to 7 Games
June 18, 2012

Mike Ehrmann/Getty Images
With the 2012 NBA Finals in full swing, it's time to look at the schedule and realize time is running out on the postseason.
Oklahoma City is down 2-1 in the series with the Miami Heat, but there is a chance that these teams won't be done battling until all seven games are used.
For that to come to fruition, the following players must step up. If they don't, they will help sink their team's ship.
While Kevin Durant is doing everything he needs to do offensively and defensively, there is one aspect that he needs to fix fast: fouls.
LeBron James has made a conscientious effort to drive right into Durant's chest as often as possible, and Durant must return the favor. With incredible length, Durant should be drawing and-1's like it's going out of style.
Oklahoma City is in serious trouble if they don't get their star sniper out of the foul rut he's in by forcing him to change the way he plays his game—at least until James gets in his own foul trouble.
Mario Chalmers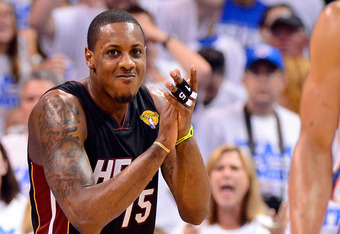 Ronald Martinez/Getty Images
If it wasn't for Russell Westbrook shooting himself in the foot in Games 2 and 3, Miami point guard Mario Chalmers would be on the hook for absolutely disappearing.
The Heat needed their PG to step up his game during the Finals, but they've been forced to switch Wade to Westbrook at times because Chalmers flat-out couldn't do it.
Chalmers best asset was always his three-point shooting, and the fact that even that isn't working right now proves he needs to step up in order for Miami to withstand OKC's push.
Kendrick Perkins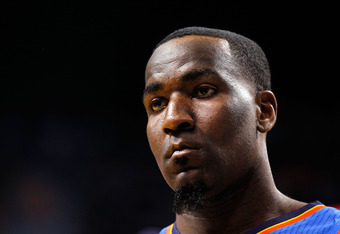 Mike Ehrmann/Getty Images
While many basketball fans won't want to hear this, Kendrick Perkins needs to be the Thunder's tough guy and send a physical message to LeBron James.
With King James running through the lane like he owns it, Perkins must begin to make his fouls count and drive a little fear into the heart of the Heat's top scorer. If he fears driving the lane, he will be forced to depend on his streaky jumper.
Perkins hasn't added much offensively or on the boards, so he needs to make his mark in another way. If that means laying James out once, so be it.
Remaining NBA Finals Schedule
Game 4: Jun 19 9:00 p.m. EDT @MIA (TV: ABC)
Game 5: Jun 21 9:00 p.m. EDT @MIA (TV: ABC)
Game 6: Jun 24 8:00 p.m. EDT @OKC (TV: ABC)*
Game 7: Jun 26 9:00 p.m. EDT @OKC (TV: ABC)*
*if necessary
Check back for more on the National Basketball Association as it comes, and don't miss Bleacher Report's NBA page to get your fill of all things basketball.