Tiger Woods: Disappointing Weekend Shouldn't Overshadow Strong Start at US Open
June 18, 2012
David Cannon/Getty Images
Tiger Woods isn't "back," but he sure is making some serious strides in that direction.
If you merely looked at the results of the 2012 U.S. Open at the Olympic Club in San Francisco, you'd assume it was another disappointing finish for a guy who hasn't won a major since 2008. He finished tied for 21st at seven-over par.
But aside from a rough Saturday and a horrific start to Sunday, Tiger played some great golf.
The first two days of the tournament were filled with players over-hitting, and a spot in the rough was their reward. On Thursday, Woods' two playing partners, Phil Mickelson and Bubba Watson, both tried to use their mega drives, and both were all but finished after the first 18.
Woods played much more conservatively, hitting the ball almost 80 yards less than Watson at times. But the strategy worked out, as he rarely had to deal with bunkers and roughs. The result was a 69, which ended up being one of the better rounds of the entire week.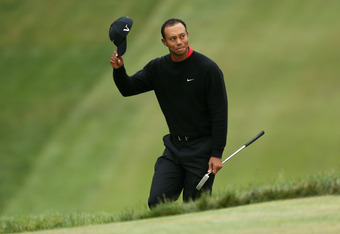 Andrew Redington/Getty Images
On Day 2, it was more of the same, this time with some more brilliant putting mixed in. He finished Round 2 with a 70, and he seemed to be one of the only players that properly adjusted to the slow greens.
Sure, he blew up on Saturday and all but ruined his chances, but it's the adjustments and game plan that he had on the course that really have to make you feel excited for Woods. He is not over-thinking his swinging motion and is simply firing away.
His confidence is clearly returning, as he seems to finally be relaxed on the links after three years of looking like he could suffer a nervous breakdown at any given time.  
While stretches like the first six holes on Sunday show that there is still plenty of work to do (+6), there is no question that the 2012 U.S. Open signified substantial progress on his long trek back to the top of the golf world.
While I won't guarantee a win at one of the two remaining majors of the season, I certainly don't expect a repeat of the Masters.
Woods will be "back," but as we are all finding out, it's going to be a rather lengthy process. This past week was a sizable step in the right direction.