MLB: Are No-Hitters Becoming an Overrated Milestone Achievement?
June 18, 2012

Mike Stobe/Getty Images
As listed on my writer profile, the most memorable game I have ever attended in my life thus far was at Comerica Park in Detroit in June of 2007.
The Milwaukee Brewers were in town to take on the Detroit Tigers in an interleague game. Aside from perhaps the excitement of interleague play, this game had no further appeal to it. It was not a playoff game; win or lose, it wouldn't have had much bearing on the standings, considering it was just a couple months into the season.
However, the final result and the buildup and drama that led up to it was a once in a lifetime experience—or so it seemed then.
On that night, Justin Verlander of the Detroit Tigers threw the first no-hitter of his career and the first and only no-hitter I have ever witnessed in person.
From about the fifth inning on, every pitch Verlander threw felt like the World Series was on the line. From those around me, and from talking about it in the following days and weeks to those who had attended World Series games, it perhaps even surpassed the excitement of a World Series game.
A particular scene sticks out in my mind following the final out, and the celebration that followed: An older man with tears in his eyes taking off his cap and putting it on the head of a young boy who looked to be around eight years old, saying, "Remember this day forever, son."
You see, a no-hitter is something that you could never see in your lifetime in person. It's more rare to see in person than, say, Haley's Comet, and to a diehard sports fan, perhaps more special.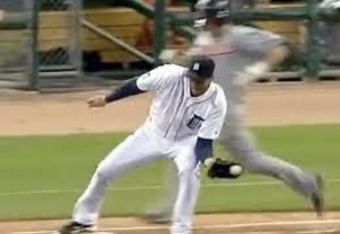 The Detroit Tigers now have seven no-hitters in their franchise's history; however, before Verlander's no-hitter on that summer evening in 2007, there hadn't been one thrown in Detroit by any team's pitcher since 1973, and before that, it hadn't been done in Detroit since 1952.
You could potentially have been a season ticket-holder in Detroit from 1975-2005—a whole 30 years—and never have seen a no-hitter.
Yet since, you could have seen Justin Verlander throw one in 2007 and come one out short last month. You could have even seen Armando Gallaraga throw a perfect game in 2010 only to have the final out blown by a first-base umpire.
Isolated incident? Perhaps. But consider that the Mets hadn't had a no-hitter in franchise history, yet had Johan Santana throw one earlier this month and R.A. Dickey get a one-hitter just a week or so later (which is currently being appealed by the team, perhaps also to become a no-hitter).
Even this past week, Ervin Santana and Jason Hammel have had one-hitters to join Verlander, who earlier this year also recorded one. Of the 30 MLB teams, only 13 teams haven't had a no-hitter thrown by a pitcher on their ballclub since 2000.
Just under three months into the season, there have already been five no-hitters. Add Dickey's appeal and Verlander's one-hitter, and you've got seven no-hitters already, tying the MLB record for no-hitters in a season.
According to an article by Dave Sheinin of The Washington Post, with Matt Cain's perfect game last week, there have been 22 perfect games in MLB history, and half of those have come in the last 24 years.
Now, I'm not saying a no-hitter is nothing to get excited about, or is going to eventually be as frequent as a walk-off home run. But considering the sudden rise in no-hitters, and even the quality of some of the pitchers to get them like Phil Humber and Dallas Braden (and even Armando Gallaraga, who should have one), the phenomenon is becoming more commonplace.
No-hitters no longer seem to be an achievement associated with legends of the game like Nolan Ryan, Don Larsen or Randy Johnson. Instead, no-hitters are for guys who just seem to have good stuff that day—and that is a lot like just making good contact for the usual walk-off home run.