The EPL's Most Valuable Players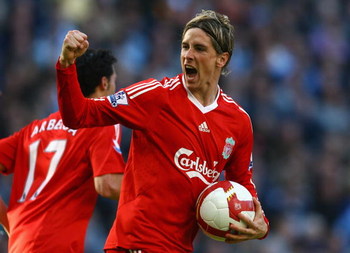 In this brief slideshow, I will provide my rather inexpert opinion on who the most important player for the EPL's best teams is.
By important, I mean valuable, of course. The best criterion, in this case, will be to judge how replaceable the player is.
A player may be spectacular, but if the team can adequately replace them, it is hard to justify them as the team's most important player.
I will not attempt to provide an opinion on the most important player for many of the Premier League's also-rans, because, quite frankly, I do not know enough about those teams.
If you have a different opinion or can offer who is the best player for a team I did not mention, please let me know.
For each one, I will mention a few alternate candidates.
Liverpool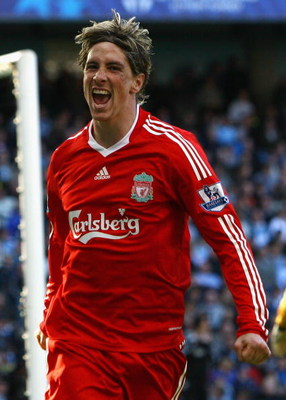 I did this one first because it may be the most controversial.
Stevie Gerrard is a modern Scouser legend, and the fans love him. But I think Torres is more important to this year's success.
Sure, Gerrard has scored more than his fair share of massive goals, but Torres is an incredibly clinical striker. He is the best pure striker in the Premiership. His ability to score goals whenever and wherever will be of the utmost importance for a Liverpool team that looks frequently lifeless offensively.
This is well evidenced by his late game-winning goals in the last two games against Chelsea and Blackburn, respectively.
Other possibilities: Steven Gerrard, Xabi Alonso
Manchester United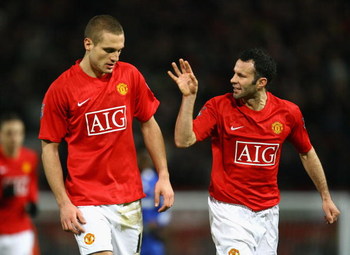 This is probably not an ideal selection, as it is not necessarily him specifically that is most important to Manchester United.
It is their phenomenal defense, which is shutting out opponents for unprecedented amounts of time. And Vidic is the best player and core of the defense.
Of course, many and most will advocate for World Player of the Year Cristiano Ronaldo, who is, it goes without saying, a phenomenal player. Denying this is really pointless. However, he lacks the same edge and sharpness that he had last campaign (dreams of Madrid?).
Even with that being said, with the superfluity of offensive talent at Old Trafford, I figure they will get their obligatory goal somehow.
What is important is that the defense keeps on doing, more or less, what it is doing now. That is how they will win, especially in the Champions League. In a theoretical match-up with Barcelona, they have a better chance in a low-scoring game; that will be their way to a possible repeat.
Other possiblities: Cristiano Ronaldo
Arsenal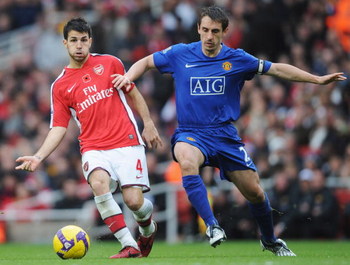 Fabregas is the engine that makes the Arsenal team run. He is also out right now, which is very difficult for Arsenal to cope with. With no presence and distribution in the middle of the park, they have struggled mightily to formulate much of anything in attack.
Van Persie has done a lot to save Arsenal's season, in some way accounting for the vast majority of their goals in the past few months. He has been the most valuable player to Arsenal's season, but Fabregas is the most important player to Arsenal when he is healthy.
Other possibilities: Robin Van Persie, William Gallas
Chelsea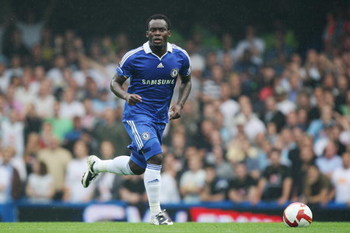 I found Chelsea a very difficult team to extract one most important player from. They have no one individual that sticks out from the rest, in my mind.
Anelka, when not benched inexplicably for Drogba, was clinical. But, in many ways, as the sole striker, he was the beneficiary of what happened behind him.
It may seem logical to work from the ground up. But I am not a particular fan of Terry or Carvalho, and I find them hard to differentiate.
The midfield is the most important part of the formation for Chelsea. They play five there, essentially, and seem to focus their style around their midfield players.
It is the midfield that has to be blamed in large for the lack of dynamism plaguing Chelsea of late. Deco and Ballack have been subpar, Obi Mikel has done his job, but not extraordinarily so. Lampard has been fine, not horrible, but not his shining best either. Anyway, I never felt like he defined that team, even if the media wished it so.
The most important player for Chelsea, much like Arsenal, is injured at the moment. It is Michael Essien. He is the type of multi-talented center midfield player that can make a world of difference for a team.
His combination of work ethic, defensive ability, and occasional and timely attacking panache was massive for Chelsea in years past. His flexibility was of great value as well, patching holes where they existed and allowing Chelsea to retain a fluid, stable form.
Perhaps I am wrong, but Essien would make an enormous difference for Chelsea were he playing, and in fact, I think he is their most important player.
Side note: is it coincidental that the two teams whose listed most important player, Arsenal and Chelsea, are the two clubs struggling most? It obviously does not explain everything, but it is interesting.
Other possibilites: Frank Lampard, John Terry, Ricardo Carvalho, Nicolas Anelka, Jose Bosingwa
Aston Villa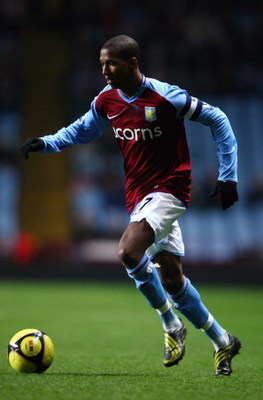 This is a tough call. Aston Villa have three tremendous players. The two attacking players, Young and Agbonlahor, are hard to distinguish.
Barry continues to be the steady and influential presence in the center of the park. Even Laursen was valuable in the back line, at least before he got hurt.
Young, however, embodies for me the jump Aston Villa have made. He is the type of elite talent and playmaker that perhaps Aston Villa does not see often. He is the type of player that can win a game on his own, and he has done as much a few times.
Aston Villa's emergence is due to many factors, but the more dynamic attacking edge they have is likely the most important. And Young deserves much of the credit for this.
Other possibilities: Gareth Barry, Gabriel Agbonlahor, Martin Laursen
Everton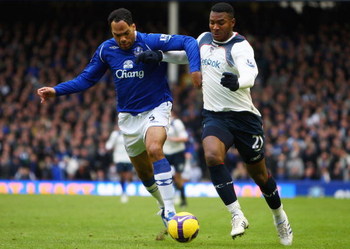 Everton are the type of club that put in steady, consistent performances, and often get fifth position for it. Thus, it is hard to isolate an individually important player.
It has to be Joleon Lescott, though. Besides contributing to Everton's steady defense, the man has an odd knack for being in the right place and scoring goals, especially key ones.
There is nothing that screams "flair" about his game, but he just has his odd way of making the necessary difference for Everton to get results.
other possibilities: Mikel Arteta, Tim Cahill, Tim Howard
Keep Reading