LaDainian Tomlinson Retirement: What Today's Top RB's Must Learn from LT
June 18, 2012
Lisa Blumenfeld/Getty Images
LaDainian Tomlinson's career has set a standard for all NFL running backs to come after him.
Easily one of the best to ever step on the field—and not just at his position—Tomlinson averaged 1,945 total yards per year through his first eight NFL seasons.
During this span, Tomlinson never gained less than 1,100 rushing yards and he set an NFL record for most touchdowns (31) and rushing touchdowns (28) in a single season (2006). Tomlinson was also one of the most respected players in the league and displayed excellent sportsmanship and professionalism throughout his career.
For a young running back to have his kind of success in the pros, let's take a look at what each can learn from one of the best ever.
Versatility
From a tangible perspective, versatility is arguably the sole reason why LaDainian Tomlinson had such a consistently dominant career.
On the ground he could quickly accelerate to any hole in the interior line and explode through would-be tacklers that came unblocked. Tomlinson was an even better outside runner though, as his speed and agility was too much for outside linebackers and defensive backs to make tackles.
An intelligent and patient runner, Tomlinson's field of vision was his best attribute because he could make Barry Sanders-esque moves to get additional yardage. As a receiver, Tomlinson's ground success would set up play-action plays and screens for his quarterback.
Whether it was a direct or delayed route, Tomlinson had the ability to beat anyone in single coverage and find the weak spots between the zones. One final area where young backs can learn from Tomlinson is blocking.
The man took pride is protecting the quarterback and younger players have to realize this aspect also sets up screens, draws and play-action later in games. Any running back that can block just as effectively as a runner or receiver will see an elite level of consistency.
Leadership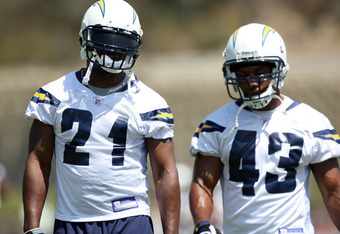 Donald Miralle/Getty Images
When a team has a complete player at his respective position such as LaDainian Tomlinson, leadership is at the core.
There are a lot of great players that shine at the running back position, but the unselfishness of Tomlinson to willingly block and be a decoy is just the tip of the leadership iceberg. All this comes from a player's preparedness as well.
A running back in the pros doesn't finish fifth all time in rushing yards and score 162 touchdowns without knowing the opponent and game plan. San Diego's offense was built around Tomlinson and had he not been a leader, the Chargers would not have had nearly as much success.
Part of the current success of Darren Sproles can be attributed to Tomlinson as Sproles was the No. 2 back in San Diego from 2005-09. Although he was the change-of-pace back, Sproles quickly developed as a runner, receiver and return man.
In 2006, Philip Rivers took over as the Chargers starting quarterback. It would be easy for any running back to have a down year with a new guy at the helm, but Tomlinson adapted and turned that season into his best ever.
Without that leadership quality in Tomlinson, the Bolts would have taken a step back in a transition period. Instead, they went on to win the first of four consecutive AFC West division titles.
Reliability
One thing everyone can learn from LaDainian Tomlinson is his reliability.
In 11 NFL seasons he missed only six games and just one from 2001-2008. Playing in 170 career regular season games at the most physically demanding position, Tomlinson knew he was going to be relied on each week and responded with impressive production.
When watching the Bolts, you knew the defense had to zero in on shutting him down for a chance to win, and it rarely worked. Each play San Diego could rely on Tomlinson to slam the rock on the ground, get open on a route or make a block to execute the play.
In short, Tomlinson always did his job to the best of his ability on every play. And he did that from day one of his rookie season.
A young back must provide the reliability to function a number of ways for an offense. Having a two-back set is nice, but the Chargers proved an offense can burn the scoreboard with one back that does everything.
John Rozum on Twitter.