NBA Finals 2012: Will Miami Blow Another 2-1 Series Lead This Year?
June 18, 2012

Mike Ehrmann/Getty Images
For LeBron James and the Miami Heat, it's almost as if the 2012 season really doesn't begin until Tuesday night.
That's because Miami was in this exact position in 2011, holding a 2-1 series lead over eventual champions, the Dallas Mavericks.
With LeBron so close to capturing that elusive ring, will this be the year where Miami gets it done or will deja vu strike James and the Heat again as they watch a series lead slip away once again?
Can they blow this one?
Certainly. OKC is a very good team led by three superstars in Kevin Durant, Russell Westbrook and James Harden. They have a defensive presence on the perimeter in Thabo Sefolosha and very good size in Serge Ibaka, Nick Collison and Kendrick Perkins.
Yet, it will be much more difficult this year for Miami to choke away this series.
For one, last year's Games 4 and 5 were in Dallas. This year they are in Miami.
The Heat accomplished what they needed to by winning Game 2 in Oklahoma City, and now it's just a matter of taking care of home court, where they are a combined 38-7 on the year (including playoffs).
In addition, this Heat team has a different look than that of a season ago.
LBJ is much more aggressive and willing to put Miami on his back this year. Compared to last season, where James became a jump shooter late in games, this postseason he's been on quite the run.
This year LeBron has averaged 30.7 points, 9.7 rebounds, 5.0 assists and 1.9 steals per game while shooting 50.1 percent from the floor. A year ago James averaged 23.7 points, 8.4 rebounds, 5.9 assists, 1.7 steals and only shot 46.6 percent from the floor.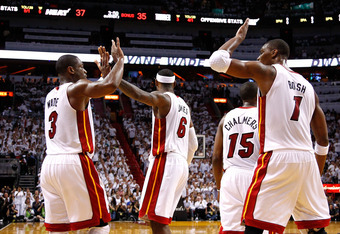 Mike Ehrmann/Getty Images
It's not just the numbers, but the general attitude of James.
He's acting like the best player in the game and doing what the greats are supposed to do and that's make plays when it counts.
However, this Heat team isn't worried about looking flashy or doing the spectacular but, instead, are fine winning ugly. They realize that getting a stop in then fourth quarter is more important than what they do on the offensive end.
With that being said, this Miami team in general is better suited to win in the finals than the team we saw a year ago.
Would it surprise me if they go home empty-handed? Not at all.
But I wouldn't bet on it. This Heat team is committed to winning at the defensive end of the floor and that should be enough to get the monkey off LeBron's back.