New England Patriots Quarterback Tom Brady Poised for a Big Year in 2012
June 18, 2012

Rob Carr/Getty Images
Coming off his second Super Bowl defeat in the last five seasons, some might expect New England Patriots quarterback Tom Brady, now 34, to have a down year, to fall victim to the so-called "Super Bowl Hangover" that has affected players in the past.  
Indeed, one only has to look back to the 2008 season when Brady, coming off his team's first Super Bowl loss to the Giants, failed to make it out of the first quarter of the first game of the year and was lost for the season with a devastating ACL tear. Obviously, the prospect of injury always looms in the background, but if Brady is able to stay healthy, opponents of the Patriots had better be on notice.  
Last season, throwing to a receiving corps that included an aging Deion Branch, an overhyped yet underwhelming Chad Ochocinco and a a receiver more famous for his hair than anything he accomplished on the gridiron in Tiquan Underwood, Brady completed more passes and threw for more yardage than he did during his record-breaking 2007 season  
Prior to 2007, Brady had never thrown for more than 28 touchdown passes in a season; that year, he threw 50 and established himself as one of the all-time great quarterbacks. Now, with a group of receivers who are eerily similar to the group that was assembled during his career year in 2007 and building off his first 5,000-yard season, Brady should be close to unstoppable.   
Rob Gronkowski, Aaron Hernandez and Brady's top target of a year ago, Wes Welker, are all returning to the Patriots and should be healthy for the start of the season. Added into that mix are veteran receivers Jabar Gaffney and Donte Stallworth, both of whom were members of the 2007 team. Neither were star players then or now, but both made key contributions during the Patriots Super Bowl run, and their familiarity with offense coordinator Josh McDaniels' system should prove invaluable.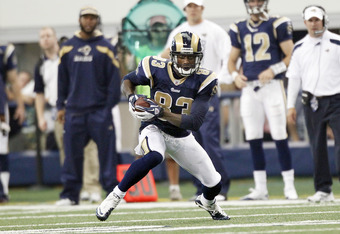 Layne Murdoch/Getty Images
Bigger than either of those additions is the arrival of field-stretcher Brandon Lloyd. Lloyd is perhaps the best downfield threat Brady has had to throw to since Randy Moss was in New England, and the two have reportedly been connecting quite well during OTAs. Lloyd has only one truly great season to his credit, but the fact that it came while he played for McDaniels in Denver should not be overlooked.
The Patriots are so deep at receiver this season that last year's No. 2 receiver on the depth chart, Branch, is no lock to even make the team, much less see any snaps. Competition during training camp figures to be extremely intense, and none of the receivers, with the exception of Lloyd and Welker, are locks to make the team.    
Newly-signed tailback Joseph Addai, who has a career average of 7.6 yards per reception, gives Brady yet another weapon to throw to out of the backfield in addition to the sure-handed and versatile Danny Woodhead.  
With this arsenal of weapons at his disposal, Brady figures to have another record-breaking career year if the cards fall right. In 2007, Brady proved he could throw for scores, and last year, he showed he could throw for yardage. Coming off a Super Bowl loss and another year older, Brady should have every motivation to merge those two skill sets and unleash an aerial attack that will dazzle NFL and fantasy football fans alike.