2012 NHL Draft: How the Toronto Maple Leafs Can't Go Wrong with the No. 5 Pick
June 18, 2012

Bruce Bennett/Getty Images
There has been endless debate among Toronto Maple Leafs fans as to what they should be doing with the No. 5 overall pick in 2012 NHL Draft.
For the sake of simplicity, let's just say that the Leafs will not be moving up, down or packaging the pick in a trade for Jordan Staal or Rick Nash. Sigh.
Let's assume that the Leafs are hell-bent on taking the best player available.
There are a couple of scenarios that can take place on the draft floor.
1) Nail Yakupov, Ryan Murray, Filip Forsberg and Matt Dumba get drafted No. 1 through 4
In this situation the Leafs have a pick between Mikhail Grigorenko and Alex Galchenyuk. They should take the latter.
Why?
Alex Galchenyuk was selected first overall in the 2010 OHL Priority Selection. Since he was drafted so high, there was some pressure for him to produce at a high level. And he did. 
In his rookie year in the OHL, Galchenyuk tallied 83 points in 68 games for the Sarnia Sting, scoring 31 goals. 
Most project Galchenyuk to become a No. 1 center in the NHL, as he his big, smart and he can skate.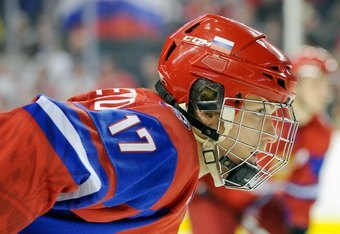 Richard Wolowicz/Getty Images
2) Yakupov, Murray, Galchenyuk and Forsberg get drafted No. 1 through 4
Here the Leafs would have to go with Mikhail Grigorenko.
Why?
He is a very talented center. Some question his compete level, but I do not. Mono is a hard ailment with to play with, and frankly, people in this situation are looking for anything and everything to pick and nag about, especially if you are Russian.
Russian players are taking a lot of heat these days because of guys like Alexander Semin and Alexei Kovalev, who are crazy talented, but seem to lack motivation.
Grigorenko is an extremely talented center with great hands, amazing IQ, superb vision and tons of offensive upside. In 2011-2012, he tallied 85 points in 59 games with 40 goals.
3) Yakupov, Galchenyuk, Forsberg and Grigorenko get drafted No. 1 through 4
This situation would be the least desirable for the Leafs, who want and need a center, but not as bad as some would assume.
With the rumors circulating that the Leafs will get their man in Justin Schultz, as noted by Lance Hornby of the Toronto Sun, I think drafting Ryan Murray would be amazing.
Why?
This would allow the Leafs to trade Cody Franson, Carl Gunnarsson and Mike Komisarek, and bring up a guy like Korbinian Holzer..
The defense of Dion Phanuef, John-Michael Liles, Luke Schenn, Jake Gardiner, Schultz and Murray looks like one that could be everything and then some in the future.
With reinforcements coming in the form of Jesse Blacker, Stuart Percy and Juraj Mikus, the Leafs would have young, talented depth at this position for a long time.
Ryan Murray is without question the the top defenseman available for selection in the 2012 NHL Draft.
He tallied 27 points in 52 games as a rookie in the WHL, and averaged 30-35 minutes of playing time a game. 
Murray was the team captain for Canada in the Ivan Hlinka Memorial Tournament, and led them to a gold medal. He is regularly noted for his great puck-moving ability, and is already being called the next Scott Niedermayer.
4) Yakupov, Murray, Galchenyuk, Grigorenko get drafted No. 1 through 4
This is the most likely scenario to happen.
In this case, I think the Leafs have to go with Filip Forsberg.
Why?
He is a dynamic skater with stellar offensive instincts. At 17, he was allowed to play ten games for Leksands IF in the HockeyAllsvenskan, and he even scored a goal during that time.
Forsberg has an elusive stride that makes him very difficult to contain. His speed is extraordinary for a player so young. He carries the puck well on his stick and is very poised.
There you have it. These are the four scenarios that can play out on Friday, when the general managers of the 30 NHL teams head over to Pittsburgh to make some of the most important choices in their franchises' histories.
Which one is the best for the Leafs now and in the future? 
I leave that up to you!