Euro 2012 TV Coverage: Thrilling Duels That Will Fill the Scoresheet
June 18, 2012

Martin Rose/Getty Images
Group play is winding down in Euro 2012. Two quarterfinal matchups are set in stone while Groups C and D play the final game in their group slate.
Of these matchups, a few will be riddled with offensive prowess. High-scoring soccer is always a treat to watch, and these three games will not disappoint. 
You will not want to miss this action. Make sure you check out the full TV schedule for Euro 2012, and put a check next to these contests.
Czech Republic vs. Portugal, Thursday, 2:45 p.m. ET on ESPN
We know one thing for sure. Cristiano Ronaldo will fill the scoresheet. 
Ronaldo is coming off a dazzling two-goal performance against the Netherlands, and he will need the same effort in this one. 
The only thing that could keep this game from being filled with high-octane offense could be Petr Cech, but he has struggled mightily through Czech Republic's first three games.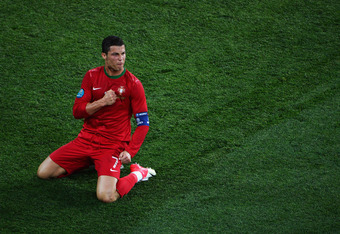 Lars Baron/Getty Images
One of the world's best scorers against a team who has scored six goals in three games. That sounds like a matchup worth tuning in for. 
I would be surprised if this score ends any lower than 3-2 in favor of the Portuguese side.
England vs. Ukraine, Tuesday, 2:45 p.m. ET on ESPN 
This tilt will go a long way in determining the winner of Group D. England enters tied with France for first place, and Ukraine sits one point behind the leaders. 
These two teams will open the throttle with everything on the line.
Both teams have scored reasonably well so far in this tournament, and the pressure of advancement will force them to open things up a little more. 
The tournament co-host, Ukraine, will need to score early if they want to stave off the more-talented English side. 
England will want to strike early to kill any underdog hopes Ukraine may be carrying. 
This should be an exciting match to watch.
Germany vs. Greece, Friday, 2:45 p.m. ET on ESPN
Germany is in a four-way tie for the tournament's highest-scoring team. Greece is not quite to that caliber, but their unlikely advancement to the elimination stage could change their tone. 
The German side is nearly impossible to stop because of the plethora of talent they possess in the midfield. Up top, Mario Gomez is as deadly as any striker in the world. 
Finding a flaw in their offense is extremely difficult, and pointless, at this point. 
Greece is not a scoring juggernaut, but they know what's on the line. I expect them to play wide open on offense and to go for broke.
They will not win, but expect Greece to score at least one goal. Germany will go for three.