Boston Celtics: Fab Melo and 3 Big Men C's Should Target in 2012 NBA Draft
June 18, 2012

Jim McIsaac/Getty Images
The Boston Celtics have the No. 21 and No. 22 picks in the 2012 NBA Draft.
Though there have been talks about trading up, the Celtics should just stay put and draft a couple of big men that are bound to fall to them.
The lack of size on the Celtics roster was one of the biggest problems this team faced in 2011-12.
So, obviously, that's an area Boston needs to address in this year's draft. Let's take a look at three big men who could step in and contribute to the Celtics in 2012-13.
Fab Melo, C, Syracuse
The Celtics don't need their big man to score. Their best years in recent memory came with Kendrick Perkins at center.
Perkins was just a big guy who could block shots and grab some rebounds, all while scoring a modest six points a game or so.
Melo can be that guy for the Celtics. He'll probably still be around at No. 21, so the team would be wise to draft the man who averaged nearly three blocks a game for Syracuse this year.
If he can give the Celtics two blocks a game while grabbing eight boards, he'll do just fine in the NBA.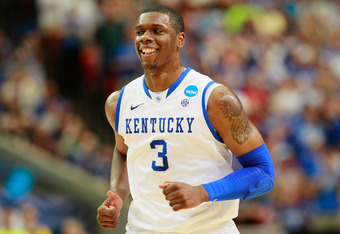 Kevin C. Cox/Getty Images
Terrence Jones, PF, Kentucky
Jones might slip a little bit in the draft because of concerns about his attitude and work ethic.
If he falls to the Celtics, though, the team should absolutely pick him.
With veterans like Paul Pierce and Rajon Rondo on the team, along with head coach Doc Rivers, Jones will be more likely to give his best effort all the time.
When he's playing at his highest level, he's every bit as talented as Anthony Davis.
Festus Ezeli, C, Vanderbilt
Ezeli is another talented big man who doesn't score much.
However, he's a bigger offensive threat than Melo. For Vanderbilt last season, he averaged 10 points per game to go with two blocks and nearly six rebounds per contest.
Ezeli is a well-rounded player, and his four years of college experience means he is more mature than a lot of big men in this year's draft.
If the Celtics can't get Melo and Jones with picks 21 and 22, getting one of those guys plus Ezeli would be a very good consolation prize.