NBA Trade Rumors: Why Bulls Need to Pull the Trigger on Luol Deng Move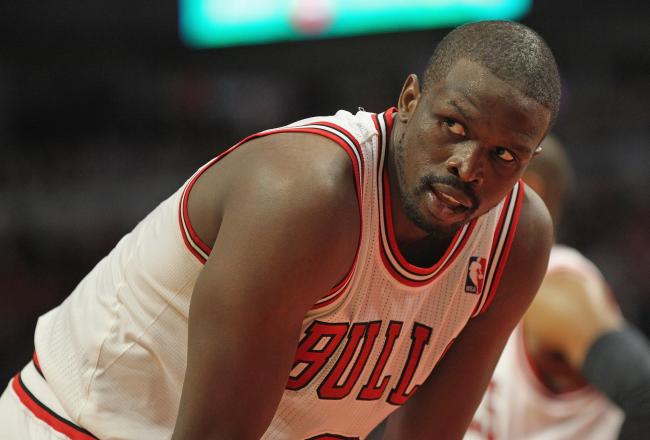 Jonathan Daniel/Getty Images
After earning a selection to his first All-Star game and settling in as Derrick Rose's sidekick, you might think that small forward Luol Deng has cemented himself as part of the Chicago Bulls' future core.
Think again.
According to the Arlington Heights Daily Herald's Mike McGraw, the franchise is looking into trade possibilities for Deng in the hopes of landing a premium lottery pick in June 28's draft:
Paxson has given way to Gar Forman, but surely that advice has been passed along in the Berto Center board room. So why would the Bulls even think about trying to trade Luol Deng for a high draft pick? That does appear to be one of the strategies under consideration right now, league sources confirmed. A draft camp meeting with North Carolina forward Harrison Barnes was mentioned on the team's website, but there's probably no single target.
For all that Deng has done for the organization, there are a few reasons his departure makes more sense than meets the eye.
By the numbers, Deng's All-Star performance this season was one of the worst of his career. Sure, his consistently solid defensive effort won't show up in many of those numbers, but that's not a reason to ignore them altogether.
Deng had a great season, but will it be his last in Chicago?
The 27-year-old shot just 41 percent from the field this season, a staggering drop-off when considering he's shot for 46 percent or better in five of his eight seasons.
More importantly from Chicago's standpoint, he has two more years on his contract worth in excess of $27 million. The implications for the club's tax burden and roster flexibility going forward are impossible to ignore, even for a team set to contend once again as soon as Derrick Rose is back on the court.
Even if Deng were affordable and worth every penny, there's a very real opportunity cost to consider as well.
Should the Bulls deal Deng?
Derrick Rose is still only 23 years old, and it makes sense to surround him with younger talent who can accompany him well into his prime. With Rose potentially missing the entirety of next season, this year may be better spent bringing along young talent than holding on to guys like Deng in an effort to win now.
To a large extent, Deng is also replaceable.
Ronnie Brewer, Kyle Korver, Richard Hamilton and Jimmy Butler certainly won't replace Deng, but their combined effort would make his absence less jarring. If the Bulls could land a forward like Harrison Barnes, the future would be bright as well.
Cynically speaking, there's also a case to be made that jettisoning Deng would improve Chicago's chances of landing a prime draft pick in next season's draft as well. With neither Rose nor Deng in the lineup, the Bulls would enter a temporary rebuilding phase and position themselves for a potentially dominant return to prominence in the 2013-2014 campaign.
That sounds like a long time into the future, but the payoff may be well worth the patience Bulls fans would be forced to demonstrate in the meantime.
This article is
What is the duplicate article?
Why is this article offensive?
Where is this article plagiarized from?
Why is this article poorly edited?

Chicago Bulls: Like this team?