Jim Boeheim of Syracuse has built a reputation as one of college basketball's elite coaches, but how does he compare to the gold standard of coaching? How does his legacy size up against Mike Krzyzewski of Duke?
Both coaches are immortals in their respective communities and fixtures at their programs.
Let's look at each Hall of Famer's legacy to see how Boeheim stacks up against Coach K.
Comparing Trophy Cases
Under Boeheim, the Syracuse Orange have racked up a slew of accomplishments: 29 NCAA tournaments, five Big East tournament titles and three Final Fours, including the 2003 national title.
The 2-3 zone has become synonymous with Boeheim, and the 36-year mainstay has used the defense to rival Georgetown and UConn and become a powerhouse in the Big East for decades.
As impressive as the 890-win coach is, his contemporary down in Durham has a better on-court resume.
Coach K built Duke into one of college hoops' elite programs by the late 1980s, and over the next couple of decades, the Blue Devils ruled the Atlantic Coast Conference and constantly competed for national prominence.
Krzyzewski has 13 ACC tournament titles, reached 11 Final Fours and won four national titles. His work ethic and instillation of discipline and defense turned Cameron Indoor into one of the hottest sporting venues in any sport. His 927 wins are an NCAA record.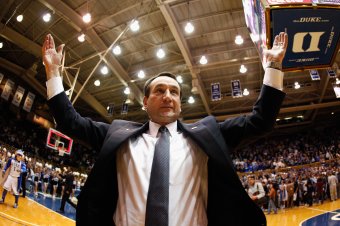 Streeter Lecka/Getty Images
Boeheim's legacy is among college basketball's best, but the pelts on Coach K's wall make him the best coach since John Wooden—and that's saying something.
Producing NBA Talent
When it comes to alumni in the NBA, Syracuse and Duke are quite comparable. Neither school is known for consistently cranking out elite pro talent, but each coach does have some impressive NBA players.
Boeheim coached the likes of Carmelo Anthony, Derrick Coleman and Rony Seikaly, all of whom had terrific NBA careers. He also guided players such as Hakim Warrick, Billy Owens and Wesley Johnson, who turned into solid NBA role players.
Coach K's list of alumni is slightly better. In addition to producing superstars Grant Hill, Carlos Boozer, Kyrie Irving and Elton Brand, he also churned out a B-list of premiere professionals. Shane Battier, Luol Deng, Corey Maggette and Christian Laettner all carved out superb careers.
Syracuse's offense is more representative of an NBA-style system than Duke's, but Boeheim's defense often leaves his players insufficiently prepared for the NBA.
Krzyzewski's reputation for keeping his players all four years is starting to slip with recent one-and-done guards, but there's one common trait among his products: They all have sharp fundamentals and a high basketball IQ.
Off-Court Reputation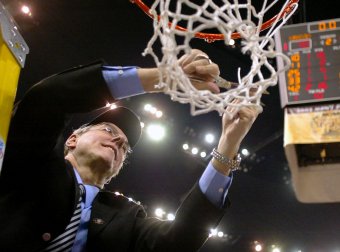 Craig Jones/Getty Images
Krzyzewski and Boeheim have become fixtures in their towns because of their hardwood success, and they've used the platform to give back to the community.
Both are heavily involved in the Coaches vs. Cancer campaign, one of collegiate athletics' biggest movements. They are also closely connected to their communities through charities, promotions and basketball camps.
The main difference in their off-court legacies is the Bernie Fine scandal. Even if Boeheim wasn't aware of Fine's transgressions, the fact that he was so close to Fine and lashed out at the accusers hurts his public perception.
Overall Legacy
The Orange's beloved Jimmy B. is larger than life in Syracuse, and his program is the pride of all central New Yorkers.
But Coach K's work down on tobacco road is unparalleled by anyone in the modern era. His coaching methods are legendary, his postseason resume is sparkling and his program is a model of success for all other schools.
Follow Daniel on Twitter: @Danielobleacher