2012 NBA Finals: How Miami Heat Can Close out the Series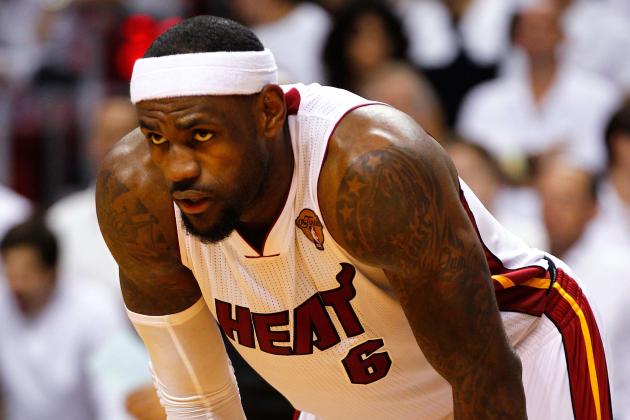 Mike Ehrmann/Getty Images

The Miami Heat, at this point, are the guys that nobody wants to see win the NBA Finals. The Thunder are the golden boys of the NBA, Kevin Durant is the anti-LeBron, and Oklahoma City built their team from the ground up—while the Heat are highly regarded as the team that bought their success.
But the Heat currently have a 2-1 lead in the best of seven series against Oklahoma City, and seem to have a better chance of winning. With the next two games in Miami (unfair much?), many are expecting LeBron to finally win himself a ring.
Here are a few things that Miami needs to do (or continue to do) to ensure themselves another championship banner.
Begin Slideshow

»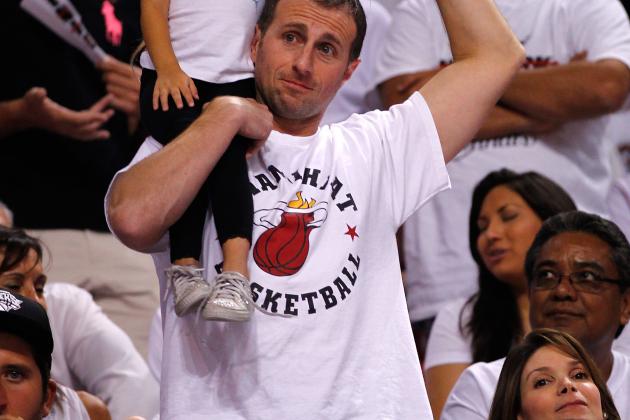 Mike Ehrmann/Getty Images

There is a definitive difference between the OKC crowd and the Miami crowd. While OKC's crowd is the craziest and best crowd in the league, Miami seems to suffer from a crowd that doesn't seem to be all the way there until the 4th quarter.
If Miami hopes to win this series, they need to do it in the next two games. Both of those games will be in American Airlines Arena.
Somehow, some way, Miami needs to excite their crowd from the get-go. If they let this series go back to OKC, LeBron and the boys will be done for.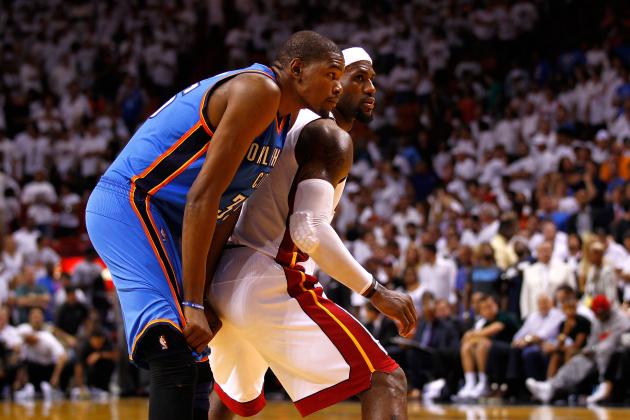 Mike Ehrmann/Getty Images

In Game 3, Kevin Durant got into foul trouble and was contained for most of the 4th quarter. With Durant off the floor, those are the times that Miami was most able to pull away with the lead.
And Durant had far from a poor night on Sunday. Shooting 11-19 from the field, that's not necessarily a bad game for the Oklahoma City superstar. Imagine how well the Heat could do if Durant had a poor game. With that said, he did commit five turnovers, including a costly late-game turnover.
If LeBron can prove Serge Ibaka wrong, and show his defensive stopping abilities on Durant, than we may be crowning the Heat champions earlier than we'd all like.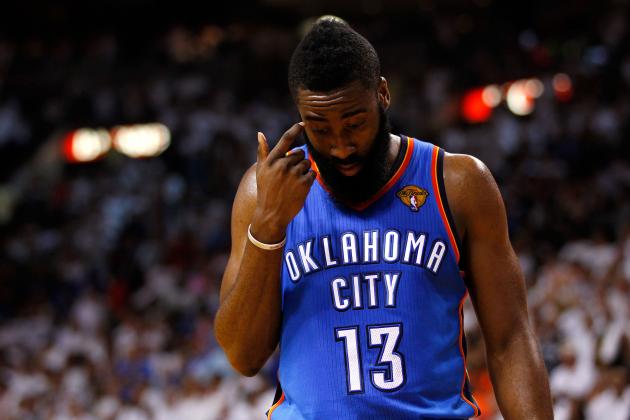 Mike Ehrmann/Getty Images

What happened to James Harden? Apart from a Game 2 showing, Harden has been utterly nonexistent in the Miami series.
The sixth man who was unstoppable in the Dallas and San Antonio series has completely disappeared on the court in the last couple of games.
I mean, really—when Kendrick Perkins is outscoring you in a game, you know you're going to get crap.
So far, the Heat have had success containing Harden and taking him out of his game. Whatever they're doing, it's working, and they need to continue it if they hope to contain OKC.
But if Harden finds his game, that could spell the end for LeBron's title hopes.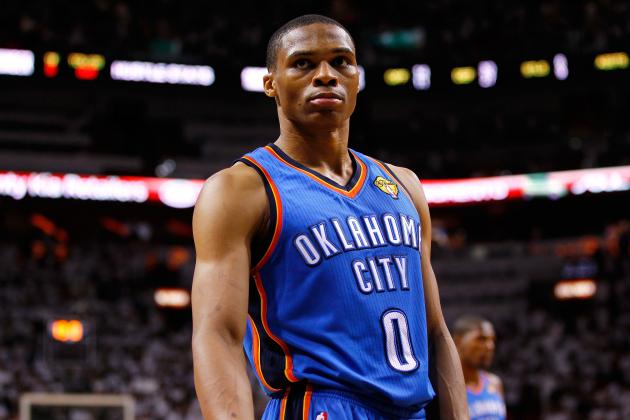 Mike Ehrmann/Getty Images

If I was an OKC fan, I would have a hard time watching Russell Westbrook. Sometimes it just seems like he's almost about Russell Westbrook and not about the team. Whether it's waving off Kevin Durant, or taking late-game errant shots, he makes me cringe in close games.
I can only imagine how true-blue OKC fans feel. A key to Miami's title hopes will be forcing Westbrook to be that Westbrook that none of us enjoy. Miami fans want to see him tossing up bad shots, trying to take the game into his hands, and not deferring to Kevin Durant.
A Westbrook-dominant game would be a treat for Miami fans.
Ronald Martinez/Getty Images

We have finally had a Chris Bosh sighting, and the Heat most certainly have benefited from that.
The lesser head of the three-headed monster in Miami, Chris Bosh has been highly criticized ever since he came to Miami as a player whose stats were inflated just because he played on a bad Toronto team. It appears Bosh wants to prove to all of us "haters" that he is a dominant power forward and not just a guy who looks like a dinosaur/ostrich.
His most impressive outing was in game 2 in OKC, where he posted 16 points and 15 rebounds. Miami desperately needs that low-post production, seeing as they are a low-post challenged team. With Joel Anthony and Juwan Howard being utterly useless, and Ronny Turiaf and Udonis Haslem not performing as well of late, Chris Bosh needs to fill that hole for all of them.
A double-double in every game would certainly help. Rebounding is key, and they don't need him to continue trying to take three pointers. That'll be their undoing.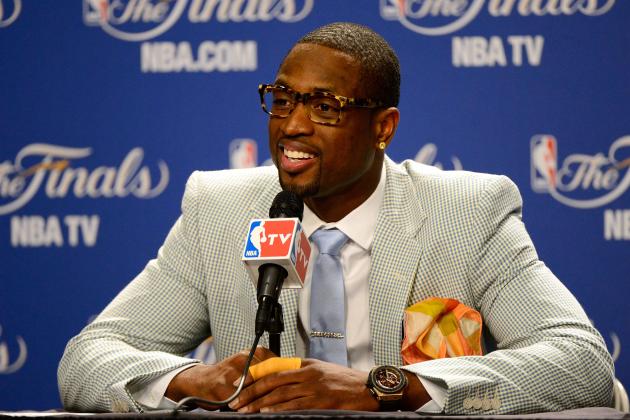 Ronald Martinez/Getty Images

It's official. Mister Dwyane Wade is also back. I was worried there for awhile.
Once a dominant player, Wade has seemed like a shell of his former self recently, and many were starting to wonder if he was losing a bit of his game.
Well, he's not.
In the past few games, he's had stat lines of 25-7-7, 24-5-6, and 19-9-4. Those numbers are absolutely crucial for Miami's hopes. Can he maintain it? I believe he can. Watching him in game 3, I felt like I was watching 2006's version of Dwyane Wade. You remember: that was the guy who could just fly to the hoop, randomly toss up a ridiculous shot and have it go in.
I've missed that Wade.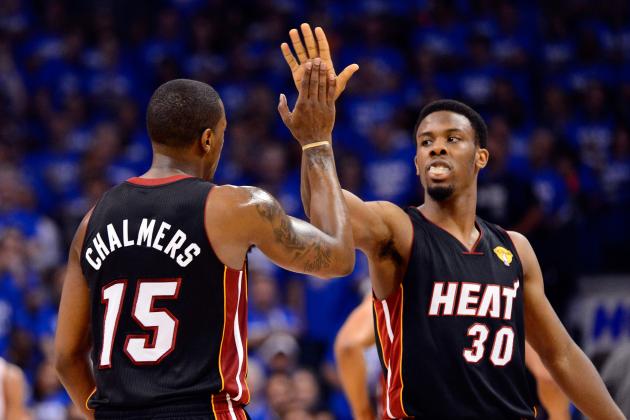 Ronald Martinez/Getty Images

You better believe that all these guys are going to be key factors if Miami hopes to win.
For one, Shane Battier has been spectacular as a three-point threat, and that definitely needs to continue. Besides LeBron, he's been one of their most effective players.
Because keep in mind, there will be plenty of times when LeBron or Wade drive to the hoop and find nothing; that's when they'll need to kick the ball out to somebody open on the line.
The Heat have plenty of those guys that are deadly from behind the arc: Mario Chalmers. James Jones. Shane Battier. But every single one of them needs to be hitting their shots. That's especially true of Mr. Chalmers, who hasn't been shooting very well of late.
Plus a little bit of the old-fashioned hustle from fan-favorite Udonis Haslem, and perhaps even something from the presumed-dead Mike Miller...all of that couldn't hurt.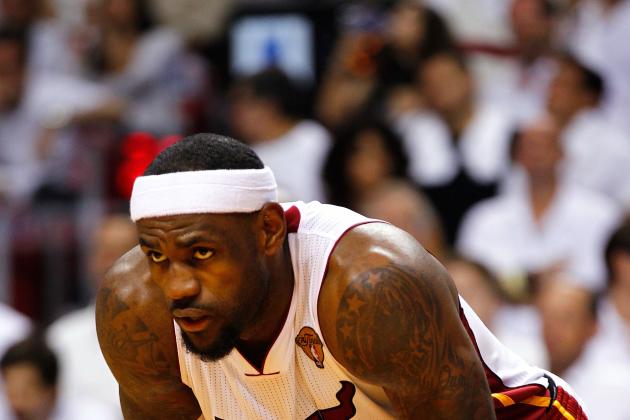 Mike Ehrmann/Getty Images

In this series, it would almost be too perfect for it to come down to a last-second decision by LeBron James. The man so often criticized for being soft, not a closer, or not having the "killer instinct of Kobe or MJ" will be the guy who finally has the chance to give Miami a ring.
He's been playing out of his mind. But, as of now, he hasn't had to come through in a clutch situation. Whether it's a last-second shot, a last-second pass, or late-game free throws, all eyes will be on the self-proclaimed King.
And what a story it would be. Game 7 in Oklahoma City, with the Heat down one with 10 seconds...LeBron has the ball...what does he do?
For the sake of the NBA and LeBron's legacy, it needs to come down to something like that.
The world will be watching. Your move, LeBron.
Just like miss Betty White, I'm on the Twitter!! Follow me for awesome insights and sports debate @andrewwallock8!!!