Max Scherzer: Detroit Tigers Hurler Wins AL Best of the Night Award
June 18, 2012

Dave Reginek/Getty Images
With the kind of stuff he has in his arsenal, Detroit Tigers righty hurler Max Scherzer should be one of those guys who dominates every single time he takes the mound (like a certain teammate of his).
But for a variety of reasons, Scherzer just isn't one of those guys. 'Tis frustrating to no end.
After what he did to them on Sunday, however, the Colorado Rockies will beg to differ. The guy they saw wasn't one of the American League's most frustrating pitchers. The guy they saw was an ace-like pitcher with ace-like stuff who put forth an ace-like performance.
And it was glorious.
Scherzer's 14th start of the season on Sunday was easily his best start of his 2012 season, and arguably the best start of his career to this point. He went eight innings, scattering seven hits and allowing zero earned runs. He struck out 12 and walked none.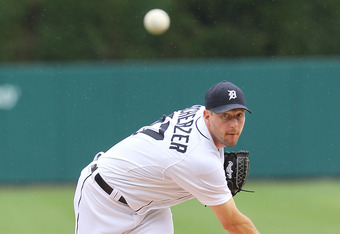 Dave Reginek/Getty Images
If you didn't happen to catch any of Scherzer's strikeouts, MLB.com put them all in a nice video highlight for your viewing pleasure. You'll see Rockies hitters swinging and missing at sliders in the dirt and hard fastballs up in the zone, which is par for the course when Scherzer has his stuff working.
Rockies manager Jim Tracy summed it up when he said this after the game, via AP writer Dave Hogg:
"That's the performance of a warrior and a stud." - Rockies manager Jim Tracy on Max Scherzer.

— Dave Hogg (@Stareagle) June 17, 2012
Scherzer's 12 strikeouts on Sunday do not represent a season-high, for the record. He struck out 15 Pittsburgh Pirates back on May 20. Way back in April, Scherzer struck out 11 Chicago White Sox.
As MLB was kind enough to point out on Twitter, Scherzer is the only pitcher in baseball who has three games with at least 11 strikeouts under his belt. Not surprisingly, he leads the American League with a K/9 of 11.49 (h/t FanGraphs).
With his eight scoreless innings on Sunday, Scherzer was able to drop his ERA from 5.76 to 5.17, by far the lowest it's been all season. 
This, obviously, is welcome news for a Tigers team that has had all sorts of trouble getting on a roll this season. They need Scherzer to be a solid No. 3 behind Justin Verlander and Doug Fister, the latter of whom can be quietly effective when healthy.
On Sunday, Scherzer effectively reminded the Tigers that he is very much capable of pulling his own weight. And since this was the most dominant performance out of a number of dominant performances by AL hurlers on Sunday, he gets today's American League "Best of the Night" award.
He should enjoy it while he can.
No, really. Scherzer has been pitching well recently, but there's a good reason for that. He's now made three starts against NL teams, and in those three starts he has a 2.14 ERA and an insane 5.83 strikeout-to-walk ratio, according to Baseball-Reference.com. The Senior Circuit hasn't been able to figure him out.
Interleague play (thankfully) doesn't last forever. Before long, Scherzer will have to get back to facing AL squads, who have beat him like a drum this season.
The frustrating Scherzer will be heard from again this season. Probably more than once.
If you ever want to nominate somebody for American League "Best of the Night" honors, hit me up on Twitter.