UCLA Football: Where UCLA Ranks Among the Best West Coast Recruiting Schools
June 21, 2012

Stephen Dunn/Getty Images
In terms of the football recruiting hierarchy on the west coast, UCLA is a solid competitor.
The campus in Westwood undoubtedly sells itself—fully equipped with fantastic academics in a safe, picturesque setting. 
However, a mediocre football program has stemmed the possible dividends via recruiting. If there was such thing as a sleeping giant in college football, UCLA is it. 
Is it conceivable to think that they can challenge the top dogs in the region? If the recent recruiting prowess by head coach Jim L. Mora and his staff is any indication, then yes. 
Despite their recent success, there is still a ways to go until they can firmly place themselves at the top of the proverbial recruiting mountain.
When encompassing the universities out west, the Bruins should be slotted as the fourth-best program recruiting-wise—behind foes Stanford, Oregon and Southern Cal. 
The recruiting efforts by the Bruins in recent years have been very good.
According to Rivals.com, UCLA has finished in the top 15 nationally four out of the past five years. Scout.com also had the Bruins finishing in the top half of the national rankings—including a top-five national ranking in 2009.
Despite having a solid recruiting standing, the combined record of the Bruins in the past four seasons is a less-than-stellar 21-30.
Just imagine what a winning season would do for recruiting.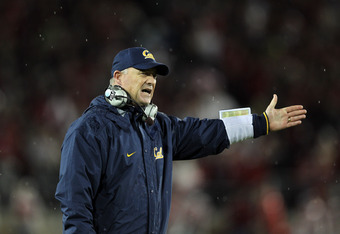 Ezra Shaw/Getty Images
Recruiting has never been the problem for UCLA, it's just been a matter of producing a consistent football program.
If the Bruins can string together consecutive seasons winning upwards of eight games, they'd be a constant threat to the top teams in the conference.
The two biggest threats to UCLA's current recruiting standing are Cal and Washington.
Due to the similarities between both schools, Cal will always be jockeying for recruits with the Bruins. Interestingly enough, they are currently stuck in a bit of a rut due to their underachieving on the gridiron.
The pressure is surely building on head coach Jeff Tedford, and it didn't help matters when renowned recruiter Tosh Lupoi left for Washington.
Regardless, Cal is a perennial top-25 team recruiting-wise due to their academics and location.
Conversely, Washington is riding lots of momentum.
Head coach Steve Sarkisian has transformed an 0-12 Husky team three years ago into one that competed in bowl games the past two seasons.
Washington has gotten quality recruits from talent-laden Southern California, but their recruiting strength lies in Northern California and in the Pacific Northwest.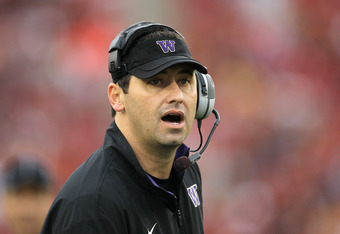 Stephen Dunn/Getty Images
With Lupoi and former Tennessee defensive coordinator Justin Wilcox on board, expect the Huskies to battle the Bruins for multiple four-star recruits in upcoming years.
Without question, the upper crust of recruiting on the west coast starts and ends with Southern Cal.
Even with their scholarship restrictions, the Trojans can literally be selective—and at times can even turn down interest from four-star and five-star prospects.
The prestige and history of the school is such a positive element when recruiting young athletes. Couple in the rabid fan base and location of Los Angeles, and the Trojans are extremely tough to beat in recruiting. 
If they want a player, they more often than not land the targeted prospect.
Of late, Stanford has turned into a recruiting force not only out on the west coast, but nationally as well. 
This past recruiting season, the Cardinal landed nine four-star recruits and two five-star prospects. Their efforts stretched beyond just California, as they landed players from an astounding 12 states (including California).
The Cardinal are certainly capitalizing on the mass amount of success in recent years. With an Ivy League-like education, Stanford currently has the best mix of athletics and academics out of any school in the country.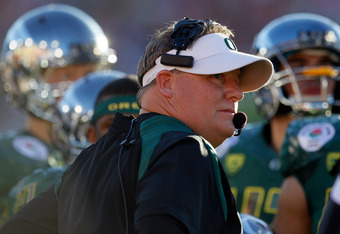 Jeff Gross/Getty Images
Perhaps the hottest team on the west coast (and certainly the one with the most "swag") is Oregon.
Jersey combinations notwithstanding, head coach Chip Kelly has truly built a powerhouse up in Eugene.
The appeal of the program from recruits nationally is at an all-time high. Not only is allure of Nike apparent, but the explosive offense and style of play truly has recruits gravitating to Oregon.
This past season, Oregon landed nine four-star recruits and a five-star stud in Arik Armstead. In addition, they continued their pipeline to Texas with the signings of wide receivers Bralon Addison and Chance Allen.
At this point, Oregon isn't just a football program.
They're a brand.
What will it take for UCLA to be on the same level as Southern Cal, Stanford and Oregon?
Winning.
It seems like a no-brainer, but the art of being competitive and consistent is huge for the Bruins.
The area, campus, weather and academics literally sell themselves. There's no reason why the program shouldn't be winning at least eight games a season. 
Recent coaching has played a big role in the mediocre state of the program—as have players with the physicality and mental toughness of Charmin. 
Mora is looking to change that through recruiting. He's targeting tough, disciplined and physical football players.
The 2012 recruiting class was put together in a span of literally two months, and it was quite an impressive feat to land the haul that Mora and his staff did.
In the current class, Mora already received commitments from three four-star linebackers, a four-star offensive tackle and two highly-regarded prospects from Georgia.
The aforementioned trio of Southern Cal, Oregon and Stanford are firmly positioned at the top of the recruiting totem pole out west.
With a winning season, UCLA has a good chance to join them at the top.