Dez Bryant and 5 NFL Stars Ready for Monster Seasons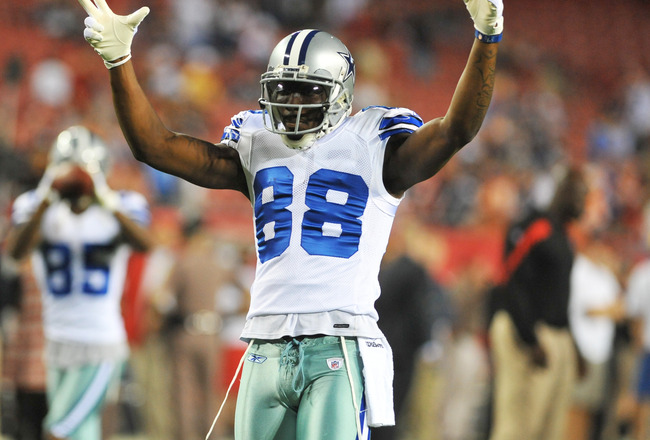 Al Messerschmidt/Getty Images
Watch out during the fall as we see some old and new faces enjoy a big 2012 NFL season.
One prime example right now is Dez Bryant of the Dallas Cowboys. A freakishly athletic receiver, Bryant has all the tools necessary to stretch a defense, widen the coverage and get yards after the catch.
Bryant however, is not alone as some superstars gave us a taste of what to expect this season. Therefore, let's see who joins Bryant in having a monstrous 2012 season.
Jay Cutler: QB, Bears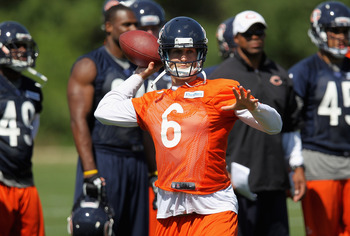 Jonathan Daniel/Getty Images
If the Chicago Bears are going to challenge the Green Bay Packers for the NFC North title Jay Cutler has to have a big year.
Only playing in 10 games last season, Cutler must revert back to his 2010 form where he tossed over 3,200 yards and had 23 touchdowns to just 16 picks. We also have to keep in mind that that season was without Brandon Marshall.
When teamed up with Marshall in Denver, Cutler had the best years of his career in 2007 and 2008.
There, Cutler set a Broncos franchise record with 4,526 yards in 2008 and a 62.3 completion percentage. Now reunited with Marshall, the Bears also provide Cutler with rookie receiver Alshon Jeffery and running back Michael Bush.
Chicago fields a more explosive, yet balanced attack, and don't forget about how defensively weak the Packers, Lions and Vikings all are. Even with their vast improvements to the defense, the NFC North will feature high-scoring affairs and Chicago will be in the mix all season long with Cutler spreading the field.
Trent Cole: DE, Eagles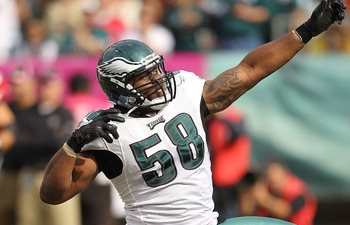 Al Bello/Getty Images
11 sacks and 44 tackles was just an average 2011 for Philadelphia defensive end Trent Cole.
The good news is that Cole's teammate Jason Babin recorded 18 sacks, so offenses will gear blocking schemes toward him in 2012.
In addition, Eagles' rookie defensive tackle Fletcher Cox has the ability to apply an interior pass rush and consistently stuff the run. Therefore, Cole will be put in many favorable situations to constantly make plays on the edge and in the backfield.
Offenses won't have nearly as much success on the ground and the spruced-up secondary with nickel/dime back Brandon Boykin will complement Nnamdi Asomugha and Dominique Rodgers-Cromartie quite well.
Cole then has more time to get to the quarterback and will see fewer double-teams. Include the NFL being a pass-happy league and the sack opportunities just from quarterbacks dropping back will also increase.
With 33.5 sacks the previous three years, 2012 will be a career year for the veteran sack-master in Philly.
Brandon Flowers: CB, Chiefs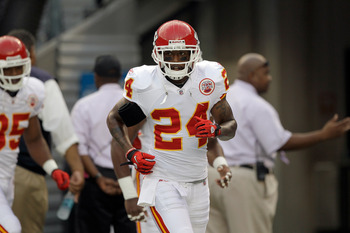 Rob Carr/Getty Images
One of the more underrated cornerbacks in pro football, Brandon Flowers was overlooked in 2011 due to the emphatic production of Brandon Carr.
Well, Flowers had a strong season himself with four picks and 20 defended passes. Not to mention that happened with safety Eric Berry out.
Looking to 2012, the Chiefs' defense has top five potential.
Defensive tackle Dontari Poe is expected to clog running lanes in the trenches, and we know linebackers like Tamba Hali and Derrick Johnson will make plays each week. Provided that Berry remains reliably durable and Stanford Routt holds his ground, Flowers will have numerous opportunities to make plays.
In four NFL seasons he has defended 70 passes and made 258 tackles, so as long as K.C. returns to full strength and improves against the run, Flowers has an All-Pro season is in the making.
Ryan Mathews: RB, Chargers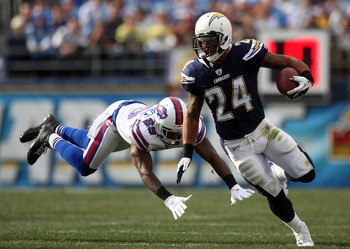 Donald Miralle/Getty Images
Coming off a year where he totaled 1,546 yards you would think that Ryan Mathews should get more recognition.
Well, consider this part of that as Mathews will be the focal point of San Diego's offense in 2012. Last season he only scored six touchdowns (blame Mike Tolbert), yet Mathews averaged 4.9 yards per carry.
This season Mathews has no other choice but to produce more, especially with Vincent Jackson gone and Philip Rivers coming off a down year.
The Chargers will still spread the field courtesy of receiving targets like Antonio Gates, Malcom Floyd, Robert Meachem and Eddie Royal, so Mathews deals with fewer defenders in the box as well.
He'll see more carries but not to a great extent. Expect Mathews to see a bigger increase in receptions than carries, because San Diego must remain explosive on offense to keep pace with high-powered opponents like Atlanta, Carolina and Tampa Bay.
The Bolts' defense isn't good enough yet to slow down teams like Denver, Cincinnati and Baltimore so utilizing Mathews a number of ways is where his production will flourish. Feed Mathews and San Diego can contend for the AFC West or at least a Wild Card spot.
Clay Matthews: LB, Packers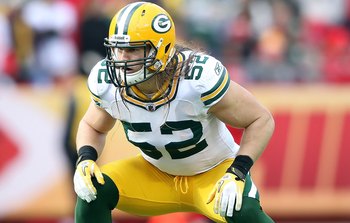 Jamie Squire/Getty Images
2011 was a vehemently disappointing year for the Green Bay Packers' defense.
Ranking dead last against the pass and in overall defense, the Packers also allowed 4.7 yards per carry and recorded just 29 sacks.
Linebacker Clay Matthews also had a rough season with just six sacks and 50 tackles. Now, Clay did intercept three passes and defend nine but that's because opponents were throwing so much against Green Bay.
Also, every time Matthews blitzed the offense directed the blocking scheme his way and it made the Packers more vulnerable downfield. On the bright side, Matthews improved as a coverage defender and has a more complete skill set to bring in 2012.
Green Bay upgraded the defense via the draft with Nick Perry, Jerel Worthy and Casey Hayward, therefore Matthews will get more sack, tackle and interception opportunities.
Perry and Worthy significantly bolster the front seven and Hayward is a playmaking defensive back. Matthews won't see nearly as many double-teams when blitzing which also increases the chance of more forced fumbles.
Dez Bryant: WR, Cowboys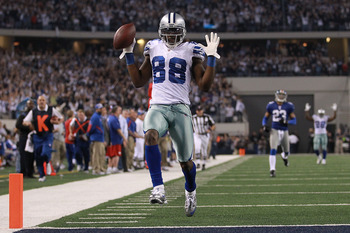 Ronald Martinez/Getty Images
Having yet to play a full 16 games, Dez Bryant is ready for his breakout season in Dallas.
Quarterback Tony Romo is coming off his best season as a pro with 31 touchdowns to only 10 picks and a 102.5 rating. Romo will spread the field to other solid targets like Miles Austin and tight end Jason Witten, but Bryant is the Cowboys' best playmaker.
Last season Dez caught 63 passes for 928 yards and scored nine times. So, the expectations for 2012 are certainly higher and with the offense backed by a drastically improved defense, Bryant and Co. will have more possessions to move the rock and put up points.
Dallas also has a future running back in DeMarco Murray to field a balanced attack. Play-action will be dangerous for Big D in 2012 and you can anticipate Bryant going deep on double-moves.
The NFC East is also not the most impressive of divisions against the pass and although Bryant will see some double-coverage, opponents can't afford to let Witten and Austin roam against man-to-man with an improved ground game.
Bryant may not get a ridiculous increase in receptions, but his yards per catch and touchdowns hit another level so he can enjoy a big season.
John Rozum on Twitter.
Keep Reading