Oregon Ducks: Picking Every 2012 Game on the Board Against the Spread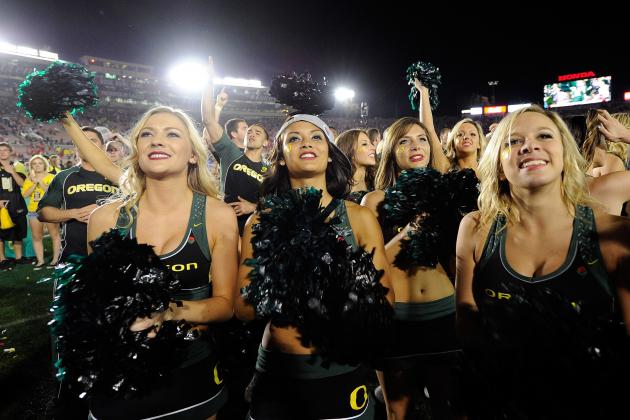 Kevork Djansezian/Getty Images

The first point spreads for the 2012 college football season have been announced by BeyondtheBets.com, which means that we must be getting closer to the start of the season.
It's only 75 days until the opening kick-off. So, it's not too early to give you some betting advice.
Of course, I'm sure you know that if you take college football betting advice from a complete stranger, you should probably be locked up somewhere.
Not to mention that if you bet on the actions of teenagers playing a game you have other issues.
But just for fun, this is what I would do if I were betting with my own money.
Begin Slideshow

»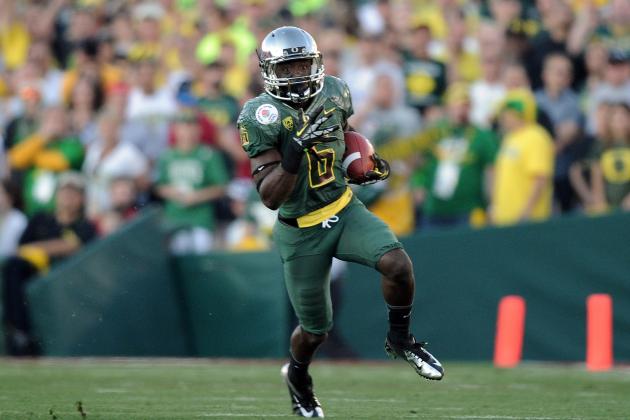 Harry How/Getty Images

See De'Anthony Thomas running very fast in this photo? That's what the Arkansas State Red Wolves are going to see a lot of on Sept. 1.
ESPN will televise this opening weekend game, and the Ducks will look to get off to a red-hot start on national TV.
Former Auburn offensive coordinator and quarterbacks coach (remember that guy Cam Newton?), Gus Malzahn, is taking over the head coaching reins at Ark State. I'm sure there is much excitement in Jonesboro.
The Red Wolves had a good team last year, winning their Sun Belt Conference and playing in the GoDaddy.com Bowl, where they lost to No. Illinois. They are, however, about to learn what it's like to play with the Big Boys.
I like the Ducks in their opener, even against a 37-point spread.
My prediction: Oregon 49, Arkansas State 7.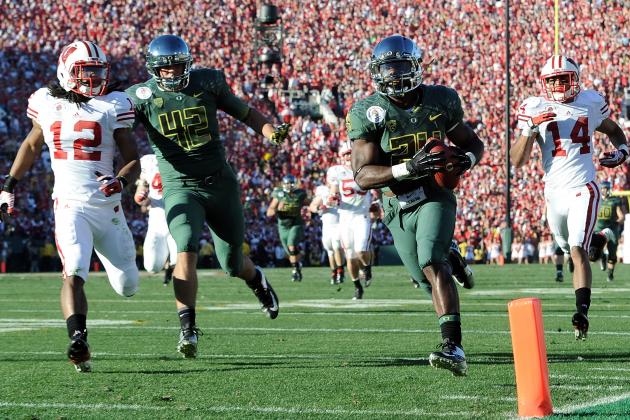 Harry How/Getty Images

See this photo of Kenjon Barner about to cross the goal line? That's what the Fresno State Bulldogs are going to see a lot of on Sept. 8.
Oregon faces a new head coach for the second week in a row. Tim DeRuyter was hired on Dec. 14, 2011, and is expected to bring a new up-tempo, no-huddle offense to Fresno State. Wonder where he got that crazy idea?
In addition to their first new head coach in 15 years, the Bulldogs join the Mountain West Conference in 2012, so lots of excitement here, too.
In a golf tournament with the Bulldog Foundation in May, DeRuyter got a hole-in-one on a 132-yard par 3—his first ace ever. It may be the highlight of his year.
Take the Ducks and the spread.
Oregon 52, Fresno State 3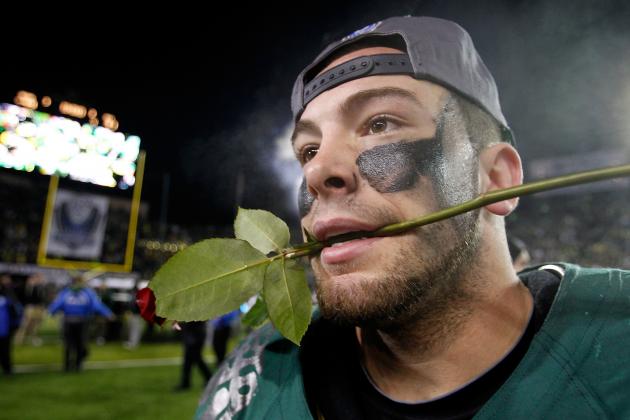 Jonathan Ferrey/Getty Images

This is the week the "John Boyett for Heisman" campaign begins in earnest. Boyett will have at least one interception in this game, and more tackles than the Oregon statisticians will be able to keep up with.
I really hope the Golden Eagles are getting a nice check for their visit to Autzen Stadium because I'm afraid this lengthy trip will be quite unpleasant for them.
Tennessee Tech won the Ohio Valley Conference Championship in 2011 with a 7-4 overall record, their first conference championship in 36 years. They may win it all again in 2012, who knows?
I do know that the Golden Eagles will not win this game.
Although it's gulp-inducing to bet against a 49.5 point spread, I must. The Ducks will let up in the 4th quarter out of pity, but Chip Kelly's killer instinct will want to beat the point spread first.
My prediction: Oregon 63, Tennessee Tech 7.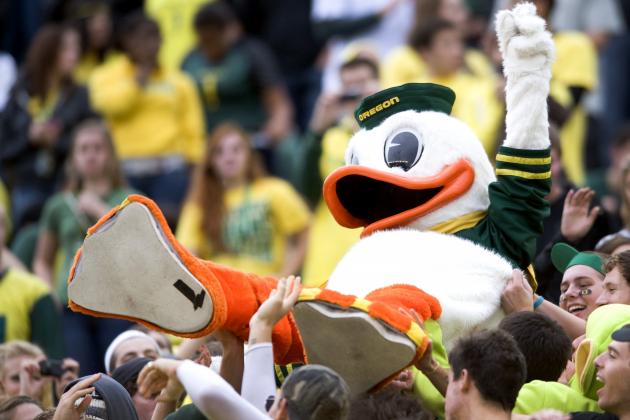 Steve Dykes/Getty Images

And, so, it begins: the defense of three consecutive Pac-12 conference championships.
Let's recap the season so far. The Ducks have outscored their opponents, approximately 164-17, they are probably ranked in the Top 5 nationally, and everyone has Nov. 3 circled on their calendars.
But none of that hands you the conference championship; you must earn it week by week by week. Don't show up to play one week and it's over.
Not to fear. The Ducks will show up big in this first conference game of the season.
Arizona has a new coach—this seems to be the theme for 2012—and there are high expectations for Rich Rodriguez' debut season with the 'Cats. There are 54 returning lettermen on Arizona's roster, and 33 with starting experience.
However, when I looked up their roster to refresh my memory, I honestly didn't recognize one single name. The 'Cats lost a lot of guys, and it wasn't just Foles, Criner and Antolin; it was on both sides of the ball.
Can you say "rebuilding year"? Rodriguez will do more with less than his predecessor did with more (does that make sense?), but with so many youngsters and an-almost-new depth chart, it will take Arizona more than a few games to fully jell.
The 'Cats will compete for a quarter and will probably be entertaining to watch. Then, the Ducks will tire of toying with them and put foot to throat.
Take the Ducks. Oregon 45, Arizona 14.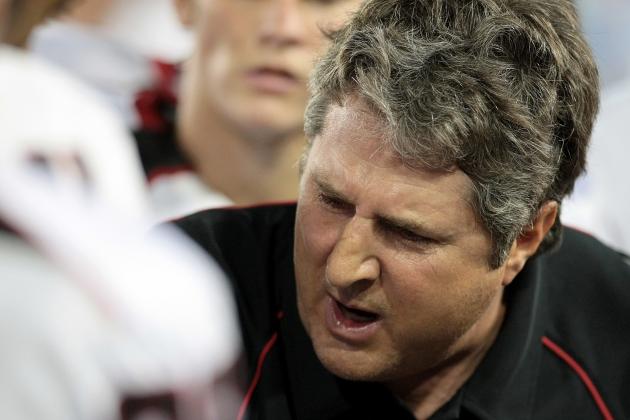 Thomas B. Shea/Getty Images

If you think that Oregon being favored by only 17.5 points in this game is a complete travesty, then you haven't been paying attention to a single word I've said since Mike Leach was hired.
Bill Moos fired a big cannon shot across Oregon and USC's bow with this hire. The Pirate of the Palouse is going to make things sticky for the Pac-12 big wigs and, yes, it starts with this game.
Previously on these pages I've picked the Cougs to beat BYU on opening day in Provo, and I have them 4-0 when they meet Oregon in neutral (ha ha!) Seattle in week 5.
Oregon will win this game, but it's going to cause major grey hair and skin breakouts on the part of Duck fans everywhere.
Don't hate me Oregon fans, but if this is my own money I'm betting, I'm going to take WSU and the points.
Oregon 31, WSU 24.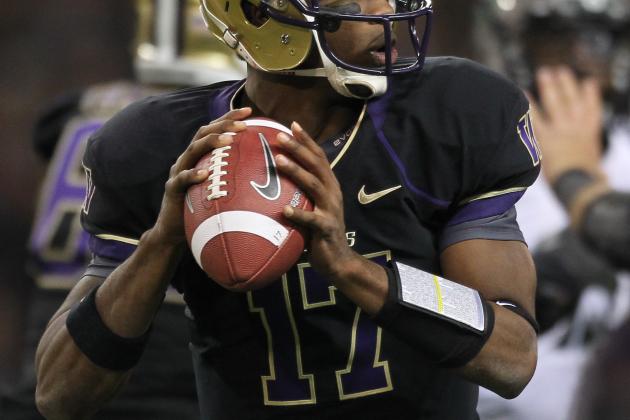 Otto Greule Jr/Getty Images

I was extremely worried about the Oregon-Washington game...last year. I thought that all the emotion surrounding the last game in Husky Stadium before the renovation, along with the bottled up Duck hatred would lead to a close game, if not a victory even, for the Huskies.
The Ducks won 34-17, which, coincidentally (?) is the point spread for this year's game in Eugene.
Yes, Keith Price will be better. Yes, LaMichael James and DT are gone. Yes, Justin Wilcox will coach a better Huskies' defense. Yes, there will be fights in the stands at Autzen.
No, none of that will matter.
Take the Ducks. Oregon 38, Washington 7.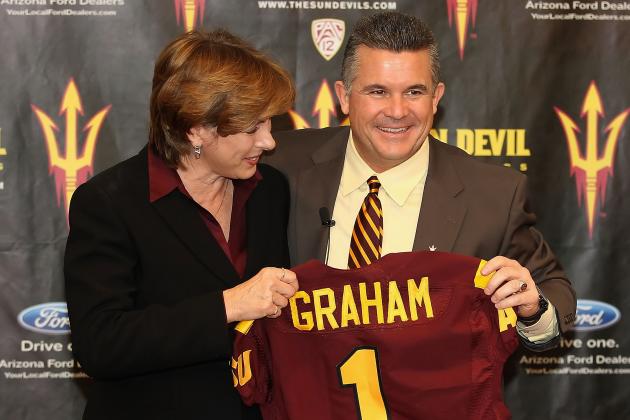 Christian Petersen/Getty Images

I understand that it was time for a change at head coach for the Sun Devils. I don't understand the hiring of Todd Graham.
Graham may have won the offseason with Arizona State fans and alumni, but his team will struggle when the real season starts.
Arizona State will have a new QB (still undecided) following the departure of Brock Osweiler, unproven receivers, and no nasty Vontaze Burfict wreaking havoc. Although, without Burfict, they will have far fewer penalties.
The Sun Devils will be all excited to have ESPN televising this game in Tempe, but it won't be enough. Adding to the unevenness of the rosters, the Ducks have a bye week before traveling to Arizona for this one.
Dennis Erickson will be smiling somewhere when Graham's Devils lose by a wider margin than Erickson's team did last year in Eugene.
Take the Ducks. Oregon 49, Arizona State 14.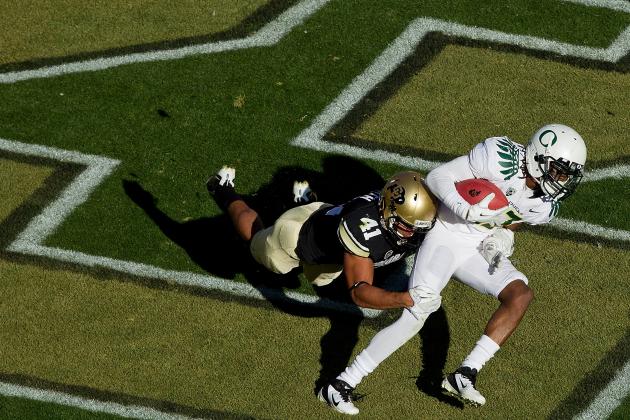 Justin Edmonds/Getty Images

There is a teensy-weensy chance that the Ducks might be looking forward just a little bit this week.
Oregon will have an extra two days to prepare for the Buffs because of the previous week's Thursday night game, but I suspect at least some portion of those extra days will see a focus on Surfer Dude and Company.
I hate these kinds of games. The Ducks should easily beat this point spread if all things were normal. But it's not a normal week.
Let me give you an example. Cornerback Terrance Mitchell and safety John Boyett (John Boyett for Heisman) have spent part of the week practicing against a pretend Marqise Lee. About mid-way through the first quarter against Colorado, Mitchell and Boyett are thinking about Lee and, boom!, there goes the Buffs' running back Troy Jones up the middle for 38 yards and a touchdown.
Oops. It's called concentration and focus. And college football players—even the great ones—sometimes lose it. In a week like this, it's even understandable.
If Oregon played a tougher opponent this week, Duck fans should be worried. But it is Colorado and the game is at Autzen, so there is nothing to worry about.
I would, however, take the Buffs and the points.
Oregon 45, Colorado 21.
Jonathan Ferrey/Getty Images

I have capitalized this week and you know why. The whole world knows that this is the week that matters.
The official early point spread has the Trojans winning by six. That point spread is woefully misguided. Here's why.
A large part of success in college football is confidence and momentum. While the oddsmakers aren't convinced that the Trojans are for real—hence the less-than-one-touchdown spread—their prediction is based on USC being undefeated when they meet the Ducks.
I really want that to happen because it would be a game for the ages. The King is dead, long live the King, and all that stuff.
But it's not going to happen, football fans. USC will lose to Stanford, as they have the past three years, on Sept. 15 in Palo Alto.
The Big Game will be a Big Flop.
Take the Ducks and the points and enjoy College GameDay live from the Coliseum.
Oregon 42, USC 28.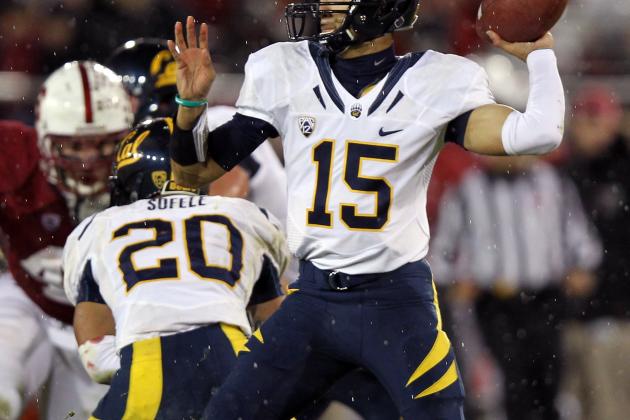 Ezra Shaw/Getty Images

The talking heads and pundits all believe that the Cal Bears will be better in 2012. Don't they say that every year?
Zach Maynard will be better, but the Bears, except for senior running backs Isi Sofele and C.J. Anderson, will have a relatively young team. The word is that head coach Jeff Tedford is planning more no-huddle offense this year, although it won't be the focus.
The Bears are back home in Memorial Stadium where they used to have a huge home field advantage. But the visiting locker rooms have (finally) been upgraded, so that might neutralize their home field.
Cal at home is always tough for the Ducks, however, and following the previous week's euphoria, focus may be an issue. But the Ducks will be smelling Miami about now and they won't let the Bears get in their way.
Take the Ducks.
Oregon 31, California 17
P.S. This will probably be the game that Tedford gets fired.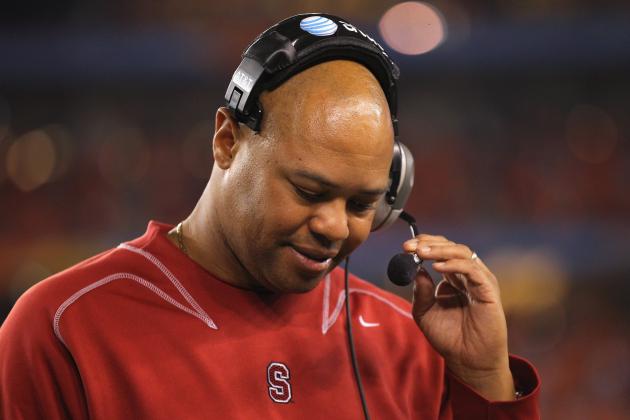 Doug Pensinger/Getty Images

Stanford will be better, post Andrew Luck, than most experts predict.
The Cardinal is a solid, well-coached team, led by running back Stepfan Taylor, who might very well be the best player in the Pac-12 this season when all is said and done.
When Oregon and Stanford meet in Eugene on Nov. 17, the Cardinal will already have disposed of USC and will, once again, be nationally ranked in the Top 20. Therefore, this game will be for the Pac-12 North marbles.
Oregon will win it because nothing will stop them at this point, but the point spread makes me nervous.
I would take Stanford and the points.
Oregon 28, Stanford 21.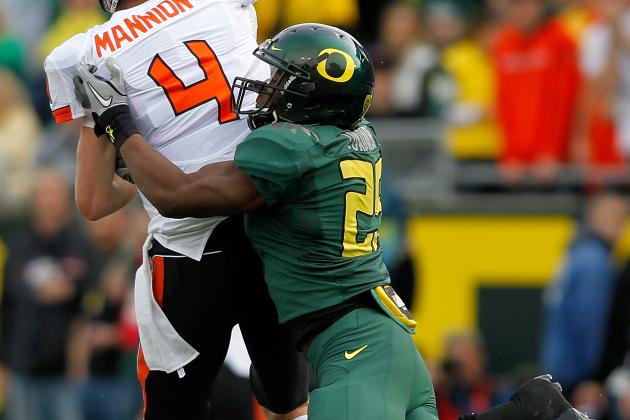 Jonathan Ferrey/Getty Images

This will be a bounce back year for the Beavers.
Sean Mannion is highly underrated and he will unleash some shock and awe on several unsuspecting teams before the season is done. Senior receiver Markus Wheaton is poised for a big year. Their O line and RB are question marks, but head coach Mike Riley is nothing if not resourceful.
Senior cornerback Jordan Poyer—if he stays out of trouble—will be one of the top CBs in the country. Co-captain Andrew Seumalo should be a rock at defensive tackle his senior year.
While it will be a much more pleasant year for Beaver Nation, they still won't realize their one true dream: knocking off the Ducks when it really counts.
This year's Civil War in Corvallis could very well determine if the Ducks get an invite to the BCS National Championship Game in Miami.
It will be gritty. It will be nasty. It will be pouring down rain.
It will be the Ducks 35, Beavers 31. Take the Beavs and the spread.
Not much consolation, I know, Beavs.