College World Series 2012 Schedule: Can't-Miss Matchups in Omaha
June 18, 2012

Ronald Martinez/Getty Images
Around mid-June every year, the College World Series comes, and sports fans begin to take notice. There's nothing better than a CWS game in Omaha that comes down to the wire. And we all look forward to the best matchups that the series has to offer. 
Whether it's pitcher vs. pitcher or hitter vs. hitter, there will always be some enticing matchups that will whet the appetite of baseball fans around the country. Here are some of those matchups, and you can be sure it'll be exciting to see how they unfold. 
Jayce Boyd (FSU) vs. Kurt Heyer (Arizona)
This could be one of the better hitter vs. pitcher matchups of the entire College World Series. Boyd is an absolute stud out of Florida State. He was the sixth-round pick of the New York Mets, and he is having an awesome season. He's currently batting an insane .389 with a team-high 59 RBI. Boyd is riding high and looks to be peaking at just the right time. 
For Arizona, their pitching staff is lead by Kurt Heyer. Heyer is currently 12-2 with a rather low 2.22 ERA. He was also a sixth-round pick in the MLB draft. Heyer's got great stuff, and it'll be fascinating to see how he fares against Jayce Boyd and the rest of the solid FSU lineup.
If Heyer can't keep Boyd and fellow slugger James Ramsey in check, it'll be tough for Arizona to hold off FSU once again. If he can pitch to his potential, there's an excellent chance that FSU gets through UCLA and gets a rematch of their tight 4-3 loss to Arizona from last Friday. 
South Carolina's Hitting vs. Florida's Pitching
Of all the games in this CWS, I think this first-round matchup may be the one that I'm most looking forward to. Yesterday, South Carolina was able to defeat Florida 7-3, largely due to a fifth inning rally by the Gamecocks. However, you can bet that No. 1 seed Florida won't go down without a fight.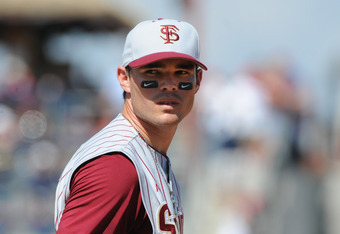 Al Messerschmidt/Getty Images
If they can get through Kent State, and they should, they'll set themselves up for a future matchup against South Carolina. Will the bats of South Carolina, specifically stars Tanner English, and Christian Walker, be enough to get them past the Gators as second time? Or will the pitching of Brian Johnson, Greg Larson, and the stellar Steven Rodriguez be enough to cool down the bats of the Gamecocks?
Hopefully, we'll see these teams square off once again in the CWS. 
Ryne Stanek (Arkansas) vs. Colby Holmes (South Carolina)
Tonight, Ryne Stanek of Arkansas will match up against Colby Holmes of South Carolina. Stanek is 7-4 with a  2.91 ERA, while Holmes is 7-1 with a 2.80 ERA. They're both excellent pitchers, and it's likely this game comes down to who can out-duel the other, as it may be very low-scoring. 
When you look at the numbers, there isn't much separating these two teams. South Carolina only has one more win on the year, and their batting averages, slugging percentages, team ERA, fielding percentage and home runs per game are almost identical. It's almost a perfect matchup, and it's really difficult to predict who will come out on top to advance. 
As previously stated, it's very likely that this game is close throughout and that whoever pitches better will emerge victorious. That may sound obvious, but when you have two teams as equally skilled as Arkansas and Florida, it usually comes down to pitching. You can bet this game will, and it'll certainly be great to watch and see who gets the better of it, be it Stanek or Holmes. 
Follow me on Twitter: @rlongo924