PGA Tour: UCLA Sophomore Patrick Cantlay to Turn Professional
June 18, 2012

Streeter Lecka/Getty Images
Rex Hoggard of the Golf Channel reported this morning that 20 year old UCLA Sophomore Patrick Cantlay will announce that he will turn professional this week.
If you remember, Cantlay had a phenomenal summer last year after his freshman year at UCLA.
He won Low Amateur honors at the 2011 U. S. Open at Congressional and was in the top 25 in four other professional events last year.
He would have won over $700,000 in prize money. 
What did you do for walking around money while you were in college?
Cantlay also won a boatload of awards as a collegiate golfer.
He won four collegiate tournaments as a freshman and received the 2011 Haskins award given to the most outstanding college golfer. 
He was named the Golf Coaches Association of America Division I Jack Nicklaus National Player of the Year plus he was recognized as the Phil Mickelson Freshman of the Year award winner.
Patrick won the Mark H. McCormick Medal as the top ranked amateur in the world at the end of 2011.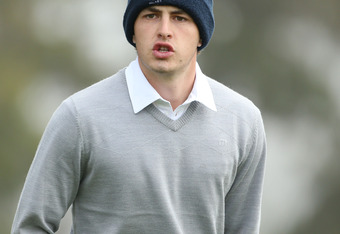 Andrew Redington/Getty Images
Golf Channel's Hoggard also reported that Cantlay would sign an agent agreement with Tiger Woods' agent, Mark Steinberg.
Steinberg left IMG last year to start his own agency.
The impending change to the qualifying requirements for membership on the PGA Tour is the reason for the rush to turn professional.
Cantlay had repeatedly stated that he would play all four years at UCLA, but the absence of the PGA Q-School will require that new pros earn their PGA Tour card via the Nationwide Tour. 
Top young amateurs can come onto the tour this summer to take advantage of their celebrity for tournament exemptions and try to earn enough money to get their card for next year and bypass the Nationwide Tour.
Plus there is a host of sponsors just waiting to write very large checks with many zeros attached for a player of Cantlay's ability.