Preseason College Football Rankings: One Gut Feeling About Every Top 25 Team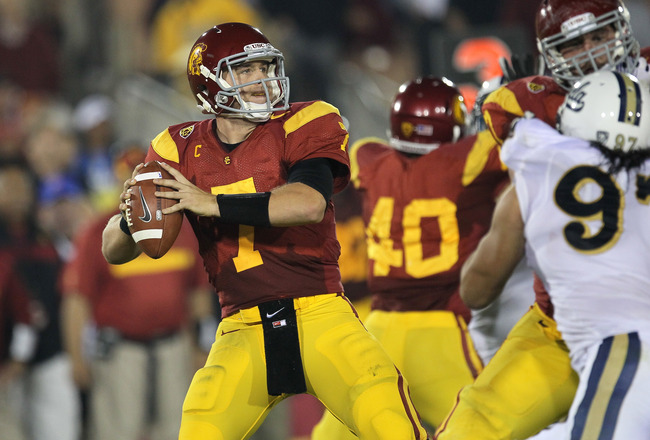 Stephen Dunn/Getty Images
As we wait eagerly for the 2012 season to get here, we have to wait until the teams take the field to get the cold hard facts about which teams are truly the best in the nation.
In cases like this, you just got to follow your gut.
You can certainly infer particular things about these teams simply by who's returning and who is coaching on the sideline. But you just get a feeling about each one of the teams in the preseason top 25.
And what are those gut feelings? Read on.
No. 25: BYU Cougars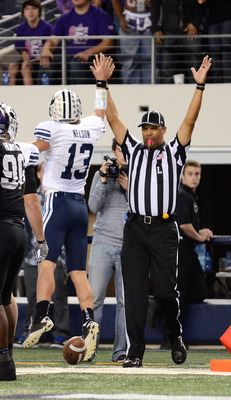 Sarah Glenn/Getty Images
You can count on BYU to get double-digit wins. However, any amount of wins less than a perfect season will mean that the Cougars will go to the Poinsettia Bowl.
With road games at Utah, Boise State, Georgia Tech and Notre Dame on the schedule, I've got a feeling that the Poinsettia Bowl is almost a certainty.
Gut Feeling: BYU will go to the Poinsettia Bowl.
No. 24: Florida Gators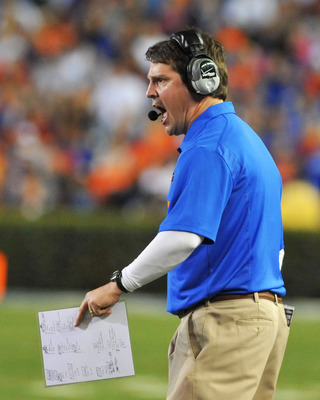 Al Messerschmidt/Getty Images
Florida is a mystery to me. Will Muschamp certainly didn't do himself any favors by hiring Charlie Weis as his offensive coordinator, who after just one season took the head job at Kansas.
But one thing that my gut says about the Gators: Muschamp will lose his temper and it will be fun to watch.
Gut Feeling: Will Muschamp will entertain us with his sideline antics.
No. 23: Texas Longhorns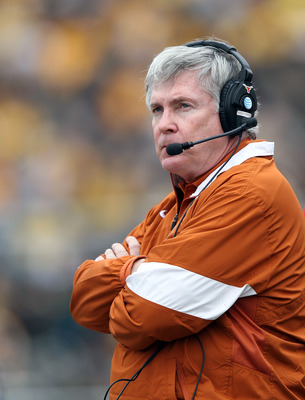 Jamie Squire/Getty Images
It's hard to say something like this about a great coach like Mack Brown, but he's in a must-win situation if he wants to keep his job.
My gut says that either Texas wins nine or more games, or Brown is done as head coach for the Longhorns.
Gut Feeling: Either Texas wins nine or more games or Brown retires.
No. 22: Nebraska Cornhuskers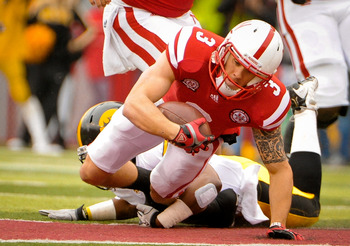 Eric Francis/Getty Images
Taylor Martinez and Nebraska are a lot alike, in that both are on the cusp of greatness but just can't quite pull it off.
That's not a coincidence.
Gut Feeling: Nebraska will win nine games, but won't win their division...again.
No. 21: Virginia Tech Hokies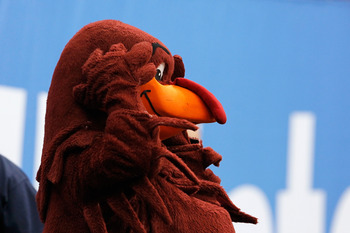 Kevin C. Cox/Getty Images
There are two things you can expect from Virginia Tech.
First, you can count on the Hokies to win 10 games. Second, you can't count on the Hokies to win BCS bowls.
Gut Feeling: Virginia gets double-digit wins, but if they get into a BCS bowl they won't win.
No. 20: Oklahoma State Cowboys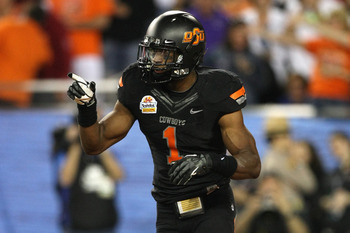 Donald Miralle/Getty Images
The Cowboys lost a top-notch QB and WR duo in Brandon Weeden and Justin Blackmon. Oklahoma State will have to depend on RB Joseph Randle to keep up the Cowboys high-powered offense.
Still, the Cowboys are going to have a bit of a rebuilding year from their one-loss effort last season.
Gut Feeling: Oklahoma State will have a rebuilding year in 2012.
No. 19: Washington Huskies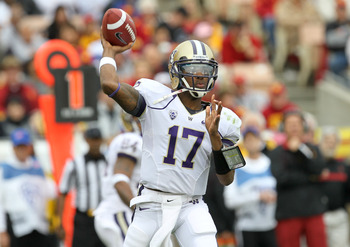 Stephen Dunn/Getty Images
The 2011 Huskies remind me a lot of the 2010 Wolverines. They had all the offensive talent in the world in a great quarterback, but they just didn't have a defense to go with it.
As they say, defense wins championships.
Now that Washington has a new defensive coordinator, I expect Price and Washington to win three more games than last season.
Gut Feeling: Washington will win 10 games or more.
No. 18: Kansas State Wildcats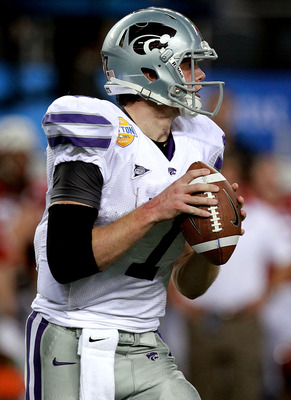 Ronald Martinez/Getty Images
The Wildcats took people by surprise last season, as Collin Klein led Kansas State to some impressive victories.
But now the secret is out, and Big 12 defenses are going to be better prepared for Klein this time around. Kansas State finished No. 108 in passing yards last season, and unless Klein can up his passing game, the Wildcats will struggle in 2012.
Gut Feeling: Kansas State will struggle unless Klein ups his passing game.
No. 17: Clemson Tigers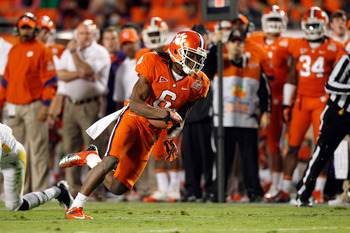 J. Meric/Getty Images
Normally 33 points is enough to win games, but it's almost impossible to win when your opponent scores 70. That's exactly what happened to the Tigers against West Virginia in the Orange Bowl.
My gut says that Clemson will still have their high-powered offense, but that their defense will lose at least two games for the Tigers—meaning that the offense will score 30 or more points and still lose.
Gut Feeling: Clemson defense will lose at least two games for the Tigers.
No. 16: Ohio State Buckeyes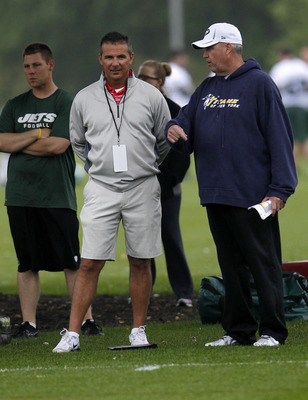 Jeff Zelevansky/Getty Images
The mood in Columbus has certainly changed since Urban Meyer came to town. The Buckeyes are already dreaming about returning to national championships.
In fact, I'll go as far to say that Ohio State will play well enough to win their division, but won't be able to go all the way due to their postseason ban.
Gut Feeling: Ohio State will play will enough to win their conference title.
No. 15: Stanford Cardinal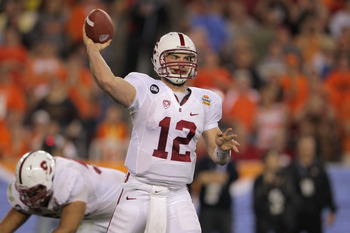 Doug Pensinger/Getty Images
Stanford is out of (Andrew) Luck, but that doesn't mean that the Cardinal will fall completely off of the map.
While Stanford should still be competitive for much of the season, I expect Stanford to fall out of the top 25 at least once. Doesn't mean that they'll finish outside of the top 25, but still...
Gut Feeling: Stanford will fall out of the top 25 at least once.
No. 14: Wisconsin Badgers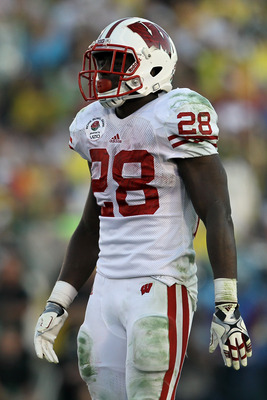 Stephen Dunn/Getty Images
The Badgers may have lost Russell Wilson after a single season, but they still have the scoring machine known as Montee Ball.
In addition, Wisconsin has picked up another ACC quarterback in Danny O'Brien. With that combination, I've got a feeling that Ball will break Barry Sanders' touchdown record.
Gut Feeling: Montee Ball will break Barry Sanders' touchdown record.
No. 13: TCU Horned Frogs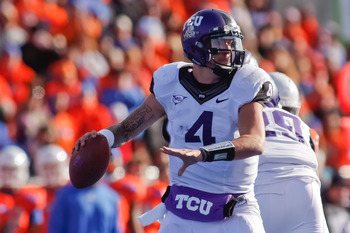 Otto Kitsinger III/Getty Images
The Horned Frogs are taking quite a step up, from the MWC to the Big 12. But Casey Pachall just set new records last season for most passing yards (2,921) and highest completion percentage (66.5) in school history.
He's going to need to do better to catch the likes of Landry Jones, but I've got a feeling that TCU will do just fine in their new home and get to double-digit wins.
Gut Feeling: TCU wins 10 or more games.
No. 12: Arkansas Razorbacks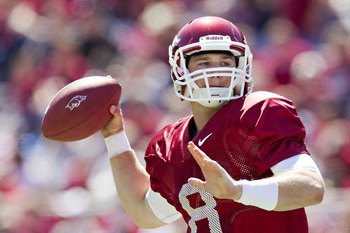 Wesley Hitt/Getty Images
To say that spring has been a bit rough for the Razorbacks is a gross understatement. After all, it's not every offseason that your coach gets caught up in scandal, thanks to a motorcycle ride gone horribly wrong.
The loss of Bobby Petrino notwithstanding, Arkansas has the best offense in the conference with Tyler Wilson and Knile Davis both back and ready for more. However, I've got a hunch that Arkansas is still going to be playing second fiddle to Alabama and LSU in the SEC West.
Gut Feeling: Arkansas finishes third in the SEC West.
No. 11: Michigan State Spartans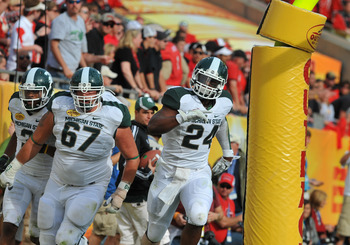 Al Messerschmidt/Getty Images
The Spartans will have some trouble replacing Kirk Cousins, but they boast one of the best defenses in the nation. In fact, it just might be the best defense outside of the SEC.
Michigan State has now been unfairly left out of a BCS bowl two seasons in a row. My gut says it won't be cheated a third time.
Gut Feeling: The BCS won't keep Michigan State out of a BCS bowl.
No. 10: Michigan Wolverines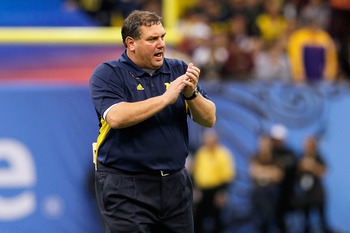 Kevin C. Cox/Getty Images
It took just a year for Brady Hoke to take the Wolverines from wallowing in mediocrity to winning a Sugar Bowl.
And with Denard Robinson coming back and Ohio State on a bowl ban, my gut says that a Big Ten championship is next up for Michigan and Hoke.
Gut Feeling: Michigan wins the Big Ten.
No. 9: South Carolina Gamecocks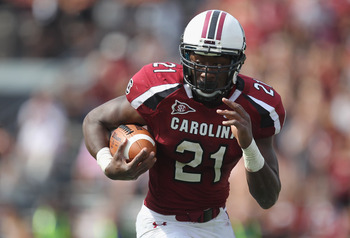 Streeter Lecka/Getty Images
Marcus Lattimore is truly one of the best running backs in the game right now. Even without him, South Carolina is a formidable team to deal with.
Just ask Nebraska—they found it out the hard way.
But Lattimore has a tendency to get injured. He suffered a season-ending ACL injury that sidelined him for the second half of last season.
My gut says he's going to get injured again, as South Carolina does ride him hard, but not necessarily of the season-ending variety.
Gut Feeling: Marcus Lattimore gets injured again this season.
No. 8: Florida State Seminoles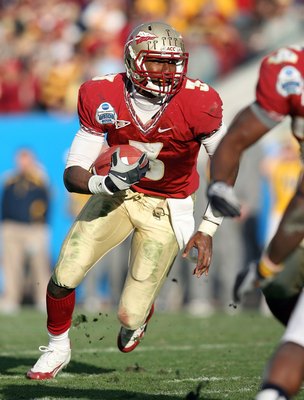 Doug Benc/Getty Images
Last season, many predicted that Florida State was back in contention to win ACC championships and maybe even more.
Such predictions were probably just a year too early. If E.J. Manuel had not gotten injured against Oklahoma, who knows what might have happened?
I'm not sure if a national championship is in the Seminoles immediate future, but my gut says that an ACC title is.
Gut Feeling: Florida State wins the ACC.
No. 7: West Virginia Mountaineers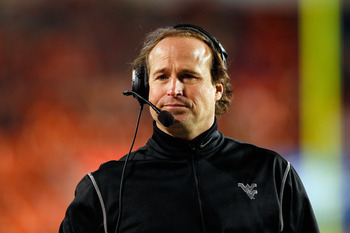 Mike Ehrmann/Getty Images
It's fitting that West Virginia is joining the Big 12. After all, Dana Holgorsen was offensive coordinator at both Texas Tech and at Oklahoma State.
People are perhaps a little over-optimistic about the Mountaineers winning the Big 12 in their first season—and their offensive shellacking of Clemson in the Orange Bowl is why.
Still, West Virginia will finish in the top two or three of the conference, and maybe make it to a BCS bowl.
Gut Feeling: West Virginia will finish in the top three of the Big 12, but won't win the conference.
No. 6: Oklahoma Sooners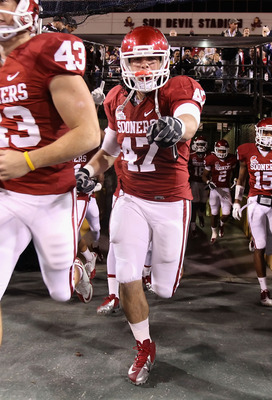 Christian Petersen/Getty Images
The Sooners may not be quite in the hunt for another national title, but Oklahoma is skilled at winning another type of championship:
Big 12 championships.
Ever since Bob Stoops took over, Oklahoma has won the conference seven out of 13 seasons.
Expect him to make it eight of 14.
Gut Feeling: Bob Stoops and Oklahoma win the Big 12.
No. 5: Georgia Bulldogs
Kevin C. Cox/Getty Images
Remember last preseason when Mark Richt was supposedly in the dog house with the Bulldogs? That changed quickly, as Georgia won 10 games in a row and an SEC East title.
Georgia looks like the kind of team this year that might finally be able to challenge the powerful SEC West with a lights-out defense and a high-powered offense.
After the 2012 season is over, Richt is going to get a raise instead of a pink slip.
Gut Feeling: Mark Richt gets a raise after the season for a job well done.
No. 4: Alabama Crimson Tide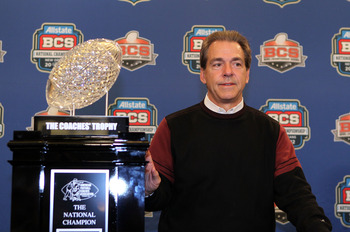 Andy Lyons/Getty Images
Nick Saban has some rebuilding to do on defense, as a huge chunk of last year's national championship defense has left for the greener pastures of the NFL.
And yet they're still good enough to be No. 4 preseason. That just goes to show you how good Saban is.
The Crimson Tide defense will be solid as it always has been under Saban and defensive coordinator Kirby Smart, but I have a feeling that QB A.J. McCarron will surprise the nation and steal the show.
McCarron sure surprised LSU in the BCS National Championship Game, and now former Washington offensive coordinator Doug Nussmeier is going to be coaching McCarron.
That's the same coach that made Keith Price into a scoring phenomenon for the Huskies.
Gut Feeling: A.J. McCarron will surprise the nation by emerging as one of the nation's top quarterbacks.
No. 3: Oregon Ducks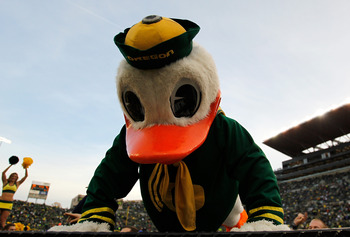 Jonathan Ferrey/Getty Images
By losing just two players to the NFL, Oregon still lost a lot of last year's offense.
LaMichael James had over 2,000 yards of total offense and 19 touchdowns, while Darron Thomas contributed 2,761 yards passing and 33 touchdowns.
Never fear, Ducks fans. With De'Anthony Thomas taking over for James, that poor student dressed up as a Duck is still going to have to do plenty of pushups.
Gut Feeling: Despite losing LaMichael James and Darron Thomas, Oregon's offense will be as high-powered as ever.
No. 2: LSU Tigers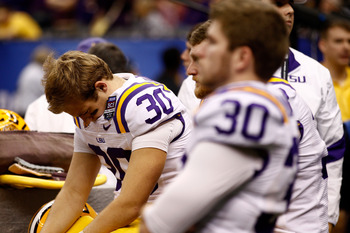 Chris Graythen/Getty Images
Every LSU player who participated in that joke of a BCS National Championship Game should still be feeling the sting of an embarrassing defeat. The offense should be particularly ashamed, as they didn't even pass the 50-yard line until the game was over, for all intents and purposes.
LSU looked unstoppable for most of 2011, but that illusion evaporated quickly in the rematch with Alabama.
My gut says that this loss to the Crimson Tide is going to spur LSU to even greater things this year. With most of what should be the No. 1 defense in the nation coming back, I would say that the Tigers are going to be the most dangerous team in the FBS.
Gut Feeling: LSU will bounce back from loss, become most dangerous team in the FBS.
No. 1: USC Trojans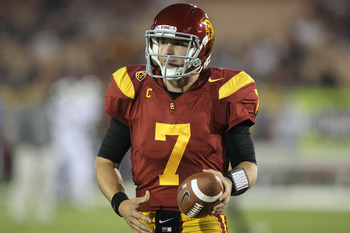 Stephen Dunn/Getty Images
There's no doubt in my mind that the Trojans are going to be phenomenal, especially with the return of Matt Barkley and Robert Woods.
But I just have a feeling that while a BCS bowl is almost certainly in USC's future, a national championship isn't.
No, this feeling doesn't have anything specific to do with USC. It's just that the preseason No. 1 rarely finishes that way.
In fact, the last team to do so was USC in 2004, but that championship doesn't really count anymore, does it?
Gut Feeling: USC will make a BCS bowl, but won't win it all.
Keep Reading