Italy vs. Ireland: Andre Pirlo's Leagcy Is More Than a "Maestro"
June 18, 2012

Clive Mason/Getty Images
"Passing is an art."
What a load of pretentious crap! Passing is kicking a ball with less velocity than a shot. It also requires more finesse and deliberateness than a shot, thus giving it the air of snootiness.
We often extend the metaphor out even further by calling the games very best passers "maestros," players who are so precise in the midfield that they direct and coordinate with the exactitude of the man in front of the symphony it alludes to. The foot of the player acting as the baton and the passes they deliver are equivalent to the direction each wave of the baton sends to the orchestra.
Luka Modric, Andres Iniesta, Xavi, Lionel Messi, Paul Scholes are just a few of the names that garner the clichéd distinction of being a maestro. But it would be insulting to refer to the game's best passer with such a broad an redundant term. Andre Pirlo deserves more recognition than that.
Through the first two games of Euro 2012, there have been few players who have impressed the world as much as the Italian legend Andre Pirlo. The 33-year-old who made the move from AC Milan to Juventus last season (which is the equivalent of a 68-year-old recent retiree moving to Florida) may have fallen a bit off the international radar as his new team had no European competition. But its perfect Serie A record which won the club their 28th title was due in no short terms to the play of Pirlo, with a career high of 13 assists and an indefinable amount of influence in the buildup.
That quality has shone through right into the summer as we all have some point been reminded of the magic he displayed in Germany 2006 and have forgotten the many years he seemingly fell off the map after he was held out of South Africa 2010 due to injury. It reminds us all of one of those weird quirks in sports, where play can transcend time and the need to connect the past to the present and the present to understanding the future.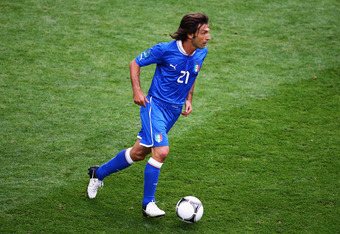 Christof Koepsel/Getty Images
Through two games Pirlo has an assist and a goal. Both were crucial as Italy is barely staying alive in Group C with two points, drawing 1-1 in both matches. Statistically Pirlo does not jump out at you and in this number-driven world sports has become, followed on a fantasy level as much are reality, it has hurt his stock. His passing percentage is a mediocre 82 percent with an okay number of 67 total passes.  He has made only two key passes, which for a midfield playmaker on a struggling attack is not enough. And while his player rating of 7.91 is the best on Italy and eighth best out of all players, the subjectivity involved in such a numeric value make it near obsolete.
But football is a game of subjective analysis, one of those sports where results are greatly indifferent to process. The correct tactics are the ones that get you the result you want and totally contingent on match-ups and flow. Unlike baseball, which is essentially a game of one-on-one, basketball where a single player can inflict his will or hockey where the amount of back-and-forth make possession important, football's requiring 11 parts to function in some sort of unison to be coherent there is an abstraction to the game unlike any other.
This is why one player who can take over a team is often given the label of "maestro;" the way the 10 other parts seem to work off of and around his play and that a breakdown in his performance ultimately results in the dysfunction of the team.
Bad stints of play by David Silva and Iniesta have made Spain impotent at times. Modric's inability to create for Croatia against Italy made them stale. Andrey Arshavin was been brilliant for Russia, until its loss to Greece.
The one thing that is often loss in the understanding in the idea of the "maestro" midfielder is the notion of subjectivity of the other players. They must operate in accordance to the wishes of the director of play, making runs for his passes and giving him the space he needs to work his magic.
For teams like Spain and Germany, groups of players who are as cohesive as a national team can be, this will work out. But as we see when some of these stars head back to their clubs, out of sync with the style of play of their teammates, there is an epic collapse and the very best are made to look average.
Just look at the tournament of the Dutch. A team with Rafael van der Vaart, Arjen Robben, Robin van Persie and Wesley Sneijder collapsed in epic embarrassment due this philosophy. Each of these players is the focal point of Tottenham, Bayern Munich, Arsenal and Inter Milan, respectively, but when they come together there is too much dysfunction and ambiguity in who should take control. There is not enough room on the stage for everyone to be holding a baton.
Though in the case of Italy there may not be an overabundance of playmakers, there is even less cohesion than the tournament favorites. 
Ten different clubs are represented on the roster. There is a mix of aging vets who subscribe to the old school stalwart defending and the younger crop more in touch with the wide wing play. And none outside of the one Napoli defender usually play in this three defender, five midfield formation.
Pirlo has been incredible this tournament not because he is able to make all of these differing parts come together, but more so he is able to give all these differing parts what they need to succeed. Pirlo does not direct play, he reacts to it. His 30-yard lobbed through balls which hit teammates in stride are not a product of chemistry, but Pirlo's own brilliant recognition of the game.
Don't delineate what he does by referring to him as a "maestro." It is too small and calculated to accurately depict his level of play. It connotes much more toward him working in functional system that has the groundwork laid well before the team steps on the pitch. It implies far too much reverence from his teammates at his style.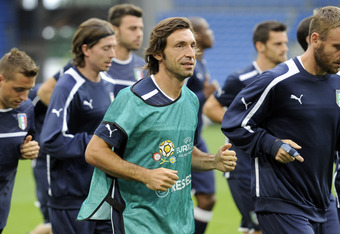 Claudio Villa/Getty Images
Pirlo is an old school footballer, playing the game the way it was meant to be played. Before the days of overly tacticious analysis when every touch is dissected and each pass recorded. When it was infantile and pure with one goal in mine—score more than the opposition. He remains true to this and displays it better than any other player in the game today.
Italy takes on Ireland today with a win required to see them through to the knockout round. There are other possible outcomes depending on the other match in Group C, but Italy can only worry about itself.
This very well could be Pirlo's last game for the Azzurri and with over 85 caps in the blue, no one could suggest that it was not a remarkable career. But nothing is more remarkable than his ability to stand the test of time. Over the past decade the game itself has gone through the natural progressions every sport does, ebbing back and forth in philosophy and style through cause and effect.
The only way to survive so long is to have your game exceed the crafty minds of men. Just like in music, maestros come and go with the changing discourse of aesthetics. But a great musician survives on always adapting by holding on to the basics.
In football no one has mastered the basics better than Andre Pirlo.
For all my articles, follow me on Twitter: @thecriterionman