NFL Offseason: Setting the Odds on These 3 OTA Superstars Surviving Final Cuts
June 19, 2012

Wesley Hitt/Getty Images
Every National Football League offseason, Organized Team Activities (OTAs) are at or very near the forefront of the NFL evaluation and news agenda.  OTAs are essentially a defined set of practices with specified guidelines for duration and contact from the league office.
Their late-spring timing is crucial because they come on the heels of rookie mini-camp and create the illusion of what might be expected in the ensuing fall for hardcore fans and certain analysts.  But perhaps most instructively, it allows evaluations of rookies and other inexperienced young players to incubate further.
Veterans do participate in their respective teams' OTAs but for a combination of reasons—workload or injury recovery chief among them—the younger players tend to get the majority of play repetitions.  This serves several purposes for various invested parties.
On one hand, it assimilates the young player more quickly into his team's professional practice culture, simultaneously allowing personnel decision-makers and coaches a more specific setting in which to evaluate and instruct.
It also produces the inevitable buzz about different players blowing up at different teams' OTAs, eliciting sleeper Fantasy Football discussions and surprise-production predictions. 
For anyone familiar with Major League Baseball, I compare the value and projectability of spring-training statistics with the foreshadowing of National Football League OTAs.  This is to say that it is fun and sometimes predictive, but almost always not correlative of regular season performance.
Somewhat expectantly, a lot of the understood hype surrounding different OTA performances has to do with the volume of the voice pronouncing it.  This can be a determined blogger, a savvy team spokesperson or even a coach or other team official being innocuously open or specifically manipulative.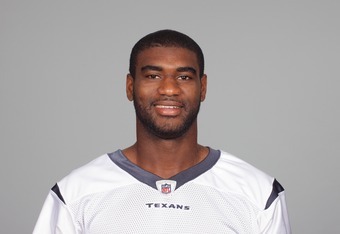 Handout/Getty Images
Below I examine three players whose performances during the recent OTA period have created waves in the media and try to handicap each's ultimate chances at being on the final 53-man roster in September.
Lestar Jean, WR, Houston Texans, 6'3" 215 lbs., Florida Atlantic University, 2011 undrafted free agent
Odds to make the team: 1:1
Before suffering a season-ending injury in preseason a year ago as a rookie, Jean was drawing praise and appeared poised to make the club as a rookie free-agent.  Fast forward a year later and the talk is even stronger with regard to him securing a roster spot.
I have Jean pegged at 100% assured of making the club.  The bigger question is how likely he is to earn a proverbial starting gig as the No. 3 wideout behind superstar Andre Johnson and veteran Kevin Walter.  Could he unseat Walter at No. 2?
The other two receivers in the equation at present appear to be mid-round rookies DeVier Posey and Keshawn Martin.  Will Posey leapfrog Jean and Walter for the No. 2 role or, if Martin locks up the slot, how many snaps are left on the outside between Walter, Jean and Posey?
One advantage that Jean appears to maintain in the resolution of this position battle is the ability to work from both the outside and inside alignments.  This should help him get on the field, and he should be able to stay there if the coaches do decide he is one of their top three or four guys, as he would shuttle back and forth to accommodate the substitution of the Texans' less versatile pass-catchers.
Vick Ballard, RB, Indianapolis Colts, 5'10" 220 lbs., Mississippi State University, 2012 5th round
Odds to make the team: 1:1
Ballard was one of my favorite mid-round running-back prospects in this most recent class and, in staying healthy, it does not surprise me at all that he has made a hugely positive first impression.
At the risk of seeming boring, I also have Ballard pegged as a 100% certainty to make the Colts' roster out of camp later this summer.  Similar to Jean above, the more intriguing question becomes how much playing time and touches he will receive.
Currently ahead of him on the depth chart is much-maligned starter Donald Brown and second-year man, and fellow mid-rounder, Delone Carter.  Brown is easily the most physically talented of the trio, which contributed to him being a first-rounder back in 2009.
Despite a miserable overall season by the team, Brown did put a lot of the inconsistencies behind him from the first two seasons of his career and he should hold onto the starter's job.
But running backs are constantly getting nicked up or worse, and regardless he will likely come out on third-down passing situations because he is not really refined as a receiver, so there is a defined role and snaps for Ballard to win.
And according to Pro Football Focus, Carter struggled in every phase (rushing, receiving, pass-blocking) as a rookie in 2011 (-4.9 grade), though it was only 244 snaps and reasonable improvement can be expected from him this year.  The point being that Ballard does have an opportunity to compete and win a visible part in what will already be a very young 2012 Colts offense.
Cole Beasley, WR, Dallas Cowboys, 5'8" 175 lbs., Southern Methodist University, 2012 undrafted free agent
Odds to make the team: 3:1
Beasley is a guy I root for.  It is very interesting when a player fits a certain stereotype but, in doing so, also looks the part of a successful NFL player at the same time.  He plays with so much effort and I have never read or heard a negative thing about him on or off the field in the media.
When I broke down SMU film during the winter, I want to say I watched about 10 quarters, Beasley was an easy guy on whom to slap an undrafted free-agent grade.  He is very small and not particularly fast.  Despite timing at a 4.49 in the 40 at his pro day, his short shuttle (4.40) and three-cone drill (7.16) were surprisingly slow for a guy with his size/role profile.
To his credit, Beasley also tested very strong (17 bench reps of 225 lbs.) and explosive (38" vertical, 10'6" broad jump) for his size, both aspects of which play successfully for him on tape.  He wins a lot of battles in close quarters and often seems to create just enough separation or burst to make a catch or pick up the first down.
This class was loaded overall at wide receiver, including slot types, so it was always a longshot that he would be drafted.  But now that he is in camp with the Cowboys, he is overachieving and garnering organizational fans it sounds with each passing day.
The uncertainty comes with the numbers game and how buried Beasley currently finds himself on the depth chart per Ourlads.  Dallas also drafted this year (fifth round) a projected slot receiver that has no shortage of supporters in and outside the front office, but who has nursed an injury for part of the spring, in Danny Coale from Virginia Tech.
The odds are admittedly long for Beasley, but as a betting man, I would not feel good about going against him.  He just seems to have that quality and profile to his game that he will turn up, and ultimately do a good job, on some team even if it is not the Cowboys this fall.