Georges St-Pierre: Odds on the 10 Top Welterweights Defeating GSP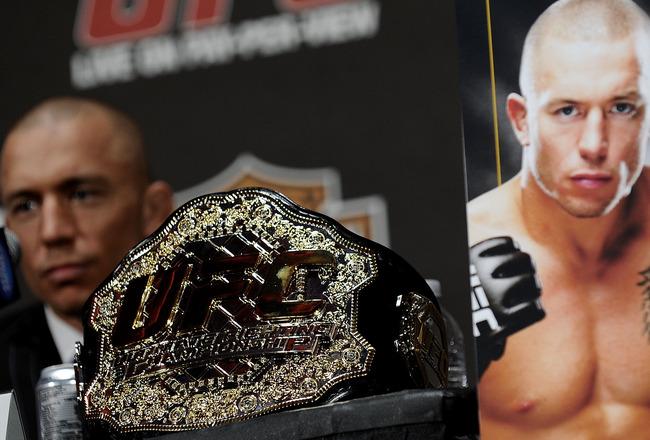 Jeff Zelevansky/Getty Images
George St-Pierre regularly makes the list of the best pound-for-pound fighters in the world, and his achievements in the world of mixed martial arts can only be matched by the likes of Anderson Silva and Fedor Emelianenko.
His denigrators say he's a "safe" fighter who rarely goes for the finish, and that it's his gamesmanship that has allowed him to sit on top of the welterweight division since 2007.
But a decade of experience has undoubtedly produced one of the most well-rounded fighters the sport has ever seen, excelling in all aspects of the game and ensuring GSP as one of the most difficult fighters to overcome in the entire division.
He's already torn through the UFC's welterweight division once, but the promotion keeps finding fresh blood and new talent to throw his way. In the following slides, we look at the 10 best that could be heading his way, and assess what threat they truly have to offer him.
GSP is currently out with a knee injury, but depending on whether he comes back the same man, few of the pack seem any kind of real threat. Here's how they break down.
Carlos Condit
Jason Merritt/Getty Images
A fellow stalwart at Jackson's Submission Fighting in Albuquerque, New Mexico, Carlos Condit made himself the No. 1 shot at GSP's title following a victory over Nick Diaz in February.
It was a controversial victory, one which had the fingerprints of Greg Jackson all over it, but it wasn't an impressive one.
Condit has gone 5-1 in the UFC since making his debut for the organization in 2009, and can legitimately claim to be the No. 1 contender after wins over Jake Ellenberger, Rory MacDonald, Dan Hardy, Kim Dong-Hyun and the aforementioned Diaz.
He's a well-developed Muay Thai striker with exceptional speed and footwork and has an enviable submission game.
However, neither of these qualities or on par with GSP. He struggled on his feet against both Ellenberger and MacDonald, in a match he was close to losing, and his negative striking style against Diaz left much to be desired.
GSP is every bit of a tactician on his feet as Condit is, but also possesses world-class wrestling, which could take Condit out of his game quite easily. On the ground, both possess exceptional jiu-jitsu, but whether Condit can work from his back against GSP is another matter.
GSP is the odds-on favorite for this one, 3-1.
Johny Hendricks
Jon Kopaloff/Getty Images
His unexpected first-round knockout of perennial title-chaser Jon Fitch put the little known Johny Hendricks straight onto the path to the championship.
He followed that knockout, which many have called "lucky", with a questionable split decision win over Josh Koscheck.
His performances haven't exactly been electric, but still, he stands today near the top of the welterweight mountain. With Diaz suspended until the end of the year, many consider him second in line for a title shot after Condit.
Indeed, there is talk that if GSP fails to return from injury in November, he'll face Condit on that date for the interim welterweight title.
Such machinations aside, we've seen little of Hendricks that tells us he could give GSP a run for his money.
He may be a match for GSPs wrestling and possesses heavy hands, but he's nowhere close to being as well-rounded as the Canadian. It's hard to imagine GSP making the same mistake as Fitch or making a meal of a stand-up war like Koscheck did.
GSP: 4-1 favorite.
Nick Diaz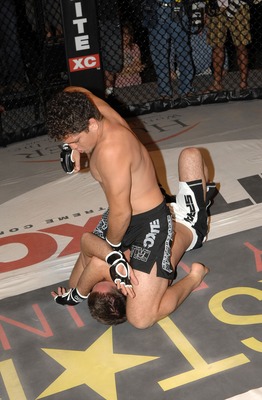 Stephen Shugerman/Getty Images
Despite a controversial loss to Condit, Nick Diaz is still widely regarded as the No. 2 welterweight in the world.
He's currently serving out a suspension, as well as a promise of retirement, but if/when he does return to the Octagon, it will likely be a match against GSP.
Since a controversial doctor stoppage cost him in a match against KJ Noons in 2007, Diaz has been an unstoppable force in MMA. Scoring a series of knockouts and submissions, his aggressive, highly pressured, relentless style of fighting has made him a fan favorite.
But in the past he has struggled against wrestlers, which, due to the biases in modern MMA, cost him decision losses early on in his career.
This does not bode well in a match against GSP if the champion can take him down and keep him down.
That in itself is no mean feat. Diaz has added some exceptional takedown defenses to his arsenal since his early forays into MMA and is now an accomplished judoka and Sambo fighter in his own right.
He won't be an easy fighter to bring to the mat, but even there, his world class BJJ will pose a threat on the ground GSP has rarely faced.
But even on his feet, Diaz has some of the best boxing in MMA and could pose a real problem for GSP, as long as he doesn't get frustrated. Otherwise, it could be a similar night to his fight against Condit, with Diaz's pressure-fighting neutralized by GSP's speed and footwork.
Odds of either fighter winning: Even.
Jake Ellenberger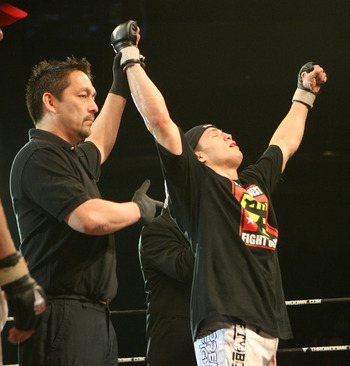 Ethan Miller/Getty Images
Another rising star in the welterweight division, Jake Ellenberger's only two losses in the UFC are to Condit and Martin Kampmann.
The last was an unfortunate second-round KO in a match he was winning and, indeed, was expected to win. That would have left him and Hendricks directly behind Condit looking for a title shot, but unfortunately that setback meant Ellenberger now has other fighters to take care of before being considered for a title shot.
Up until then, he had been looking like a solid welterweight fighter. With a good, but not great, wrestling background, and sharp boxing, he has notable first-round stoppages over Sean Pierson and Jake Shields.
He followed those up with a sterling performance against Diego Sanchez in a unanimous three-round decision victory earning him Fight of the Night bonuses.
Ellenberger was clearly a fighter in the ascendancy, but whether that would mean anything in a fight against GSP is another matter.
He's nowhere as well-rounded as GSP and clearly has holes in his ground game. In his 33 fights, submissions are rare, and only a purple belt in BJJ, he's prone to submissions himself.
Nor is his stand-up as sharp and technical as GSP, prone as he is to slugging it out. Having better ground game, better stand up and better wrestling, the Canadian could dictate this match wherever he wanted, which could make for an easy win.
GSP for the win: 5-1
Martin Kampmann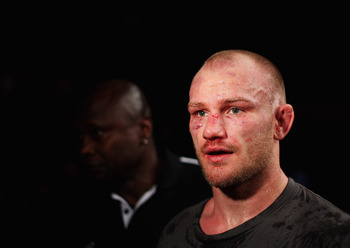 Mark Kolbe/Getty Images
Martin Kampmann has been in the UFC since 2006, but it's his recent three-fight win streak that has caught the attention of matchmakers.
Up until then his career has been a hodgepodge of wins against fighters who should have beaten him, and losses against those he should have defeated.
And that's not counting his recent victories against Thiago Alves and Ellenberger. He also has notable wins over Condit, Paulo Thiago, Jacob Volkmann and Rick Story, while he's lost to Nate Marquardt, Paul Daley, Jake Shields and Diego Sanchez.
Such inconsistent performances make it difficult to put him above a class of journeymen fighters in the welterweight division.
He has a solid submission game, but whether that, or any of his other skills could be pitted against GSP, is doubtful. Despite the fact that he seems to be improving later in his career, he's unlikely to pose the champion much of a challenge at this point.
GSP clear favorite: 5-1.
Josh Koscheck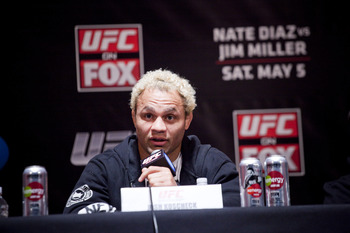 Michael Nagle/Getty Images
Josh Koscheck has fought GSP twice in his career and lost twice. Such a record makes it unlikely that he'll be given another shot at the incumbent champion, but he's included in this list because he's still fighting at the top level in the division and continues to be "in the mix".
Indeed, since his back-to-back wins against Matt Hughes and Mike Pierce, some were speculating at a possible shot at interim champion Condit somewhere down the line. Unfortunately a narrow split-decision loss to Hendricks in his last match has left him in limbo in the welterweight division. However, that was a match many thought he'd win, and his stock hasn't fallen by much.
How he'd fair against GSP if they meet again will depend on how far his stand-up has improved since their last encounter.
As much as a high-level wrestler Kos is, he was unable to take GSP down and keep him down. All signs are that another match between the two would be another stand-up exchange with GSP dictating the pace.
The champion's striking is simply in another class compared to Kos, who failed to show any of the skills required against either Hendricks or Pierce in his most recent matches. This one's likely to go the same way as their previous encounter.
GSP to win: 4-1.
Rory MacDonald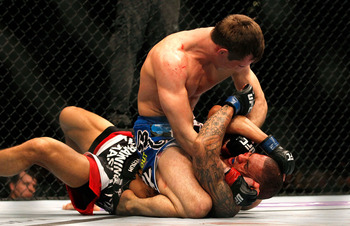 Kevin C. Cox/Getty Images
Tri Star prodigy and welterweight wunderkind, Rory MacDonald is the most hyped fighter in the UFC today, and for good reason.
At just 22, he's 13-1 in his career and has developed the kinds of skill and tenacity champions are made of.
He's already faced some of the best the UFC has to offer, including Condit and Nate Diaz, and acquitted himself remarkably in both encounters. Against Condit he was TKO'd in the dying seconds of the last round, in a match he was easily winning. Against Diaz, he threw the more experienced fighter around like a rag doll for 15 minutes, sending Diaz permanently down to the lightweight division.
GSP himself has said that MacDonald is the future of the division, much better now than he was at Rory's age. But that doesn't mean he's equal to his mentor today.
A fight between the two is unlikely ever to happen, but if it did, the youngster still lacks the experience to mount an effective challenge. That experience is likely to come quickly over the coming year, and many would say he is already GSP's equal as a grappler.
But whether his striking is as crisp, or his athleticism is as well developed is another matter. It will take a victory against BJ Penn, who he's scheduled to fight later in the year, before we truly know where he's at in his career.
If they fought today, GSP would still have the advantage: 4-1 favorite.
Jon Fitch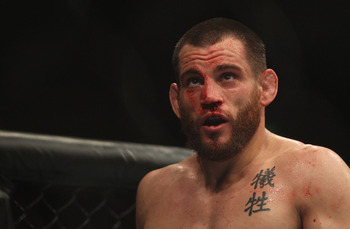 Mark Kolbe/Getty Images
The man many consider the most boring fighter in MMA, Jon Fitch, nevertheless, has one of the best records in the sport. At 23-4 he was mounting a winning streak that would have led him straight to GSP's door, if it wasn't for a shocking KO punch that put him flat on his back within 12 seconds of the first-round against Hendricks.
That has set his stock back a fair bit, especially considering his style of grinding out a win has left him with few fans—least of all Dana White.
He hasn't fought since December and is currently out with a knee injury, unlikely to mount a title run anytime soon.
And he has already faced GSP once before, resulting in his first loss in five years.
That was a gruelling five-round war which earned him the Fight of the Night bonus. However, the fight may have been gruelling, but it was still pretty one-sided, with GSP ultimately winning every round in a unanimous decision victory.
He is an expert grappler, but GSP has shown himself equal to Fitch before. If they were to meet again, GSP would be a 2-1 favorite.
Ben Askren
Jonathan Ferrey/Getty Images
He's the current Bellator welterweight champion and one of the fastest rising stars in MMA. Ben Askren is considered by many as the best wrestler in the sport, and that skill has landed him 10-straight wins and no losses in his short career.
A former Olympian, he is a freestyle wrestling gold medallist at the 2009 World Championships, as well as a 2005 gold medallist at the Pan American Championships.
But this is MMA, and not wrestling, and GSP has been known to spoil a wrestler's party time and time again. Furthermore, the small fish at Bellator are a league apart from the sharks that would await him was he to enter the UFC.
Neither his striking nor his BJJ skills have been put much to the test in his career, and he'd have to be much more rounded than he is to compete with GSP.
GSP, clear favorite: 6-1.
Diego Sanchez
Jon Kopaloff/Getty Images
The turbulent career of Diego Sanchez has known many ups-and-downs since he beat Kenny Florian in The Ultimate Fighter 1 finale. He was quick to establish himself as one of the best in the UFC's welterweight division early on, but has come up short at the most important times.
Nevertheless, he is one of the most game fighters in MMA, having earned Fight of the Night in his last three fights, and five Fight of the Nights in his last seven matches.
Those accolades are testament to the blood and brutality he endures in all his encounters, and the secret to his victories. He may not be the most technically or athletically gifted of fighters, but he unquestionably has the biggest heart.
That's unlikely to be enough against GSP. Sanchez hasn't finished many fights in his career, either by submission or knockout, and going for the decision against GSP would be a mistake.
GSP is far too shrewd, tactically aware and crafty in the ring to fall for a slug-fest which would give Sanchez an advantage. In the end, Sanchez brings little to the table that GSP hasn't seen before and he'd more than likely win an encounter between the two.
Odds on GSP winning: 4-1.
Keep Reading