Chicago Blackhawks: Monday's 4 Moves Kickoff to Busy Draft Week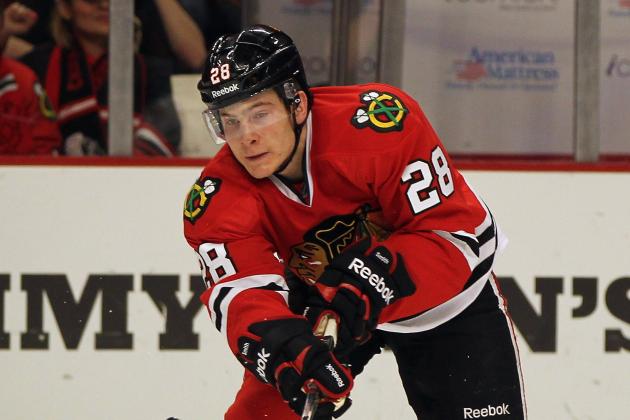 Jonathan Daniel/Getty Images

With the 2012 NHL draft looming this weekend, Chicago Blackhawks GM Stan Bowman kicked off what should prove to be a busy week. For Bowman, the first step was addressing some internal issues.
The 'Hawks announced the signings of forwards Ben Smith, Brandon Bollig and Carter Hutton to contracts. Chicago also added by subtraction, ending their agreement with Alexander Salak by releasing the 25-year-old goalie.
These are all small but positive steps by the organization. Bowman retained some role players and got rid of a malcontent in one fell swoop.
With Monday's action, I would guess that the organization is passing on RFAs Chris DiDomenico and Simon Danis-Pepin. Bowman can now concentrate on any pre-draft wheeling and dealing he plans on attempting.
Let's look at each of these moves and what they mean to the 'Hawks.
Begin Slideshow

»
Bruce Bennett/Getty Images

Bollig tweeted Monday that he was "beyond excited to be a punching bag" in the organization for the next two seasons. Does that sound like a guy who knows his role or what?
What the 'Hawks get, like it or not, is a more approachable enforcer than they had with John Scott. Bollig will throw down. The question is whether or not Joel Quenneville will use him regularly on the fourth line.
I hope Quenneville signed off on this. According to Jesse Rogers of ESPNChicago.com, the first year of Bollig's two-year agreement is a two-way deal. The second is a one-way contract. This has to suggest that the powers that be see a future in Chicago for Bollig.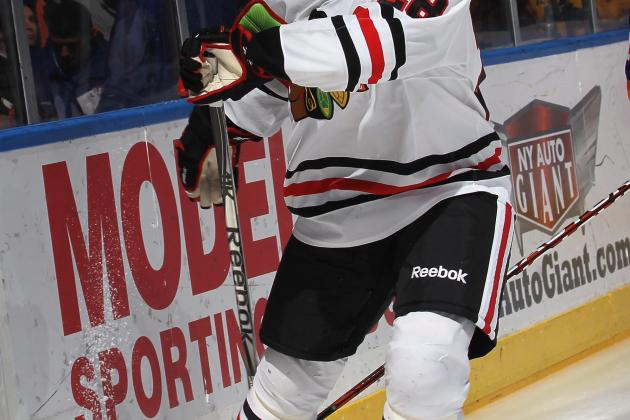 Bruce Bennett/Getty Images

Smith's deal is for two years, though details have yet to come out. Smith started and ended the 2011-12 season with injuries. He missed the first few weeks with a concussion and played at least part of the season with a hernia and hip issue that was corrected by surgery in March.
In between, he scored 30 points in 37 games in Rockford and had a pair of goals in the 13 games he spent with the 'Hawks. Smith gets the chance to log a healthy season and move his way up in the organization.
I wouldn't be surprised to see Smith make the team this fall. Before the concussion suffered late in training camp, he probably would have spent most of his year in Chicago.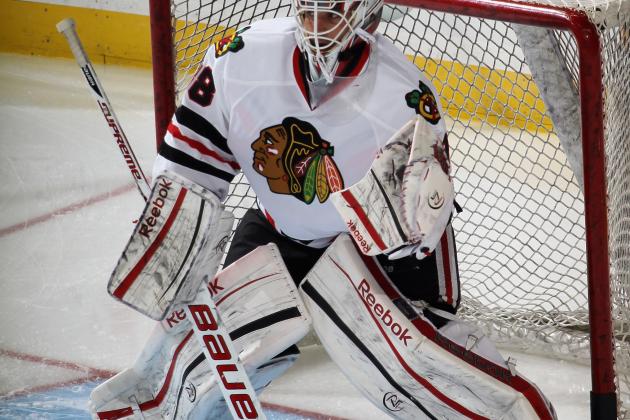 Bruce Bennett/Getty Images

Hutton is back with the 'Hawks with a one-year contract, presumably of the two-way variety. Hutton parlayed a successful season in Rockford into being signed for the remainder of 2011-12 and renewed for the upcoming campaign.
Hutton will be installed as the starter for the IceHogs, which should come as terrific news for Rockford's fanbase. If he replicates last season's performance, Hutton could be an option at backup goalie for Chicago in the future.
This is a good signing for the organization's depth at goal. It probably means different things to the three other goalies under contract.
Alec Richards may be headed for a change of scenery. It could also mean that Kent Simpson or Mac Carruth could be in for another year of junior hockey. If Hutton is in Rockford, as it appears he will be, there may not be room for all three of the other goalies.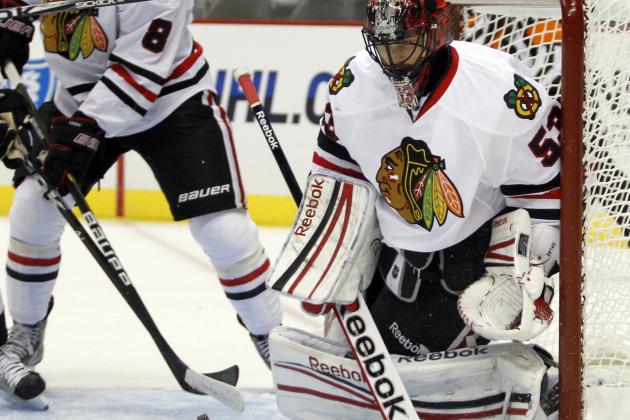 Justin K. Aller/Getty Images

This move was tipped when Bowman put Salak on waivers on Friday. The league passed and Salak is free to pursue employment elsewhere.
The buyout of his contract is only going to amount to about a $100,000 cap hit in each of the next two seasons, so Bowman elected to make a clean break from Salak rather than loan him out to someone and pay the full $600,000 salary left on his deal.
Salak could be signed to a two-way deal by a team that still believes in his talent. However, it's a good bet that he will opt to sign in Europe. Either way, he has ceased to be the Blackhawks' problem.