NBA
NBA Finals: Shane Battier Supports Miami's Big Three with Big Threes

Shane Battier has been number 1 in threes in the finals
Ronald Martinez/Getty Images
June 18, 2012
A lot of experts figured that the NBA Finals would come down to a battle between the Big Three for each team, Miami's LeBron James, Dwyane Wade and Chris Bosh vs. the Thunder's Kevin Durant, Russell Westbrook and James Harden. In the first three games, each of these players has had their moments.
But one of the biggest surprises of the series has been the play (or should I say, the shooting) of the Heat's Shane Battier. Through the first three games, Battier is averaging 14.3 PPG and has made 11 of 15 three-point shots. It's the three-point shooting that has elevated Battier's game in this series.
For the 2011-12 season, Battier made 62 three-pointers in 65 contests. In the '12 playoffs, however, Battier has made 38 threes in 21 games, almost doubling his output in that category in the playoffs.
In Sunday's game, Battier became the 32nd player in NBA history to make 11 or more three-pointers in an NBA Finals series. And with at least two more games on the docket for this series (and maybe more if the Thunder have anything to say about it), Battier could make a run at the NBA record for most threes in a finals series.
Boston's Ray Allen holds the record with 22 three-pointers made in the 2008 NBA Finals series when his Celtics defeated the L.A. Lakers for the title. The players with the most three-pointers in a finals series: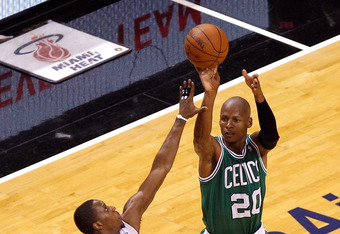 Will Ray Allen's three-point finals record be challenged?
J. Meric/Getty Images
Three-point shots made in an NBA Finals, Player, Year
22: Ray Allen, 2008
17: Derek Harper, 1994; Dan Majerle, 1993
16: John Starks, 1994; Rashard Lewis, 2009
15: Kobe Bryant, 2010; Reggie Miller, 2000; Robert Horry, 2005; Bryon Russell, 1997
14: Michael Cooper, 1987; Mario Chalmers, 2011
Battier has not only has made 11 threes in this series, but his accuracy has been at an all-time high, for him and in the history of the finals. Battier is 11-for-15 from beyond the three-point, a .733 percentage.
Battier currently has the best three-point shooting percentage of any player in the NBA Finals in NBA history (minimum of 11 three-point shots made to qualify for the list). Whether or not he can keep his percentage over .700 for the series will obviously play out over the next few games.
Here are the players with the best three-point shooting percentage in a finals series (minimum of 11 three-point shots made to qualify):
Three-point percentage, Player, Year
.733 Shane Battier, 2012
.688 Isiah Thomas, 1990
.632 Glen Rice, 2000
.609 Michael Cooper, 1987
.565 DeShawn Stevenson, 2011
.524 Ray Allen, 2008
.500 James Posey, 2008
Follow Jerry on Twitter @StatsonTapp
Like the new article format? Send us feedback!