Bryce Harper vs. Mike Trout: 5 Reasons Trout Is the Top Long-Term Star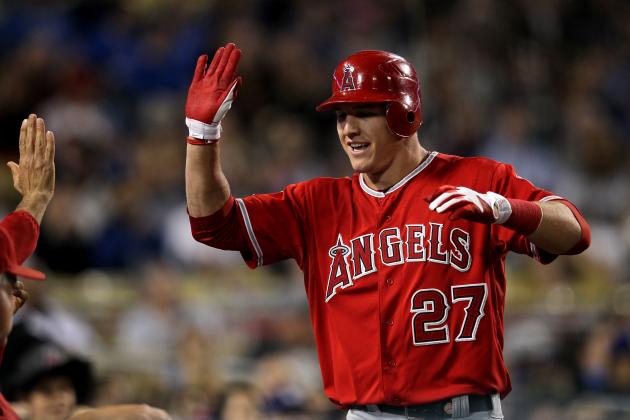 Stephen Dunn/Getty Images

Who was better, the Beatles or the Rolling Stones?
Was John or Paul the better Beatle? Mick or Keith the better Stone?
Those are seemingly impossible questions to answer, and you could absolutely say trying to compare the Washington Nationals' Bryce Harper and the Los Angeles Angels of Anaheim's Mike Trout falls in the same category, especially given the relatively small sample size we have to work with.
But that doesn't mean I'm not going to give it a shot.
As we sit here today, I believe Mike Trout is the better long-term star—and here's why.
Begin Slideshow

»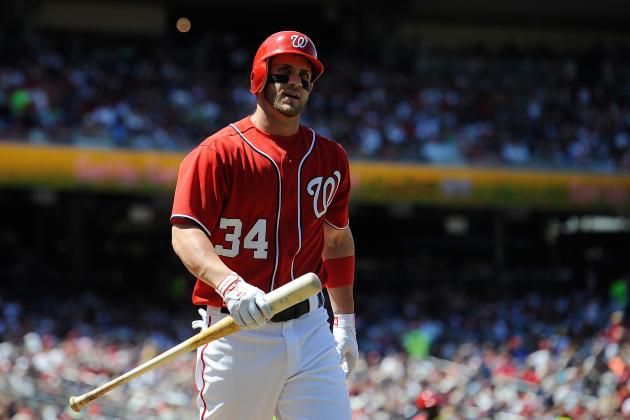 Patrick McDermott/Getty Images

There's no question that both Harper and Trout will be forces to be reckoned with at the plate for the next 10 to 15 years.
It's not even debatable.
But what we've seen this season leads me to believe that Trout will be the better all-around hitter. Case in point—we've yet to see Trout look completely over-matched at the plate throughout an entire game this season.
As for Harper, he was over-matched this past weekend against the New York Yankees, specifically in Saturday's 14-inning game.
Harper went 0-for-7 with five strikeouts.
While two came against Andy Pettitte—a wily veteran who is pitching like it's 1996 again, after taking the 2011 season off—and a third against Rafael Soriano, the former All-Star closer for the Rays, you'd expect Harper to have no issues hitting against the like of Clay Rapada and Freddy Garcia.
He had issues.
I watched that entire game—Harper looked over-matched in six of his seven at-bats.
Last year, while playing for the Nationals' Single-A affiliate, the Hagerstown Suns, Harper went deep off of Zachary Neal, a pitcher for the Greensboro Grasshoppers, the Single-A affiliate of the Miami Marlins.
As you can see in the video, Harper admires his blast for a few seconds, then begins to trot around the bases. Neal, who took offense to Harper's admiration of his home run, is yelling at Harper from the mound. As he gets to home plate, the slugger looks at Neal and blows him a kiss.
Now yes, this incident was grossly overblown—Harper was a teenager who got caught up in the moment—but that doesn't change the fact that it happened.
To his credit, Harper seems to have matured. But we've never seen anything even close to this from Mike Trout, who is only a year older than Harper.
But there's always the chance that Harper could have a momentary lapse of sanity and show up an opposing pitcher in the show, and he's likely to receive far more than some choice words from the mound if that happens against the wrong guy.
So the edge in attitude goes to Trout, who as I said, we've never heard or seen act as anything but respectful towards anyone associated with the game.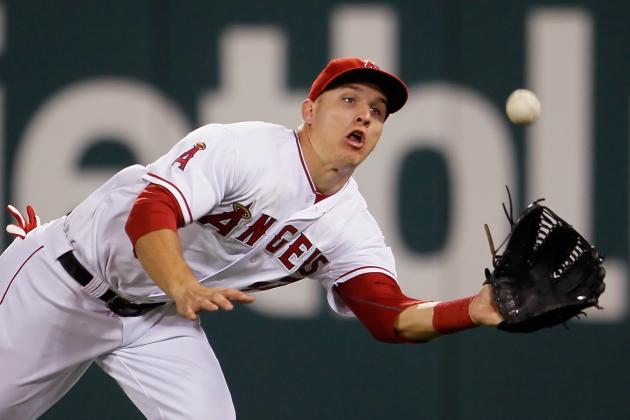 Jeff Gross/Getty Images

It's no secret that the Nationals don't believe that Harper is a true center fielder—his future likely leads to a permanent spot in right field, where he can unleash his cannon of a throwing arm to nail any runner foolish enough to challenge him.
Part of the Nationals' reasoning is that Harper simply doesn't have the top-end speed needed to cover the massive amount of ground required for the position.
Trout does—and his throwing arm, while not as powerful as Harper's, is both accurate and strong.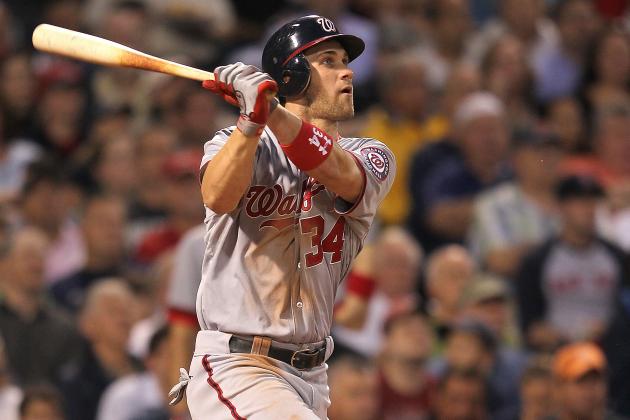 Jim Rogash/Getty Images

This one's not even close.
Bryce Harper has the most raw power the game has seen since Mickey Mantle, and that's saying a lot, considering the massive power Giancarlo "Don't Call me Mike" Stanton has exhibited down in Miami.
Harper, as he continues to develop, will emerge as a perennial 40-HR player who doesn't just hit home runs, he crushes them—again, drawing comparisons to the immortal Mantle.
That's not to say that Trout is strictly a singles hitter, because he's far from it—Trout has the potential to be a perennial 20 to 30 home run hitter on a yearly basis.
But power is only one aspect of the overall picture, not the end-all-be-all that some would have you believe that it is.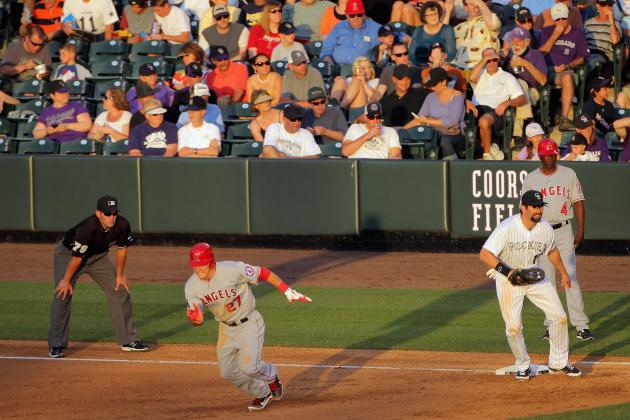 Doug Pensinger/Getty Images

This isn't to say that Bryce Harper is slow, but compared to Mike Trout, most people would be considered slow.
Trout has elite speed—evidenced by his 16 stolen bases in 19 attempts. While he trails the Cleveland Indians' Jason Kipnis for the AL lead (Kipnis has 17), keep in mind that Kipnis has played in 20 more games than Trout has.
Harper, on the other hand, is fourth on the Nationals with four steals in seven attempts.
Stolen bases aren't the only way we can see how Trout's speed makes him the better player: Trout has superior range in the outfield, as he can get to balls Harper (or most players) only watch fall in for base hits, or worse, watch it roll to the wall.
Those balls—shots hit to the outfield gaps—give both players a leg up (no pun intended) on the competition. They have the ability to stretch those into triples, which we've seen from both players already this season.
But as they both continue to add bulk to their frames, Trout's speed will remain, while Harper's will begin to fade.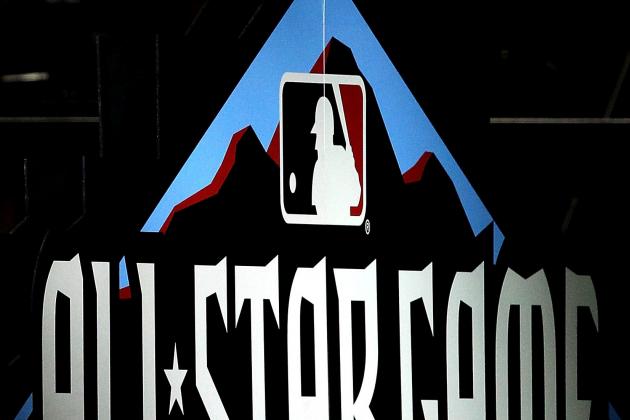 Christian Petersen/Getty Images
Both Harper and Trout will become mainstays in the All-Star game, perhaps starting next month.
As I said in opening, perhaps asking the question as to which of these two young studs will become the better player isn't best to do right now.
It's a question best answered, well, when their careers are over—but where's the fun in that?
Is there a chance Bryce Harper will ultimately become the better player? Absolutely.
Based on everything we've seen thus far, I'd be hard-pressed to look you in the eye and say, with a straight face, that I believe Harper is the better player long-term.
Again, it's like choosing between the Beatles and the Stones, or Led Zeppelin and Black Sabbath—you can't go wrong with either choice, as both Harper and Trout are future MVP's and will be amongst the most popular players in the game.
But when push comes to shove, if you can only choose one, I'll go with the complete package—and that's Mike Trout.