College World Series 2012: Highlighting Top Prospects to Watch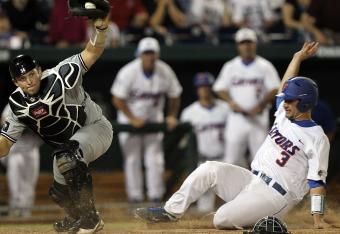 Ronald Martinez/Getty Images
Baseball games are won and lost by the strongest arms and the most powerful bats. The College World Series is no different—it's where the best in the sport make their mark. Here are the top prospects among the teams who are still alive and kicking.
Mike Zunino, Catcher, Florida
The Florida Gators' 21-year-old catcher was the No. 3 selection in this year's MLB draft. He will be heading to the Seattle Mariners minor league affiliates once his tourney run draws to a close.
At 6'2, 215 pounds, Zunino can bat with the best of them and has hit for a .316 average.
"A true power bat, Zunino likely won't be down on the farm for long, but doesn't have the athleticism to stick anywhere other than catcher or first base," reports Rotoworld.
Zunino and the rest of the Florida baseball team will face Kent State on Monday afternoon.
Brian Johnson, Pitcher, Florida
Florida's Brian Johnson summed up the first round of this year's draft, as the Boston Red Sox snagged him.
The southpaw hurler operates with four pitches and posted an 3.82 ERA during his first two years with the Gators, according to Didier Morais of NESN.com.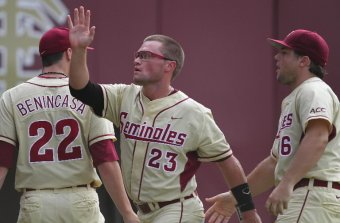 He's fearless on the mound and will continue to be as long as Florida is alive in the College World Series.
James Ramsey, Outfielder, Florida State
The Seminoles' lefty outfielder was drafted 23rd overall by the St. Louis Cardinals this June.
According to Baseball America, Ramsey hit at a .385 clip this season. Yet he's also got speed to burn and could be manning the St. Louis center field in a matter of years.
This is not the first time Ramsey has been selected, however. Last year, the Minnesota Twins chose Ramsey as a junior in the 22nd round, but he had unfinished business to take care of in Tallahassee.
Largely thanks to Ramsey's performance, Florida State ended Stony Brook's Cinderella story on Sunday. The Noles will play UCLA on Tuesday evening.
Jeff Gelalich, Outfielder, UCLA
Gelalich was picked by the Cincinnati Reds at No. 57 overall during the sandwich round.
Which of these players will have the best Major League career?
Batting left and throwing right, the junior outfielder is a tough hitter with speed to burn on the basepaths. He's been an asset across the board for the Bruins.
UCLA will rely heavily on Gelalich's performance as the squad preps for a tournament run.
Matt Reynolds, Third Base, Arkansas
Reynolds was taken by the New York Mets in the second round of the June's draft.
This season for the Razorbacks, Reynolds has hit .312 to go with 26 RBI and 11 steals. He's a solid all-around player who makes or breaks the Arkansas lineup.
Reynolds and the Razorbacks will battle South Carolina Monday night.
Nolan Sanburn, Pitcher, Arkansas
Sanburn is brings the heat for Arkansas. Having been used as both a reliever and starter, Sanburn can affect the game in multiple facets.
The right-hander is only a sophomore, but he's already been drafted 74th overall by the Oakland A's.
Through 14 games in 2012, Sanburn's ERA was 2.45, and his opposing batters hit just .194. If he can keep his velocity up and his balls down, Arkansas will be in good position to move on.
In Conclusion
Each of these men were top-tier draft selections in 2012 and have helped drive their colleges to the elite eight. Although there are many other valuable prospects who weren't taken as high, these six are in a class of their own.
Time will tell if these prospects can take their teams to the promised land.
This article is
What is the duplicate article?
Why is this article offensive?
Where is this article plagiarized from?
Why is this article poorly edited?