2012 US Open Golf: Simpson Wins Again at Olympic Club
June 18, 2012
Ezra Shaw/Getty Images
Scott Simpson won his only major title in the 1987 US Open at the Olympic Club. 
Another Simpson, Webb Simpson, no relation to Scott, won the 112th US Open at the Olympic Club by shooting 68-68 on the weekend.
Webb started the day at three-over-par, four shots behind the leaders Jim Furyk and Graeme McDowell. 
Both have major hardware on their mantles and both are at the top of fairways-hit stats on the PGA Tour.
Their drivers failed them on Sunday, however, and allowed Webb to slip by them for the win.
The 2012 US Open was only the fifth major start for the 26-year-old. 
The 2011 season was just his second season on the PGA Tour; he had 12 top-10s, including two wins and three runner-up finishes.
He won $6.3 million and finished second to Luke Donald in the 2011 PGA Tour money-list race.
His play in 2012 has not been quite as stellar as 2011, but he has had four top-10s in 14 starts, plus he now has that cool US Open trophy.
The last three major championships have been won by top, young American players. 
Keegan Bradley won the 2011 PGA Championship, Bubba Watson the 2012 Masters and now Simpson gets the win at the 2012 US Open.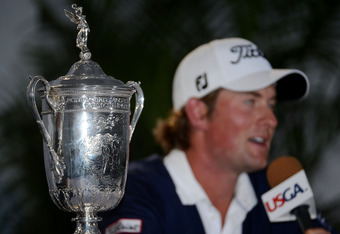 Harry How/Getty Images
Americans winning majors is a fact that bodes well for captain Davis Love and the US Ryder Cup team that will face the Europeans later this year at Medinah Country Club just outside of Chicago.
Simpson climbed 23 spots in the FedEx Cup rankings to No. 9 and moves from No. 14 to No. 5 on the Official World Golf Rankings.
He is the highest ranked American player after Tiger Woods at No. 4.
This is a huge win for the young Simpson.  It will only add to his confidence in future big events and makes him someone to watch every time he tees it up.