2012 Summer Olympics: Watch out for America's 'Other' Beach Volleyball Tandems
June 18, 2012

Lintao Zhang/Getty Images
The 2008 Olympic beach volleyball tournament was a profile in utter domination.
On the women's side, American duo Kerri Walsh and Misty May-Treanor didn't drop a set en route to their second consecutive Olympic title.
For the men, eventual gold medalists Phil Dalhausser and Todd Rodgers were only the slightest bit more vulnerable. Uncle Sam's top tandem lost four sets—none by more than four points.
Things promise to be more crowded at the top this time around, starting with the women. Larissa Franca and Juliana Silva, Brazil's top team, come to London as the defending world champions, and Chinese upstarts Xue Chen and Zhang Xi aren't far behind.
Brazilian pair Alison Cerutti and Emanuel Rego are the pre-tournament favorites in the men's draw, with teams from as far afield as Latvia and Switzerland firmly ensconced in the medal hunt.
All that said, the American champs need not look across oceans or continents to see stiff competition over their shoulders.
For both Walsh-May-Treanor and Rodgers-Dalhausser, their stiffest competition in London may well come from within their own borders.
Kessy and Ross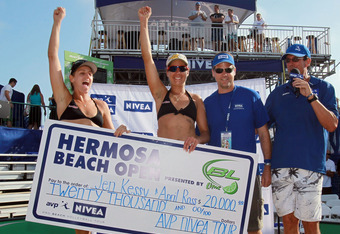 Jeff Gross/Getty Images
With Walsh and May-Treanor on hiatus following their Beijing triumphs, fellow Americans Jen Kessy and April Ross won their first women's beach volleyball world championship in 2009 and have established themselves as formidable medal threats in the years since.
Near facsimiles of one another in terms of height and skill set, Kessy (6'0") and Ross (6'1") both have the distinct ability to play either at net or on the baseline depending on what the situation demands.
Gibb and Rosenthal
America's "B" team on the men's side might be even better. In fact, the "B" team label probably doesn't apply to Jake Gibb and Sean Rosenthal.
The ninth-place finishers from Beijing now sit second overall in the world standings—seven spots ahead of Rodgers-Dalhausser. They recently qualified for London in impressive fashion, punching their ticket in the quarterfinals of last weekend's Rome Grand Slam before going on to thrash the world's top team (Alison Cerutti and Emanuel Rego) in the tournament final.
What it Means
While all this might be bad news for fans of dynasty and dominance, it's a fantastic development for the sport of beach volleyball. Olympic organizers already have big things in mind for the discipline, as evidenced by its 2012 staging ground at historic (and centrally located) Horse Guard's Parade.
It appears the players are cooperating with those prime-time ambitions. The increasing density of challengers at the top end of the sport evidences its ability to attract and retain premier volleyball talent.
In that vein, the London 2012 beach volleyball ought to strike a clear theme.
Hegemony is dead. Parity is coming.