UFC on FX 4: Clay Guida Exclusive on 'The Big Lebowski,' Gray Maynard, and More
June 18, 2012

Clay Guida isn't your ordinary fighter.
He's off-the-wall, he bleeds, he's arguably the most exciting fighter in the sport and he's a little on the crazy side. Everything a fighter could want and more, right?
Wrong.
In fact, Clay Guida won't be happy until he achieves his one goal—become the newest UFC lightweight champion. In order to do so, Guida will first have to get by fellow lightweight in Gray Maynard when the two meet Friday, June 22nd in Atlantic City, New Jersey.
In a recent interview with Bleacher Report, Guida sat down and discussed his upcoming bout with Maynard and more.
Garrett Derr: Clay, it seems like every time you enter the Octagon, you walk away with Fight of the Night or some type of honor. Do you consider yourself the most exciting fighter in the sport today? If not, who do you believe is?
Clay Guida: I believe it's possible, because every time I step into the Octagon, I fight every fight like it's my last. I consider myself a very driven and intense fighter. I always try and leave the exciting fighter voting up to the fans and media.
I really think Joseph Benavidez and Cub Swanson are two of the most exciting and unpredictable fighters in the sport today.
GD: You were riding a four-fight winning streak and so close to the 155-pound title shot. You fell short in a classic to Benson Henderson at UFC on FOX. Just how hard was this loss to overcome knowing that Bendo went on to win the title in his next bout?
CG: Coming up short against Ben Henderson and seeing him go on to win the lightweight title motivated me more than anything.
It just shows me how close I actually am to being the eventual champion. Not only that, but that loss enabled me to fix minor holes in my game that I had not previously seen.

 
GD: You're now set to take on Gray Maynard at UFC on FX 4. What does it mean to you to have the chance to showcase your skill set on national television and to be the main event of the evening?
CG: Being able to give the fans a whirlwind five-round main event is a huge honor and opportunity for me. Especially after coming off a tough loss to the champion in Benson Henderson.
I'm very thankful that the UFC even considered us as the headliner, as we're both coming off losses. They will not be disappointed.

 
GD: What can we expect to see when the opening bell rings in the main event on Friday night?
CG: I would say that fans can expect the unexpected. My hands have never felt faster or more powerful than they do right now. I'm not much for predictions, except that my hand will be raised at the end of the fight.
Gray has one of the most impressive records in all of MMA. I'm planning on testing his boxing and ground game all night.
GD: With the UFC comes a lot of perks. You were able to travel to Italy with Brittney Palmer and Urijah Faber not too long ago for the USO tour. What does it mean having men and women risk their lives so that individuals like you can enjoy the sport of MMA?
 
CG: Being selected to be part of that USO tour was very humbling. It was such an honor to be asked to go spend time with those wonderful soldiers and their families, who have sacrificed so much for our country and our freedom.
I am truly blessed to have their support. Without our military, there would be no MMA. The UFC is huge in reaching out to our troops overseas and showing them how much we care for them and their families. 
Spending time on the base with so many soldiers really put in perspective what sacrifice is all about. I am looking forward to another USO opportunity in the future.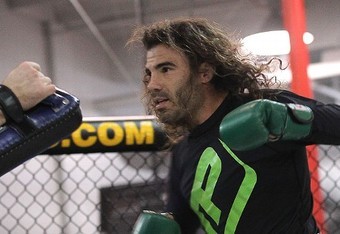 GD: You've been known to stand and exchange in previous fights. This kind of reminds me of boxing, which brings up the recent Manny Pacquiao bout. What are your thoughts on how that bout unfolded? Who did you have winning?
 
CG: I honestly think that it was the worst decision in boxing history. Period.
I had Manny winning at least eight rounds of the 12 rounds. It's really unfortunate for him, his family, the fans and the boxing community.
GD: Looking back on your career, you've fought some stellar opponents. Benson Henderson, Nate Diaz, Kenny Florian, Gilbert Melendez, and the list goes on. So, plain and simple, who was the toughest opponent you've faced up until this point in your career?
CG: Gilbert Melendez

GD: Many people refer to your nickname as Jesus, as he rocked the long hair and was a carpenter. Is that were the nickname originated? If not, how did you develop and become recognized as "The Carpenter"?
CG: [laughing] I'm far from a saint. I was actually building houses during the early part of my MMA career, so that's how the nickname came to be. I am in the Chicago Carpenters Union. They are huge supporters of mine and of MMA. 
GD: A little off the topic now. What is the greatest movie of all time? And why?
CG: The Big Lebowski. There's a lot of ins and outs to that movie. A lot of scrands in Ol' Duder's head [laughing]. You really have to go see the movie for yourself. It will explain my answer [laughing].
GD: Last but not least, who would you like to thank?
CG: All of my loyal fans who are there through the wins and the losses. My family for being at every fight, helping me succeed and being very supportive when I'm away for months at a time during training. My brother for getting me into sports and MMA.
Greg Jackson and Coach Mike Winkeljohn at Jackson's MMA for them stepping up my game, and of course all of my training partners. Israel Martinez and IZZYSTYLE Wrestling Club. My sponsors at MusclePharm, Jaco Clothing, SafeAuto Insurance, Bodybuilding.com and Knight Transportation.
 
I also need to thank my management team at VFD Sports. Last but not least, all the members and staff at my gym, Clay Guida's MMASTOP FITNESS, back home in Crest Hill, Illinois.
Garrett Derr is a Featured Columnist for Bleacher Report. Unless otherwise noted, all quotes were obtained first-hand.
For additional information, follow Garrett Derr on Twitter.