WWE No Way Out 2012 Results: How Did the PPV Compare to Others in 2012?
June 18, 2012

It's been a weird year for WWE pay-per-views. 
The first two PPV events of 2012, the Royal Rumble and Elimination Chamber, were far from anything special. But the WWE's next three PPVs—WrestleMania 28, Extreme Rules and Over the Limit—ranged from good to great. 
It's like the WWE learned from the Royal Rumble and Elimination Chamber that something needed to be done to enhance the quality of PPVs, and then did just that. 
That three-PPV stretch from April to May was a fun time to be a wrestling fan, with each and every show featuring some superb wrestling. 
But which pay-per-view has been the best of 2012? Well, here's how I'd rank them so far (not including last night's No Way Out PPV):
5. Royal Rumble 
This was one of the worst Royal Rumble shows in recent memory, as the only match that really stood out was the WWE title match between Dolph Ziggler and CM Punk. 
The actual Royal Rumble match wasn't terrible, but it was only average, although the exchange between Chris Jericho and Sheamus at the end of it was pretty enjoyable. 
4. Elimination Chamber 
For the most part, I enjoyed both the Raw and Smackdown Elimination Chamber matches, and we also got a surprisingly good Divas match between Beth Phoenix and Tamina. 
But what really killed this PPV was that John Cena vs. Kane in an Ambulance Match was awful…and that it closed the show. 
3. Over the Limit 
I wasn't expecting much from this pay-per-view, but surprisingly, it really delivered. 
Daniel Bryan vs. CM Punk was arguably the best match of the year, the WWE Tag Team Championship match was really good, Christian vs. Cody Rhodes was good as well and the Fatal 4-Way for the World Heavyweight Championship was really entertaining. 
Like with Elimination Chamber, though, Cena's main event match—this time against John Laurinaitis—was a horrendously bad one that had no business being the main event. 
2. WrestleMania 28 
WrestleMania was an awesome show based primarily on three matches: Jericho vs. Punk, Undertaker vs. Triple H and Cena vs. The Rock. 
While the WWE title match may have fallen a bit short of expectations, these three main events were all great matches, just like we expected them to be. 
The only thing that hurt this show in my book was that the rest of the undercard was pretty bad, especially because we were robbed by Sheamus vs. Bryan.
1. Extreme Rules 
I rank Extreme Rules just slightly ahead of WrestleMania. 
Why? Because both Kane vs. Randy Orton and Sheamus vs. Bryan were 10 times better at Extreme Rules than they were at Mania. 
Kane/Orton at ER was really good, and Sheamus/Bryan was one of the best matches of the year. Combine that with a Punk/Jericho Street Fight that was significantly better than their Mania match (and also one of the best matches of the year) and a fantastically entertaining bout between Brock Lesnar and Cena, and we have a winner. 
Where Does No Way Out Rank? 
Now that we know how I ranked the first five pay-per-views of 2012, where does No Way Out fit on this list? 
I'd actually put it slightly ahead of Royal Rumble, making it the fifth-best PPV of 2012 so far, and let's break that down by giving out grades to each match. 
The Ds and Fs
Tuxedo Match: Santino Marella defeats Ricardo Rodriguez (F) 
What a lame attempt at comedy this was. 
Santino and Ricardo are the two funniest performers in the WWE, but this match accomplished absolutely nothing, except for maybe even further devaluing the United States title, which wasn't even on the line.
No wonder why the crowd was chanting "Boring! Boring! Boring!" 
Ryback defeats Dan Delaney and Rob Grymes (D-) 
How tired are you of seeing Ryback destroy two local competitors once, twice or even three times a week? 
It's the same tired routine, and it's not impressing anyone when Ryback squashes guys that weigh about 150 pounds apiece. 
The only reason I didn't give this an F is because Ryback is such a beast and some of his power moves are fun to watch. 
Sin Cara defeats Hunico (D) 
We've already seen this match a couple of times since Sin Cara's return, and there's one word I'd use to describe this and all of Sin Cara's recent matches: spot-fest. 
Sin Cara's matches are so obviously choreographed it's ridiculous, and even though you can tell each spot is planned out, he still manages to botch at least a move or two per match. 
Sin Cara looks really good athletically, but it still seems like he hasn't quite grasped the WWE style. 
Divas Championship: Layla defeats Beth Phoenix (D)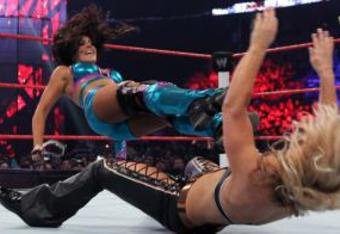 Two things I've realized about Layla since her return: She's horrible as a baby face, and her knee doesn't seem like it's 100 percent. 
Her match with Beth at No Way Out last night was pretty hard to watch, as she does virtually nothing to get the crowd involved and obviously isn't the best Diva we've ever seen. 
I like Layla. I just think she's better as a heel and needs to get her knee fully healthy. 
The Cs and Bs
No. 1 Contender's Match for the WWE Tag Team Championship: The Primetime Players defeat Epico and Primo, the Usos and Tyson Kidd and Justin Gabriel (C-) 
I liked seeing all these guys get a chance to shine on pay-per-view for a change, but this match was really nothing special. 
Perhaps the match suffered because it wasn't a tornado-style one—I don't know. But the only thing that really stood out about it was Tyson Kidd's hurricanrana to everyone on the outside of the ring. 
It certainly wasn't a bad match, but more could have been done to give it an extra little boost. 
John Cena defeats Big Show in a Steel Cage Match (C) 
The first half of Show vs. Cena was pretty brutal. It was slow, boring and your standard "beat down Cena so that he can have a magical comeback" type of booking. 
Not much changed in the second half, which—much like the first half—didn't produce a ton of great wrestling. 
The ending was exciting (the crowd was incredibly into it), but there was far too much interference for my liking, with Vince McMahon, John Laurinaitis, Alex Riley, Kofi Kingston and Brodus Clay all making their presence felt. 
This match was about what I expected it to be, but it had absolutely no business going on last. 
Intercontinental Championship Match: Christian defeats Cody Rhodes (B-)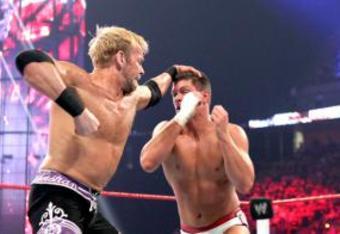 Christian and Rhodes only got about 11 minutes here, but they made the most of it. 
There was some good back-and-forth action between the two throughout, and there was a nice little sequence at the end that saw some great false finishes and missed finisher attempts. 
This could have been the match of the night had it been given more time, but I still enjoyed it as the third best match on the show. 
World Heavyweight Championship Match: Sheamus defeats Dolph Ziggler (B) 
The first 14 minutes of this match were awesome. 
Ziggler looked incredible as always, and he and Sheamus had some very solid chemistry that resulted in some great moments, such as when Ziggler hit Sheamus with that massive top-rope facebuster. 
As good as 95 percent of the match was, though, I absolutely hated the ending. 
It should have concluded with Sheamus hitting the Brogue Kick out of nowhere, but instead, it was a really boring finish when Sheamus hit White Noise, set up for a Brogue Kick and connected to get the win. 
That's a TV match finish, and after Sheamus and Ziggler went back and forth all match long, it left a sour taste in my mouth after what was the best pure wrestling match on the card. 
Triple Threat Match for the WWE Championship: CM Punk defeats Daniel Bryan and Kane (B+) 
I wasn't sure how Kane's inclusion in this match would play out, but as it turns out, he performed really well. 
While Punk and Bryan obviously have phenomenal chemistry, Kane did an excellent job of working with two smaller wrestlers, and what we got was a great story from the three men who are involved with AJ. 
This match never really went to that elite level, but it was consistently entertaining throughout, and I really liked the finish.
Given that AJ interfered and Bryan was never pinned, it sets up perfectly for another Punk/Bryan match, which, of course, would be epic. 
Although this Triple Threat was formulaic like most Triple Threats are, that didn't stop me from enjoying the hell out of it. 
Final Thoughts 
No Way Out didn't feature any matches that we'll be talking about years from now, but it wasn't a horrible pay-per-view. 
In fact, I'd say it was just about average. 
We got three really entertaining matches, but we also got a ton of filler and a Triple H announcement that would have been best suited for an episode of Raw. 
Still, No Way Out could have been a lot worse than it actually was, and even Cena vs. Show wasn't the total snooze-fest many expected it to be. 
No one will be care about this PPV two months fro now, but hey, it wasn't as bad as the Royal Rumble.
Drake Oz is a WWE Featured Columnist for Bleacher Report. You can follow him onTwitter and ask him any wrestling-related questions on Formspring.