Lakers Trade Rumors: Why Pau Gasol to Memphis Grizzlies Makes Sense
June 18, 2012

Jeff Gross/Getty Images
Whenever the Los Angeles Lakers are eliminated from the playoffs, a scapegoat must emerge. This year, that unfortunate soul is Pau Gasol, a player that Kobe Bryant was quick to point a finger at in their series loss to the Oklahoma City Thunder. 
Now, Lakers management is firmly committed to making a move during the offseason and shipping Gasol east of Los Angeles. According to Mitch Lawrence of the New York Daily News, there's a good chance that Gasol could end up playing alongside his brother:
The Lakers are committed to moving Pau Gasol — the fall guy for their second-round ouster against the Thunder and previous playoff failures — even if they have to take back less talent. As long as Heisley retains the Grizzlies, Memphis will always have interest. Heisley has always wanted to bring Gasol back, pairing him with his brother, Marc.
Pau began his career with the Memphis Grizzlies, who traded Shareef Abdur-Rahim to the Atlanta Hawks for his draft rights back in 2001. He played with the Grizz until 2008, when he was shipped off to L.A. in a controversial trade. 
Now, after three All-Star appearances and two championships, Gasol may be headed back to his beginnings. If he is, the player he is traded for will most likely be Zach Randolph. 
Z-Bo's salary is large enough to make a one-for-one swap possible, and he fills the positional hole that Gasol's absence would leave. 
Moreover, he makes the deal work for both sides. 
Lakers Perspective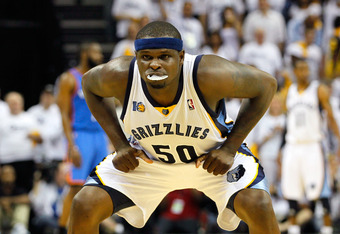 Kevin C. Cox/Getty Images
As Lawrence wrote in the aforementioned New York Daily News article, the Lakers are so firmly set on getting rid of Gasol that they would be willing to receive less talent for his services. 
Z-Bo is less skilled than the Spanish big man, but he is still a great return in the trade. Randolph may have struggled with injuries for most of the season, but he is not far removed from a breakout performance in the 2011 playoffs. 
Not only would he fill the need at power forward, but he also provides the Lakers with another go-to scorer other than Bryant. Los Angeles falls victim to hero ball too often and allows Kobe to dominate the scoring attack at the expense of his teammates. With Randolph on the roster, that philosophy could change, at least to an extent. 
When it comes to dealing Gasol, it's not so much about winning as it is about not losing. Randolph would allow them to do exactly that. 
Grizzlies Perspective
Harry How/Getty Images
As great as it would be to see Pau and Marc Gasol lining up next to each other on the same team, there's more to it than that for the Memphis Grizzlies. 
Memphis has quite a few scorers on the roster already, which renders Randolph's scoring punch less important to the cause. Rudy Gay, Mike Conley, Marc Gasol and O.J. Mayo—if he is re-signed—can put up enough points as it is.
Of course, Pau Gasol has the potential to be a top scorer as well. However, it's his passing skills that will be most beneficial to the team, as he will better enable the offense to flow through the block.
A return to Memphis would provide an emotional boost for the fans and an even bigger one to the team. Despite their seven-game playoff elimination at the hands of the Los Angeles Clippers, the Grizzlies are a team capable of contending.
Upgrading at power forward and increasing team chemistry through Pau's unselfishness could only help.