NHL Awards 2012: Predicting Winners for Each Award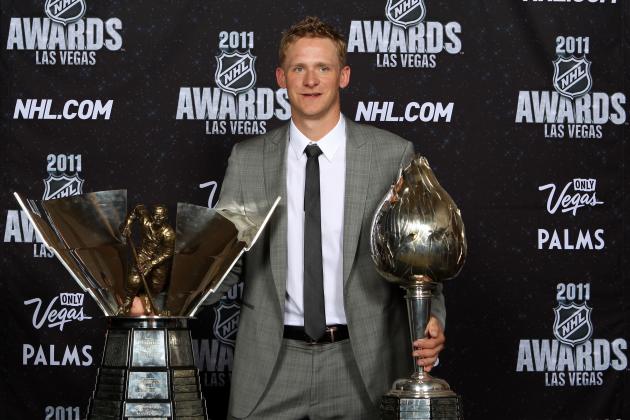 Bruce Bennett/Getty Images
Last year's Hart Memorial Trophy Winner Corey Perry
While the most coveted piece of hardware has already been awarded, we turn now to the individual honors that players have earned. Everything from MVP to best sportsmanship will awarded to the most deserving candidate of this past season.
The question becomes, who is the most deserving?
Here are my predictions for who will win each award.
Begin Slideshow

»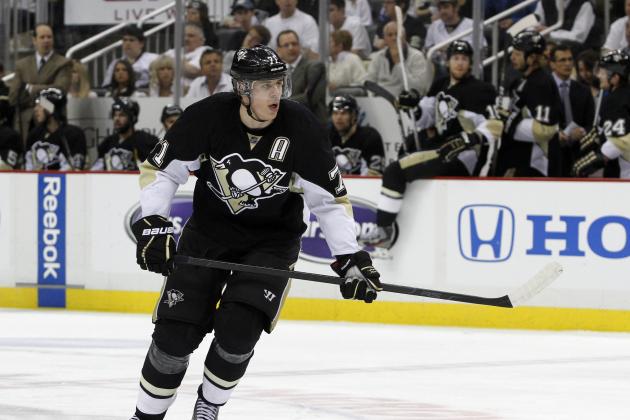 Justin K. Aller/Getty Images

Evgeni Malkin
Malkin was brilliant this season, tallying 109 points (which was first in the league) on 50 goals (second in the league) and 59 assists (third in the league). His true value isn't just in how many points he scored, though.
Malkin was a rock for a team that was on unstable ground regarding their captain for a decent portion of the season. With all of the turmoil surrounding Sidney Crosby and his return from concussion and then his leaving the team again with more concussion symptoms, the Penguins needed Malkin to be other-worldly this season to keep them sane.
That is exactly what he did. Malkin served as not only the team's leading scorer, but the team's leader with Crosby out of action. Look for him to be rewarded for his efforts.
Other Finalists: Henrik Lundqvist, Steven Stamkos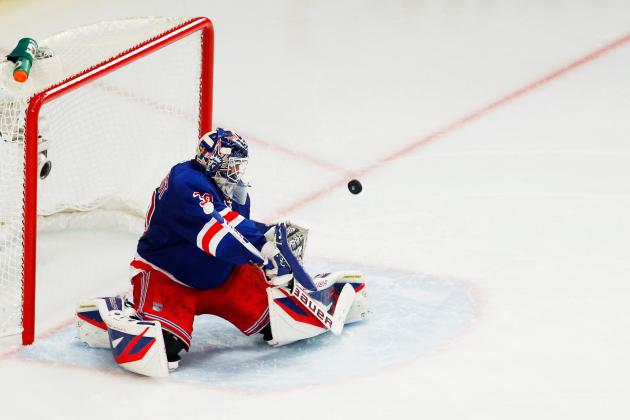 Paul Bereswill/Getty Images

Henrik Lundqvist
This one is tough to call.
I know that Jonathan Quick will be the popular pick for this due to the notoriety he gained during the playoffs for his outstanding play. I certainly don't disagree with anyone who says that Quick's efforts in the playoffs were the reason that the Kings were able to hoist the Cup. However, there is an award for playoff success in the Conn Smythe Trophy, and Quick already has it.
Lundqvist being nominated for the Hart as well gives you an idea of just how great his season was. He posted a record of 39-18-5 with a 1.97 goals against average and a .930 save percentage. He was an absolute rock for the Rangers in net and was really a catalyst for the excellent season they had.
I know that Quick's numbers are more a product of not having the production around him all season that Lundqvist did, so I don't want to hold that against him necessarily, but the truth is that Lundqvist was the true star of a team that finished with 109 points.
If the pick was based on the playoffs as well, Quick would be the winner hands down, but as I said, Quick already has the award for playoff MVP.
Other Finalists: Jonathan Quick, Pekka Rinne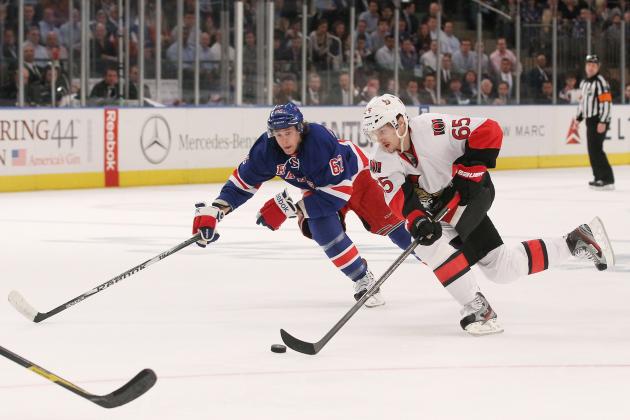 Bruce Bennett/Getty Images

Erik Karlsson
I know that Karlsson played for the least impressive team of the three finalists, but that truly is a testament to how good he was this season. Karlsson was asked not only to be great on defense, but to contribute to the offense as well. And that he did tallying 78 points on 19 goals and 59 assists, outscoring the other two finalists by 26 and 29. Karlsson not only served as the team's best defenseman, but was also invaluable on the offensive end as well.
Other Finalists: Zdeno Chara, Shea Weber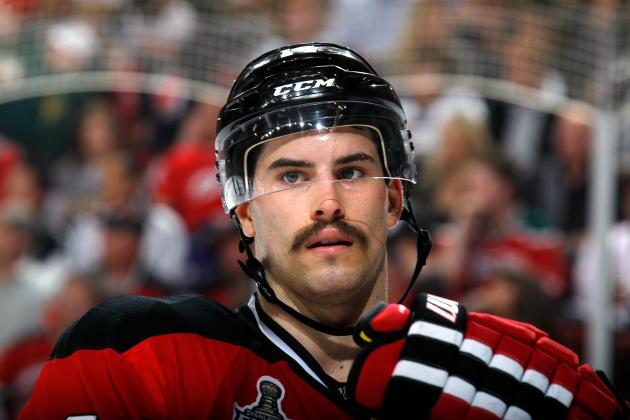 Bruce Bennett/Getty Images

Adam Henrique
Henrique was great for the Devils scoring 51 points, 16 goals and 35 assists, and sporting a plus/minus of +8 in his first year of competition. On a Devils team that had Zach Parise, Ilya Kovalchuk and Patrik Elias, Henrique was still able to make his mark offensively and establish himself as a dangerous player on the Devils team for years to come.
Other Finalists: Gabriel Landeskog, Ryan Nugent-Hopkins
Oh, and he should get an award just for that mustache alone...imagine having that thing on your face for two months.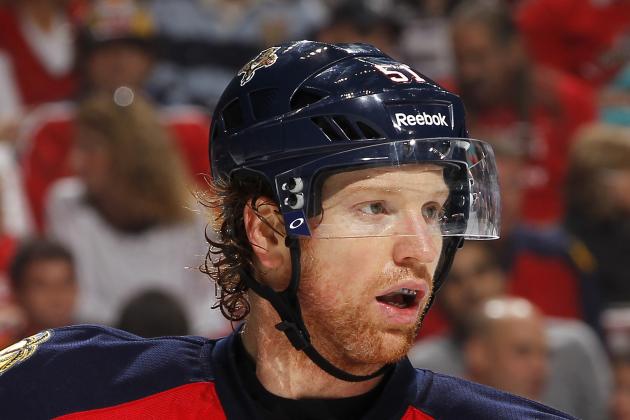 Joel Auerbach/Getty Images

Brian Campbell
While only two defensemen have ever won this award, and none since Red Kelly did it as a Red Wing in the 1953-1954 season, I think Campbell walks away with this one. His role as a key defenseman is the reason why.
One of the best qualities you can ask for in a top defenseman is the ability to stay out of the penalty box. You keep yourself on the ice and your team off the penalty kill.
Campbell did just that, registering a whopping six (yes, six) penalty minutes this season. When you add his offensive output, 53 points, and his contributions on defense for a team that earned the third seed in the playoffs, Campbell makes the most sense here.
Other Finalists: Jordan Eberle, Matt Moulson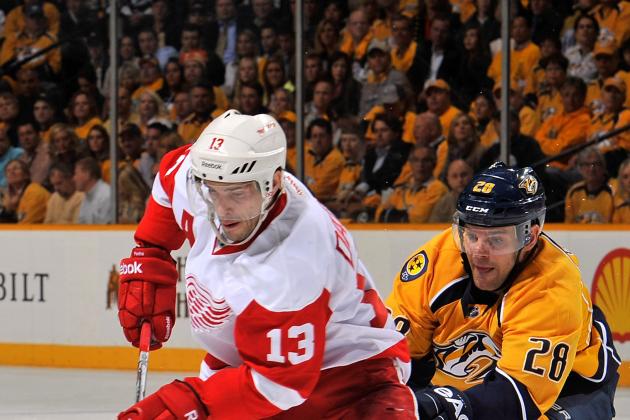 Frederick Breedon/Getty Images

This award goes to the forward who best excels in the defensive aspects of the game. I don't know who thought this one up (believe it or not, Frank J. Selke is just who it's named after).
Pavel Datsyuk is going to be the popular pick here because anytime you can give him an award, prevailing wisdom says you should. I think the voters will probably give it more thought than that, but Datsyuk will end up winning anyway.
I don't necessarily think he should win, though. Patrice Bergeron is someone who has a legitimate claim to the award, but because there really isn't a definitive statistic or attribute to point to, he may get overlooked.
Other Finalists: Dave Backes, Patrice Bergeron
Christian Petersen/Getty Images

Ken Hitchcock
Hitchcock did an outstanding job with this Blues team. He took over after Davis Payne was fired on November 6, 2011.
When Hitchcock took the team over, they were 6-7-0. Obviously not the best sample size, but relevant enough to point out that through 13 games, about a sixth of the way through the season, the Blues had 12 points. They ended up with 109.
The Blues ended up with an overall record of 49-22-11, and a lot of that had to do with Hitchcock.
Other Finalists: Paul MacLean, John Tortorella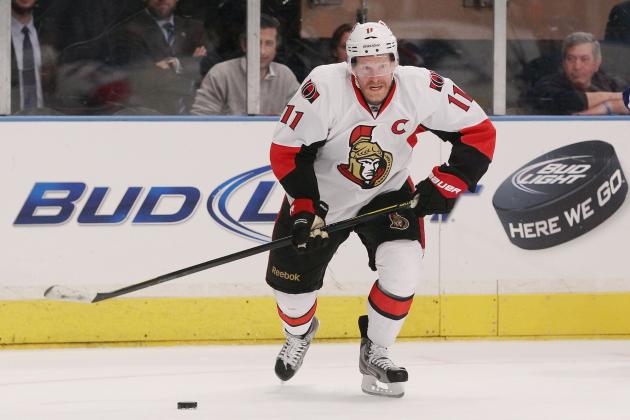 Bruce Bennett/Getty Images

Daniel Alfredsson
Alfredsson had a good season as the captain of the Senators, leading a team that no one really gave much of a chance at the beginning of the season to within one game of upsetting the top seed in the Eastern Conference.
On the way he tallied 59 points on 27 goals and 32 assists and led the Senators to 41-31-10 record.
Other Finalists: Joffrey Lupul, Max Pacioretty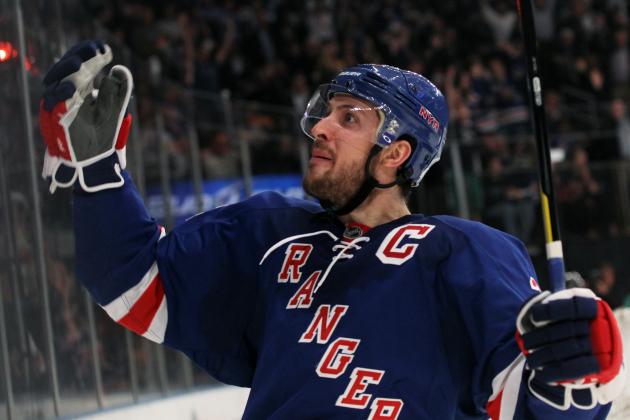 Bruce Bennett/Getty Images

Ryan Callahan
This award is interesting because, as NHL.com explains,
Suggestions for nominees are solicited from fans, clubs and NHL personnel, but the selection of the three finalists and the ultimate winner is made by Mark Messier himself...
So an award for leadership that is more or less entirely up to Mark Messier. Call me a conspiracy theorist but I see Ryan Callahan, captain of one of the three teams Messier also captained, walking away with this one.
It's not like Callahan doesn't deserve it. He was the captain of a team that earned the top seed in the Eastern Conference and he didn't necessarily do it on the scorecard. He was the epitome of a John Tortorella player, sacrificing his body to block shots and playing physically on both offense and defense.
Other finalists: Dustin Brown, Shane Doan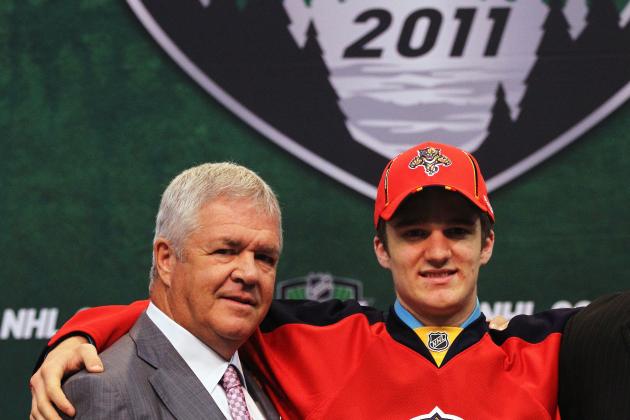 Bruce Bennett/Getty Images
No, not the young guy in the Panthers jersey.
Dale Tallon
Tallon made a series of great moves for the Panthers, signing players like Kris Versteeg and Brian Campbell, both of whom won a Stanley Cup with the Chicago Blackhawks three years ago.
Tallon made some great decisions and while it didn't result in a Stanley Cup, the Panthers did win the Southeast Division and earn the third seed in the Eastern Conference.
Other Finalists: Doug Armstrong, David Poile