US Open Golf Results 2012: Stars Who Fell Far Short of Expectations
June 18, 2012

Stuart Franklin/Getty Images
The 2012 U.S. Open at The Olympic Club was a story of triumphs and tribulations for every golfer—including champion Webb Simpson. Simpson was tied for 29th place after Round 2 but shot a pair of 68s to convert on a comeback for the ages.
Aside from Simpson's rally, however, the performances of a few notable players left much to be desired.
Woods was on pace for a storybook finish at Olympic. The stars were about to align for the 14-time major champion.
Through the first two rounds, Woods shot a 69 and a 70. He looked impeccably sharp on the fast greens of the San Francisco golf resort. According to Shane Bacon of CBSSports.com, Tiger led the field in driving accuracy through Friday at 75 percent.
Yet, something changed once Saturday afternoon rolled around. Woods lost all the ground he'd gained, shooting an ugly 75. Sunday was more of the same for Woods. Again, he was inaccurate and struggled to finish, scoring a 73.
Tiger fell, and he fell hard—from the head of the pack, to tied for 21st. His weekend woes were the second worst of his pro career, per Bob Harig of ESPN.
Jim Furyk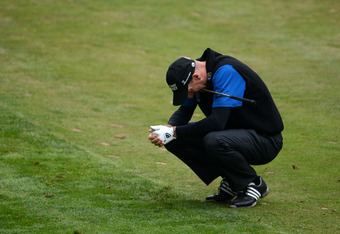 Stuart Franklin/Getty Images
Jim Furyk was looking steady through Round 3, shooting no worse than a 70.
Unfortunately, the fourth round wasn't as kind to the 2010 PGA Player of the Year. Furyk let chances slip away, notching a 74 on the final 18.
"I played quite well, actually," Furyk told reporters, via the Associated Press (h/t ABC News), "until the last three holes."
Furyk lost focus, finishing the U.S. Open tied for fourth.
Rory McIlroy
McIlroy certainly didn't play like the No. 2 player in the world should during the U.S. Open. McIlroy shot a 77 in Round 1 and a 73 in Round 2—missing the cut.
"McIlroy was neither tuned in mentally or comfortable with the physical aspects of his game," said golf correspondent Lawrence Donegan of the Guardian. "His swing has been off for a few weeks now and that is an insurmountable burden on a golf course such as this."
Last year, at just 22 years old, McIlroy won the U.S. Open at Congressional. Nevertheless, a different course translates to different results.
Conclusion
The 2012 U.S. Open proved that Olympic is an unforgiving course.
It's not like Congressional, where McIlroy shot 16-under par one year ago. Olympic is a grueling task for even the best golfers in the world. It is a place where shooting par will keep a golfer in contention to the very end.
Woods, Furyk and McIlroy were unable to do that.