US Open Golf 2012 Results: Jim Furyk and Sunday's Most Disappointing Finishes
June 18, 2012

Stuart Franklin/Getty Images
Webb Simpson won the 2012 US Open with an epic Round 4 performance, but a few players struggled mightily in the tournament's final day.
Jim Furyk blew his late lead, Tiger Woods fell off the face of the Earth and Lee Westwood, once again, failed to win his first Major trophy. 
Let's take a look at how the final leaderboard shook out.
| POS | PLAYER | Score |
| --- | --- | --- |
| 1 | W. Simpson | +1 |
| T2 | G. McDowell  | +2 |
| T2 | M. Thompson  | +2 |
| T5 | J. Furyk | +3 |
| T5 | J. Dufner | +3 |
| T5 | P. Harrington  | +3 |
| T5 | D. Toms | +3 |
| T5 | J. Peterson | +3 |
| 9 | E. Els | +4 |
These golfers (outside of Furyk) performed admirably down the stretch. 
Let's take a look at why Woods, Westwood and Furyk should be disappointed following Sunday's underwhelming round.
Woods Disappears
Maybe it was the pressure, or maybe Woods just didn't have "it" on Sunday. Either way, something wasn't right. 
He shot a 73 for the day, finished seven-over par overall and found himself tied for 21st by tournament's end.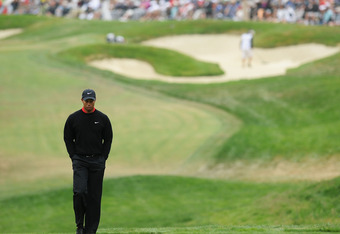 Stuart Franklin/Getty Images
Granted, Woods did figure things out on the back nine. He birdied holes 14 and 17 and managed to avoid bogeys.
If that had been the case on the front nine, I would be whistling a different tune here. But it wasn't.
Woods bogeyed holes one and two, double-bogeyed three and bogeyed five and six. He struggled coming out of the gate and dug himself too large a hole.
The anticipation surrounding Woods' performance dissipated in the blink of an eye in the US Open's final round.
Westwood's Woes 
Westwood is part of an unfortunate class. He's an above-average, if not better, golfer who's failed to hold one of golf's most coveted trophies.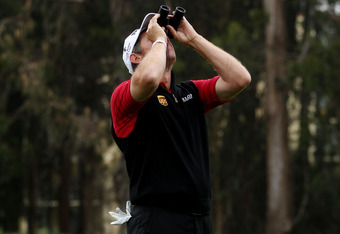 Jeff Gross/Getty Images
He has never won a major, and that didn't change at the Olympic Club this weekend. 
After shooting a 67 in Round 3, Westwood's prospects were encouraging. He entered Round 4 tied for fourth place, but that wouldn't hold. 
He bogeyed the first hole and double-bogeyed the fifth. The back nine was even worse.
Three bogeys on the course's final nine stops cancelled out a tremendous eagle on the 17th hole. He never got into a rhythm and failed to make any real noise on Sunday.
Westwood kept scratching at the top 10, but it just wasn't enough. 
Furyk's Folly
Fold would probably describe Furyk's final holes on Sunday, but I think folly has a better ring to it. 
No matter how you cut it, Furyk blew a one-stroke lead in the tournament's waning moments. Webb Simpson's precise play down the stretch didn't help matters, but Furyk certainly made it easier on him.
He shot a 74 overall despite a nearly-flawless performance on the front nine. Bogeying three of the final six holes officially sunk his ship.
He seemed nervous, antsy and altogether uncomfortable as he tried to close out Simpson down the stretch. Furyk will probably remember this performance for awhile. 
You could almost see this coming. Furyk was out of his element, Simpson had nothing to lose and Graeme McDowell was applying pressure of his own.
Furyk couldn't hold up, and that has to be disappointing to the former US Open champion.