WWE: Randy Orton's 10 Greatest Matches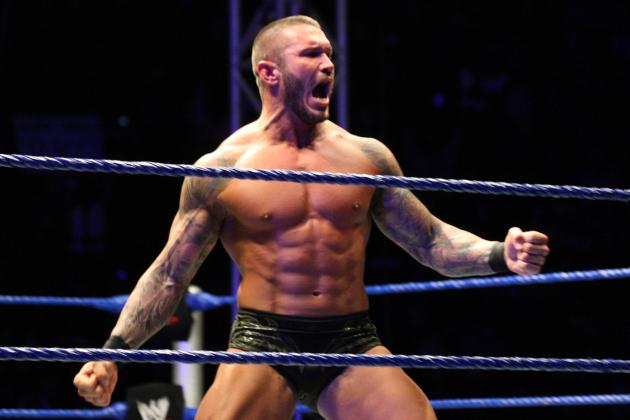 Gallo Images/Getty Images

Only in his early 30s, Randy Orton has already had a monumental career filled with first-rate matches.
The third generation wrestler surpassed his father "Cowboy" Bob Orton and grandfather Bob Orton Sr.'s legacies long ago and continues to climb up the ranks of the all-time greats.
Orton has been innovative and captivating in the ring.
He's been such a top-level star for so long that some restless wrestling fans have already begun to tire of seeing him.
Perhaps a look back at these phenomenal matches, the bloody brawls, gutsy triumphs and super-charged slugfests will remind them of Orton's greatness.
What things will be like for the Viper once he gets back from his suspension—and if the WWE has the cajones to fire him if he fails a third Wellness Policy test—remains to be seen.
Begin Slideshow

»
Unforgiven 2003—vs. Shawn Michaels
As an early target on Orton's list of legends he wished to conquer, Michaels helped deliver a match that showcased Orton's shark to blood-like tendencies.
Bragging Rights 2009—vs. John Cena (Anything Goes Iron Man Match)
Great strategy, a flurry of falls and big spots were held back by a painfully slow pace and Orton overdoing the Viper gimmick at times.
A bevy of energy and aggression was packed into this shorter match with Orton's former tag partner, Edge.
WrestleMania 21 vs. Undertaker
What started slow built up to a rapid, thrilling finish and one of the better matches during the Undertaker's WrestleMania streak.
The men who would later become Rated-RKO put on an exciting, fast-paced match that belongs in the Intercontinental Championship's greatest hits collection.
Edge and Randy Orton have always had a great chemistry—each wrestler's moves seemingly made to counter the other's. Edge's mid-air dropkick to Orton's torso is one of the many highlights.
Orton lost the IC title this night, only to quickly move on to challenging for the World Heavyweight Championship.
Edge looked great in the match in large part due to Orton's performance. Orton sold extremely well throughout, at one point making a neckbreaker look nearly fatal.
The volatile energy of this six-man tag match exploded early, beginning with Edge choking Randy Orton with his jacket.
For most of the match, it felt the action was on the verge of complete chaos.
As Ric Flair and Chris Benoit traded chest-stinging chops, as Batista bulldozed through his opponents and Chris Jericho injected speed and excitement, the rumbling of drama seemed to grow louder and louder.
As a set-up for Benoit and Orton's World Heavyweight Championship at SummerSlam, Orton was made to look vicious here, a merciless predator.
On a crazy night where Randy Orton was awarded and lost the WWE Championship and Triple H wrestled in three matches, fans were treated to a fantastic capper.
Triple H had suffered a rib injury in his match against Umaga and Orton took full advantage. He was brutal and squeezed the air out of The Game with a microphone cable and body scissors combo.
Among all the carnage of broken tables and chairs dented by skulls, these two titans showed tremendous toughness and delivered enthralling brutality all night.
Orton both dished out and took a number of vicious bumps, looking dominant to Triple H's resilient, fighting champion. The instant classic ended in the memorable image of Triple H crawling in desperation, his fingers scraping against the ring apron.
Randy Orton's emotional and historic win ended Chris Benoit's World Heavyweight Championship reign and kickstarted Orton's stardom.
The match began with a powerful staredown and moved onto mat wrestling and submission-heavy action. Much of their battle was fought at a grinding pace.
Orton, bloody lip and all, looked immensely devious as he punished Benoit. He smashed the Wolverine's face into the ring barricade and spent much of the match working on his neck.
A sudden RKO ended it all and made Orton the youngest heavyweight champ in WWE history.
Many of 2011's high points were brought to us by Randy Orton and Christian. The two wrestlers fit together perfectly, their ideal chemistry on display during their entertaining feud.
This is the second best battle they had.
It was a slugfest with bursts of speed and flying. Momentum swung back and forth. Fans got their money's worth and then some.
Orton and Christian both throbbed with intensity. As they battled on, baiting each other and coming up with creative counters, it was almost impossible not to get lost in the action.
Randy Orton didn't enter this star-studded Elimination Chamber match until about halfway through it.
By then, it was likely already a four-star match.
Still, Orton was an invaluable cog in this mess of men booked to perfection.
An appreciative and charged up Puerto Rico crowd saw Chris Benoit and Chris Jericho start things out. They watched as the night was filled with dropkicks and blood-soaked mats, titans writhing in pain.
With as many great spots and dramatic moments as there were in this match, things like Jericho sells Orton's RKO beautifully gets lost.
Batista spinebustered Jericho onto Benoit. Triple H was forced to suffer a crossface and a Walls of Jericho simultaneously.
Orton's bad blood with his former Evolution partners added to the intensity. Left alone against Batista and Triple H at the end, Orton was a defiant, enduring warrior.
The emotions created by this storyline were amplified by the great wrestling that backed it up.
With as crowded as this match was, Randy Orton's stardom was somewhat muffled, but he was one of the best workers in the match.
Some of the most memorable moments include the Dudley Boyz and RVD dogpiling onto Mark Henry and Orton giving one of the most dramatic sells of a stunner ever.
The poetic irony of Michaels being the last man and for him to be the only one who could save Austin's job was brilliant.
The battle for the WWE Championship featured wild action and one of John Cena's best performances.
Randy Orton sold extremely well throughout, helping to elevate the realism and intensity of the match. He put on an explosive show as did his opponents.
Few times has a Fatal 4-Way been booked so superbly.
Regardless of who won, every wrestler came out looking great and the fans were treated to a breathtaking match.
Alliances were rapidly formed and broken. A series of frantic countering and a buffet of finishers ended this classic.
Randy Orton and Cactus Jack famously composed a symphony of violence together that served as a catalyst for Orton's skyrocketing career.
The vicious and gory match had a frenzied energy through most of it.
It was fighting through Cactus Jack's sadism that made Orton look gutsy and showed off his potential for true stardom.
Barbed wire cut Orton's pretty face open and sliced Foley's arm.
Smashed spines, dented trash cans and Orton's bloody mug made for a brutal classic.
By the time this match came around, Randy Orton and Christian had sharpened their chemistry together to a fine point.
This is where their feud erupted, where we watched the climax of their hatred explode.
Christian leaned more on his cageyness, while Orton stalked his opponent like a predator, his mouth tinged with blood.
Early on, Christian tried to escape, but Orton caught him and their brawl morphed into a battle of wills. These two men always gave us great wrestling, but this is where their storytelling was its finest.
Anger and hatred erupted, the dented trash cans and the weapons spread out around the ring served as symbols for their uncontrolled emotion boiling over.
Christian and Orton mocked, spit, punched and speared their way to one of the greatest matches of all-time.