Eli Manning: What Makes Little Brother a Better QB Than Peyton
June 18, 2012

Ezra Shaw/Getty Images
Peyton Manning has 11 Pro Bowls, five first-team All-Pro selections and four NFL MVP awards to his name.  However, even with his decorated career, Peyton may not be the best quarterback to wear the name "Manning" on the back of his jersey in 2012.  While the Indianapolis Colts sputtered through the 2011 season without their all-star quarterback, Eli Manning did his best to make everyone forget that his brother even existed. 
Eli's quiet confidence in 2011 was the key to becoming the best Manning in the NFL.  When asked if he viewed himself in the same class as Tom Brady on ESPN Radio's "The Michael Kay Show," Eli first boasted his coolness by affirming his elite status.
Eli backed his word up with an NFL record 15 fourth-quarter touchdown passes, six fourth-quarter comebacks and nearly 5,000 yards passing—and that was just in the regular season.
When his New York Giants reached the playoffs, Eli stepped his game up to the next level.  After dismantling the Atlanta Falcons at home in the Wild Card Round, Manning took down two of the best teams the NFC had to offer in the Green Bay Packers and San Francisco 49ers.
Eli then capped off his season with a nearly flawless Super Bowl performance over Brady and the New England Patriots.  Throwing for a touchdown and a 75 percent completion percentage, Eli earned his second career Super Bowl MVP award.
In NFL Network's "The Top 100 Players of 2012," Eli Manning cracked the countdown at No. 31, 19 spots higher than his older brother Peyton, who debuted at No. 50.  Bear in mind, Peyton made the list without playing a single snap in 2011.
No one is making the argument that Eli's body of work is greater than Peyton's, but a chapter in the storybook that is the NFL may be coming to a close while a new one is just beginning.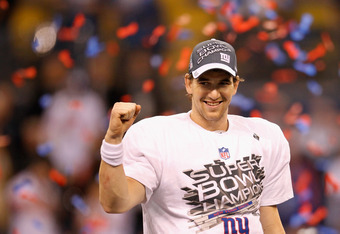 Rob Carr/Getty Images
Peyton missed the entire 2011 season due to a neck injury that required multiple surgeries.  At 36 years old, the cloud of uncertainty surrounding Peyton made him too much of a risk for the Colts, who were armed with the first overall pick in the 2012 draft, to bring back.
The Broncos, a team who made the playoffs despite inconsistent quarterback play, were the eventual winners of the "Peyton Manning Sweepstakes."  Manning's legacy was too impressive for Denver to pass up, and they eventually won Peyton's services without having solid evidence that the future Hall of Famer's arm can make some of the big league throws.
While Peyton is supposedly the solution for a team that's a quarterback shy of a Super Bowl appearance, many believe that, out of the two Mannings, Eli gives his team the best opportunity to win.
The obvious argument is Eli's two Super Bowl MVPs to Peyton's one.  In only eight NFL seasons (compared to Peyton's 13), Eli has been the biggest performer on the game's biggest stage twice. 
While Peyton has proven to be one of the best quarterbacks of all time statistically, Eli has garnered a reputation as one of the best active quarterbacks through far less tangible means.
Thanks to his recent playoff success combined with his knack for late-game heroics, Eli has assumed the role of the NFL's most clutch quarterback.  His 129 career interceptions and .584 completion percentage prove that Eli is only human.  However, his 8-1 playoff record since 2007 shows that Eli has the ability to transcend his every day role.
Peyton has been a model of consistency throughout his career, throwing for at least 4,000 yards in every season except for two (1998, 2005).  Yet Peyton has never had a season in which he threw the ball as far as Eli did in 2011.
With 4,933 passing yards, Eli eclipsed his brother's career high of 4,700 yards by more than 200 yards despite throwing 90 fewer passes.  Given Peyton's age and his current health condition, he may never top Eli's 2011 passing yardage total.
It can also be noted that Eli has done more while surrounded by less talent. 
Although Peyton has been wildly successful with many receivers, his two most reliable targets for most of his career were Marvin Harrison and Reggie Wayne.  While Harrison will likely have a bust in Canton in the near future, both receivers were able to eclipse 10,000 yards in their illustrious careers.  Both players also came into the league via the first round of their respective NFL drafts.
Although Eli had first round pick Hakeem Nicks on the receiving end of many of his passes, two of his top three receiving threats in 2011 were undrafted free agents.  Eli made Victor Cruz a household name, tossing him 82 balls for a team leading and franchise record 1,532 yards.  Tight end Jake Ballard also emerged as an unlikely threat as Eli hit him 38 times for 604 yards.
Eli's recent playoff success, clutch gene and ability to help receivers rise above their potential make him an all around better quarterback option than his older brother Peyton for the upcoming 2012 season.