NBA Finals 2012: Heat Players Who Must Step Up To Finish off Thunder
June 18, 2012

Mike Ehrmann/Getty Images
The Miami Heat took control of the NBA Finals with a victory in Game 3, but they shouldn't expect the Oklahoma City Thunder to go down without a fight. While LeBron James and Dwyane Wade have held up their end of the bargain, they will need help to finish the series.
With that in mind, here's a look at three players who will need to raise their level of play for the Heat to live up to the hype and win a championship. Getting those final two wins will be the toughest test yet for James, Wade and Co.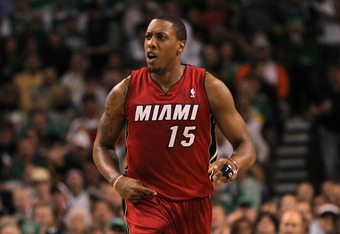 Jim Rogash/Getty Images
Mario Chalmers
Despite playing nearly 40 minutes in each of the past two games, Chalmers has scored just five points on 2-of-15 shooting with four assists. That's not good enough for a starting point guard, especially when the Thunder have Russell Westbrook.
The most important thing Chalmers has to do moving forward is create more open looks for James and Wade. The two superstars are basically having to create all of their own offense right now, and you have to believe the Thunder are getting closer to slowing that down.
In that respect, Chalmers should start serving more as a pure point guard. Since it's clear his shooting stroke is a little bit off right now, he should focus on setting his teammates up and improving his assist-to-turnover ratio.
Bosh has always been viewed as Miami's third wheel, but the biggest issue has been his willingness to accept that role instead of trying to assert himself as a third superstar. He's averaging just 12 points per game since returning from injury last series.
The team's most talented big man is shooting just 36 percent from the field in the series. There will be a game or two during the remaining games when James or Wade are having an off night; Bosh will need to fill the scoring void.
Talent isn't an issue. It all comes down to aggressiveness. Bosh has to enter the remaining games with a warrior's mentality. If he becomes a more reliable third scorer, the Thunder will struggle mightily to stop all of Miami's weapons.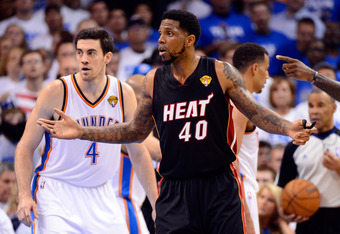 Ronald Martinez/Getty Images
Udonis Haslem
Oklahoma City has attempted to play Miami-style basketball for the first three games, and it hasn't worked out too well. Don't be surprised if the Thunder employ a more physical style in Game 4 as they search for a way to slow down the Heat.
If that's indeed the route they decide to go, Haslem's presence will become vital. He's scored just 12 points in the series while receiving limited playing time, but the veteran is the most prepared forward on the roster to adapt to physicality.
Even though he's lost some of his explosiveness over the years, Haslem still plays solid defense and rebounds. Those are the type of players that often get overlooked when the season ends, but it's nearly impossible to win titles without them.