Lakers Potential Coaching Exodus Shows Lack of Confidence in Mike Brown
June 18, 2012

Brett Deering/Getty Images
Midway through June, before an NBA champion is even crowned, the exodus from the Los Angeles Lakers has already begun. One assistant coach is gone, two are rumored to be halfway out the door and one is likely to receive serious interest from other teams.
Lakers assistant coach Quin Snyder is close to becoming the Charlotte Bobcat's next skipper (per Mike Bresnahan of the LA Times).
Chuck Person is reportedly in the mix for the Orlando Magic head job, according to Sam Amick of Sports Illustrated and David Baumann of Bright House Sports Networks (h/t to Evan Dunlap of the blog Orlando Pinstriped Post).
John Kuester is likely to receive offers elsewhere this offseason (per Elliott Teaford of the LA Daily News).
And Ettore Messina has up and left, turning down the Lakers offer for another year to accept the head coaching position at CSKA Moscow (via Dave McMenamin of ESPNLosAngeles.com).
Just like that, Mike Brown is left holding the bag for the Lakers' failures, deserving or not.
A breakdown in the Lakers' coaching ranks didn't take long. After a compressed NBA season and disappointing playoff run, it seems Mike Brown's coaching staff has had enough.
The mad dash for the exits will surely be seen as a vote of confidence in Mike Brown's ability to steer the Lakers in a positive direction and coach for a championship.
And really, who could cast a better vote than those tasked with working side-by-side with Mike Brown seven days a week?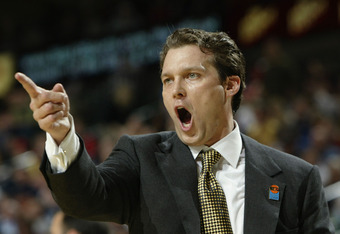 Brian Bahr/Getty Images
The Lakers' assistant coaches should not be lambasted for attempting to secure better-paying gigs. In this land of opportunity, it's all about coin and providing the best for your family.
But you certainly never saw Phil Jackson's highly-revered assistant coaches—Brian Shaw, Frank Hamblen, Chuck Person, Kurt Rambis, Jim Cleamons—bolt at the first chances they got.
They loyally served the Zen Master for multiple seasons and believed in his ability to command the Lakers. The lone defector—Kurt Rambis—served as Phil Jackson's assistant for six years before taking the Minnesota Timberwolves job.
It's a vastly different scenario under Brown, and it's quite troublesome.
Assembling a highly qualified staff to perhaps mask his shortcomings as a head coach, Brown failed to establish consistency and motivate his players during his first whirl as Lakers head coach.
He definitely faced a huge undertaking by joining a veteran team with high expectations and a shortened training camp. You would hope that Brown and his coaching staff would spend this summer building upon the progress they made last season and finish their unfinished business with the team.
Instead, it seems Mike Brown's assistants are making other plans. 
If Mike Brown can't keep his coaching staff motivated, what makes you think he can do the same for his roster?
Kevork Djansezian/Getty Images
Lakers management already has personnel issues to deal with that are severely complicated by an overstretched payroll and the burden of financial penalties within the NBA's new labor agreement.
Picking up the pieces of a dismantled coaching staff will only add to the laundry list of issues for the organization.
Publicly, Lakers GM Mitch Kupchak backed Mike Brown, saying he did a "fine job" in his first season as Lakers' head coach (per Mike Bresnahan of the LA Times). But privately, you have to think Kupchak and the rest of Lakers management put much of the blame for the Lakers' latest collapse on Brown, as suggested by Ryan Ward of the blog Lakers Nation.
Perhaps Jim Buss would like a do-over in selecting Phil Jackson's replacement. All it took was a snazzy DVD presentation to win over Buss during the Lakers' coaching search of 2011, and days later, Brown had an offer (via the Broderick Turner and Mike Bresnahan of the LA Times).
After all, Mike Brown has an extensive background as a video coordinator (per Ken Berger of CBSSports.com). 
His style of coaching is based in X's and O's, and that's precisely the problem.
It took the Lakers' assistant coaches 78 games to figure out the one-dimensional coaching abilities of Mike Brown before saying 'enough is enough.'
How long will it take Lakers management to do the same?