College Football: 10 Best Apple Cup Games Ever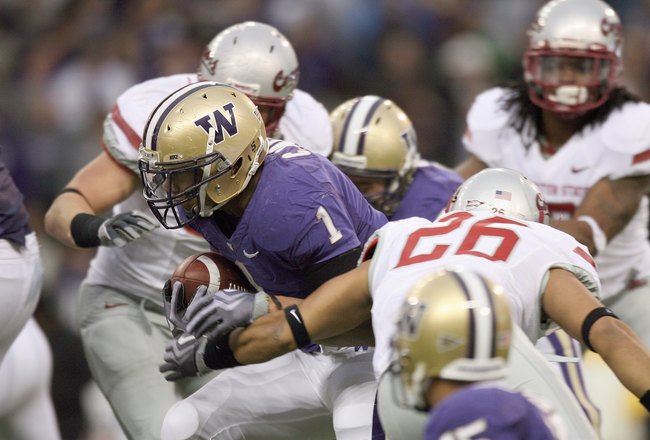 Otto Greule Jr/Getty Images
The Apple Cup has produced some legendary games since its inception.
From snow-packed stadiums to last minute touchdown drives, there seems to never be a shortage of excitement when the University of Washington and Washington State University match up.
With this year's game being played the day after Thanksgiving, fans are already starting to get excited.
With the hiring of Mike Leach and Keith Price's emergence as a top-tier quarterback, this year's contest could have some major implications.
UW leads the all-time series between the schools with a 67-31-6 record, and they have also captured the last three meetings between the schools.
Here are the top ten Apple Cup games ever:
10. Nov. 28, 2009 – UW 30, WSU 0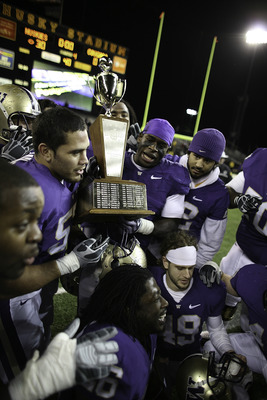 Otto Greule Jr/Getty Images
This is one of the most recent Apple Cups to date, yet it was still important in the eyes of many Dawg fans.
UW came into the game riding a four-game losing streak, yet rallied behind quarterback Jake Locker to shut out WSU for the first time since 1964.
Although the Cougars were banged up, the Huskies restricted WSU to only 163 total yards.
The Huskies' defense was also daunting, as they knocked out Cougar quarterbacks on three separate occasions.
UW's offense exploded, as they racked up 461 yards, including 196 yards passing for Locker.
Although the game didn't have any major bowl game implications, it obviously had an effect on Locker, who decided to forgo the draft and return to Washington for his senior season.
9. Nov. 22, 2008 – WSU 16, UW 13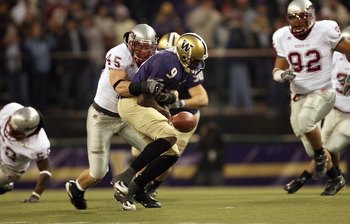 Otto Greule Jr/Getty Images
This is yet another game that realistically had no bowl game implications for either team, and it was a battle for last place.
Furthermore, WSU was looking to push UW to the brink of despair, as a loss would surely doom the Huskies' season.
With the Huskies sitting at 0-10 coming into play, the Cougs were looking to capture their second win of the season.
After the Dawgs took a 10-0 halftime lead, WSU scored on a 57-yard touchdown run by Logwone Mitz. A Nico Grasu field goal tied the game at 10 and the game went to overtime.
In front of a raucous WSU crowd, UW's Ryan Perkins could not connect on a 37-yard field goal in the second overtime.
The game did not seal UW's winless season however, until the next week when they fell to Cal 48-7.
8. Nov. 22, 2003 – UW 27, No. 14 WSU 19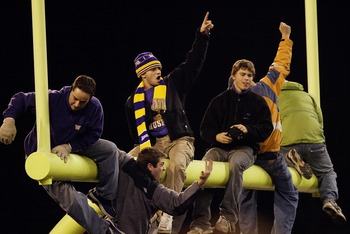 Otto Greule Jr/Getty Images
This may have been the game where the term "Coug It" originated.
WSU was in search of their tenth win of the year and a possible shot at the Rose Bowl, after they went the year before.
Up to that point, UW had not had a losing season since 1976, and quarterback Cody Pickett seemed destined to not be the first squad to finish under .500.
UW's defense finished the day with five interceptions, but none bigger than Marquis Cooper's big pick at the end of regulation.
With the Huskies up 20-19 after a 73-yard touchdown drive, WSU had one last shot at victory.
Cooper stepped in front of a Josh Swogger pass and returned it 38 yards for a touchdown, which caused mayhem in Husky Stadium as fans swarmed the field.
WSU was in position to win, as they held a 19-14 lead with 70 seconds to play. But, to the delight of UW faithful, the Cougars definitely "Couged It."
7. Nov. 19, 1988 – WSU 32, UW 31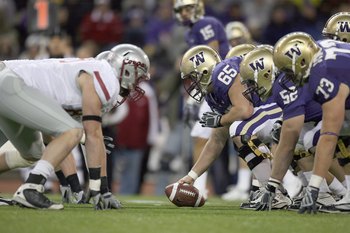 Otto Greule Jr/Getty Images
Finally, an Apple Cup with bowl implications for both teams.
The 1988 season saw the two schools battling for bowl contention, as WSU had a bowl locked, but UW was looking to grab a victory and a spot in a bowl game.
The Huskies grabbed a 21-9 lead after the first quarter, but the Cougs battled back, eventually finding themselves down only 28-26.
After a UW field goal, WSU scored the game-winning touchdown on a five-yard run by quarterback Timm Rosenbach.
The play was set up after WSU blocked a punt and recovered the ball at the UW 13-yard line.
The win propelled WSU to their first bowl game since the 1981 Holiday Bowl and left the Huskies at home during the bowl season.
6. Nov. 20, 1982 – WSU 24, No. 5 UW 20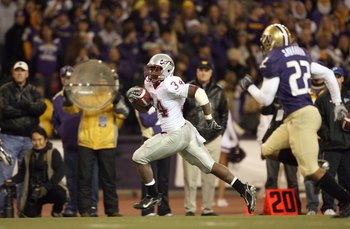 Otto Greule Jr/Getty Images
With Don James coming into the game with a 7-0 record against the Cougars, UW was expecting to steamroll WSU en route to their second consecutive Rose Bowl.
WSU had won only four of the previous 23 Apple Cups coming into play, but donned all-crimson jerseys for the Apple Cup.
Furthermore, the game returned to Pullman for the first time in 28 years.
After dominating much of the first half, the Huskies felt comfortable with a 17-7 halftime lead. But after back-to-back touchdowns by the Cougs, the Huskies found themselves trailing a two-win team.
The Huskies also boasted the most-accomplished kicker in school history in Charles Nelson, yet Nelson would not come through.
After nailing an NCAA record 30 field goals in a row, Nelson lined up from 33 yards out and went wide right.
After the Cougs wrapped up their biggest upset in school history, Cougar fans tore down the goal posts and threw them in the Palouse River.
5. Nov. 22, 1975 – UW 28, WSU 27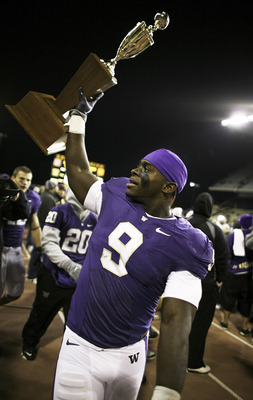 Otto Greule Jr/Getty Images
This was James' first Apple Cup, and fans were not too pleased with the team's 5-5 start under James.
With the Cougs up 27-14 and only 3:01 remaining, many figured WSU would go on to win.
But in typical Cougar fashion, they could not hold on to the lead and ended up botching a few plays, which would lead to UW scores.
On a fourth and one play on the UW 14-yard line, WSU quarterback John Hopkins dropped back to pass looking to convert and seemingly seal the game.
Instead, Hopkins made a costly blunder, and threw an interception to Al Burleson, who proceeded to return it 93 yards to the endzone.
UW's defense held, and the Husky offense would get possession one last time with about two minutes left.
Quarterback Warren Moon would uncork a Hail Mary down the field, which was underthrown, and it seemed as if WSU would respond with an interception of their own.
Yet the ball bounced off the defender's hands and ended up in UW receiver Spider Gaines' hands. Gaines was off to the races as he scored a 78-yard touchdown.
4. Nov. 21, 1992 – No. 25 WSU 42, No. 5 UW 21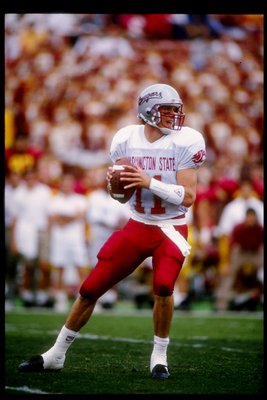 Stephen Dunn/Getty Images
The game that was coined as the "Snow Bowl" by Washington State fans was memorable for more than the adverse weather conditions.
First of all, the Huskies were defending National Champions.
Secondly, UW was heading to the Rose Bowl after a 9-1 record but would have to make a stop to the Palouse to battle WSU's Drew Bledsoe.
Bledsoe and the Cougar offense erupted, including one of the most memorable plays in WSU sports history.
As Bledsoe dropped back to pass, he found Phillip Bobo over the middle for a 44-yard touchdown pass as Bobo crashed into the snow bank at the back of the endzone.
Following the play, the Cougs would roll off 29 unanswered points as the Cougs held a 35-7 lead.
Bledsoe finished the day with 260 yards and a pair of touchdowns as WSU upset the Huskies.
3. Nov. 22, 1997 – No. 11 WSU 41, No. 17 UW 35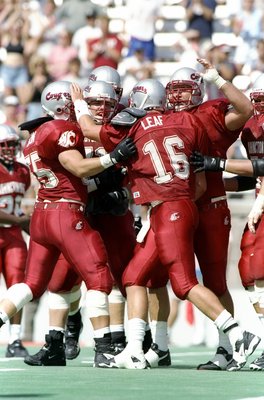 Otto Greule Jr/Getty Images
This game had major implications for both teams, although the Cougs were looking to head to the Rose Bowl for the first time in 67 years.
Led by superstar quarterback Ryan Leaf, the Cougs were still considered underdogs coming into the game, as they had not won in Seattle since 1985.
After going down 7-0 early in the first quarter, WSU would never trail again as Chris Jackson hauled in a 57-yard touchdown catch during the second quarter.
Leaf had a career day against his archrival, as he finished with 358 yards and a pair of touchdowns.
The WSU defense also picked off five Brock Huard passes en route to the victory.
After the victory, Cougar fans rushed the field and eventually tore down the goalposts.
2. Nov. 23, 1991 – No. 2 UW 56, WSU 21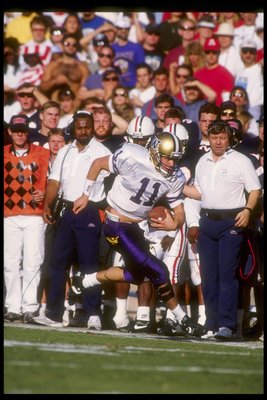 Stephen Dunn/Getty Images
As if a Rose Bowl berth had major implications for WSU in 1997, UW was in pursuit of perfection in 1991.
A perfect 11-0 record was on the line when the two schools met and Washington would go on to claim a share of the national championship with Miami.
UW seemingly steamrolled the lowly Cougars, as the Husky offense busted out for 460 yards. WSU also helped the UW cause, as the Cougs committed 16 penalties for 169 yards in the game.
Quarterback Billy Joe Hobert had three touchdown passes and Mark Brunell added another TD pass and a TD run.
The Apple Cup sealed an extremely memorable season for UW, as they claimed their second national championship after a 34-14 shellacking delivered to No. 4 Michigan.
The Huskies finished the season with a perfect 12-0 record
1. Nov. 23, 2002 – UW 29, No. 3 WSU 26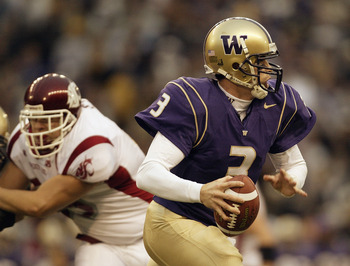 Otto Greule Jr/Getty Images
With a Rose Bowl berth on the line for the 9-1 Cougars, the 6-5 Huskies seemed like they would not stand a chance.
After the Cougs held a 20-10 lead with more than four minutes remaining, WSU fans were certain their team would be heading to Pasadena.
That was until Cody Pickett drove the Dawgs 92 yards in a minute and a half, ending the drive with a seven-yard touchdown pass to Paul Arnold.
UW's defense then came up big as freshman Nate Robinson intercepted a Matt Kegel pass. Kegel replaced injured started Jason Gesser during the third quarter.
UW's kicker John Anderson was 0-for-3 on field goal attempts during the game, but came up big when it counted, as he hit a 27-yarder to send the game to overtime.
After Anderson and WSU's kicker Drew Dunning both nailed field goals in the first two overtime sessions, UW's defense sealed the game.
Kegel looked to throw a wide receiver screen, which was batted down by defensive end Kai Ellis.
Ellis eventually recovered the ball and the referees determined it was a backwards pass and therefore, a fumble.
UW fans swarmed onto the field at Martin Stadium to the dismay of stunned Cougar fans.
Keep Reading

Washington Huskies Football: Like this team?