Euro 2012: Odds Preview, Picks for Group C Matches: Spain-Croatia, Ireland-Italy
June 18, 2012

Shaun Botterill/Getty Images
Introduction
Spain and Croatia are tied atop Group C with four points apiece heading into Monday's match in Gdansk, Poland with Italy sitting on two points and needing some help if it is to make the quarterfinals.
The Azzurri can advance with a 0-0 or 1-1 draw between Spain and Croatia, but a 2-2 scoreline (or a higher-scoring draw) would send both current group leaders through because of the FIFA tiebreaker rule which has caused some silly collusion speculation stories to start circulating.
The lone team eliminated from the group, the Republic of Ireland, can make this all moot with a win over Italy, but oddsmakers have made the Italians heavy favorites so it looks as if the Spain-Croatia final score will end up being the determining factor.
Here is a look at both matches with odds from the LVH SuperBook here in way-too-sunny Las Vegas where the mercury right now is at 107 degrees Fahrenheit—with the wind chill factor Bubba...and it's still spring.
Spain vs. Croatia
Date: Monday, June 18, 2012
Location: PGE Arena Gdansk (Gdansk, Poland)
Time: 2:30 p.m. ET/11:30 a.m. PT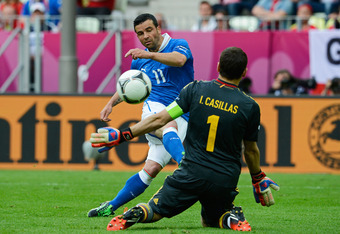 Claudio Villa/Getty Images
Television: ESPN, ESPN Deportes
Computer: ESPN3
90 Minutes + Injury Time Odds: Spain -½ -130, Croatia +½ +110 Total: 3

Current world and European champions Spain face Croatia for the first time ever in a major competition in this match which could be a lot closer than most casual soccer fans think.
Spain is coming off a 4-0 drubbing of Ireland while Croatia tied Italy 1-1 on a equalizer by Mario Mandzukic in its second game.
With neither side assured a spot in the quarterfinals, you can expect a very entertaining and competitive game with Croatia likely having to focus on defense much of the match thanks to Spain's beautiful tiki-taka play in the midfield.
And when your midfield includes guys to choose from like Xavi Hernández, Andrés Iniesta, Xabi Alonso, David Silva, Cesc Fàbregas and Sergio Busquets—back now after a minor foot injury—then you provide quite a dilemma for your opponents.
It's no wonder Spain coach Vicente del Bosque decided on a six-man midfield in the group opener against Italy with that embarrassment of riches of a roster.
But after a two-goal match by Fernando Torres against Ireland—where Spain completed an amazing 779 passes and had 26 shots—expect a similar starting formation to keep the pressure on the Croats who will be playing in one of the biggest games in team history.
Croatia coach Slaven Bilic knows this and will have his troops ready for the challenge no doubt and with Euro 2012 co-top scorer Mandzukic (three goals) and midfielder Luka Modric, Bilic has some nice offensive weapons of his own.
Time of possession will be the big hurdle for Croatia, and, quite frankly, I can see no way for them to overcome that unless Spain is issued a red card or two, which will never happen.
So that means the Croats will have to capitalize on any scoring opportunities and have a little luck on its side, but with captain Iker Casillas in goal, scoring twice in a game of this magnitude is asking a lot.
In the end, I see Croatia playing a great first half and scoring a goal in this match but the strength, depth and expectations of the defending champions will be just too much for them to pull off the monumental upset.
PREDICTION: Spain 2 Croatia 1
BETS: Spain -½ -130, Spain -130 (Money-line ) BE$T BET$
Italy vs. Republic of Ireland
Shaun Botterill/Getty Images
Date: Monday, June 18, 2012
Location: Poznań Municipal Stadium (Poznań, Poland)
Time: 2:30 p.m. ET/11:30 a.m. PT
Television: ESPN2, ESPN Deportes
Computer: ESPN3
90 Minutes + Injury Time Odds: Italy -1½ -115, Ireland +1½ -105 Total: 3
Italy has been very good under new manager Cesare Prandelli, going undefeated (8-4-0) in 12 matches and will need another solid performance, as well as some luck from Gdansk, for it to advance to the quarterfinals in this tournament.
The Republic of Ireland has been outscored 7-1 in its first two matches here and has historically had trouble scoring goals in international play. But having already been eliminated from advancing, The Boys In Green can play loose in this one and could ruin the Azzurri's hopes of survival.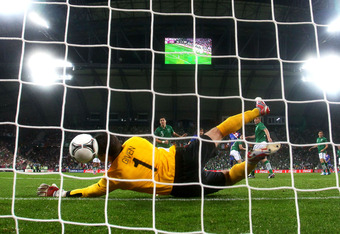 Christof Koepsel/Getty Images
Irish goalkeeper Shay Given will likely be playing his last game for his home country which will certainly motivate the team and with Robbie Keane up front, the nation that gave us U2 and boxer Wayne McCullough could provide a big shocker on Monday.
But probably not.
Italy is 7-2-2 lifetime against Ireland and has one of the world's best goalkeepers in Gianluigi Buffon and has a defensively and offensively sound starting 11 with defenders Giorgio Chiellini and Christian Maggio, midfielders Antonio Cassano and Antonio Di Natale and forwards Andrea Pirlo and Claudio Marchisio.
Ruled out for this match is forward Mario Balotelli due to a bad knee, a smart move in my mind as Italy needs everything to go right for them in both Poznań and Gdansk to even make the quarterfinals.
If the wunderkind were to somehow make his injury worse, Prandelli would never hear the end of it and Manchester City might not be too thrilled either. If Italy does somehow advance, then Balotelli will be that much healthier for a match with a club much more talented than Ireland.
Ireland will try its best to go out of the tourney with a bang and should make Italy nervous but the talent discrepancy is a bit too much and La Nazionale should have a decent edge in time of possession.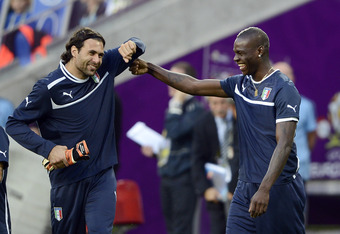 Claudio Villa/Getty Images
This match should resemble the Spain-Croatia clash with little, if any, scoring in the first 45 minutes and then a game-winner early in the second half. Because the goal-line is -1½ in this one—and it could end Italy 1-0 or 2-0—I recommend just watching this match or taking Italy on the money-line for a very nominal amount.
PREDICTION: Italy 2 Ireland 0
BET: Italy -400 (Money-line)
Follow me on Twitter: @KevinStott11