College Baseball World Series Bracket 2012: Analyzing Top Matchups
June 18, 2012

Ronald Martinez/Getty Images
The 2012 College Baseball World Series is underway in Omaha.
National powerhouses square off at the double-elimination tournament as they hope to turn their championship dreams into a reality.
Eight teams make the trip to Omaha. Only one goes home a winner.
Newcomers Kent State and Stony Brook were both badly beaten in their College World Series debuts.
Stony Brook also lost its second game Sunday against Florida State, becoming the first team to be eliminated in 2012.
Kent State will face elimination Monday night as the team takes on a very tough Florida team that leads the nation in home runs.
South Carolina is back again to defend its title, looking for a third consecutive championship. The Gamecocks look to become the first team to win three or more consecutive titles since USC won five straight from 1970-1974.
The Gamecocks take on Arkansas Monday night as both teams look to remain unbeaten.
No. 3 Florida State is back for the 20th time in school history and will face No. 2 UCLA in an elimination game on Tuesday in what should prove to be an exciting bout.
Arizona is off to the 2-0 start it was hoping for as the team patiently waits to face the winner of Florida State vs. UCLA.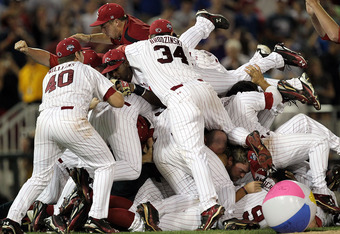 Ronald Martinez/Getty Images
Now that we know the layouts of the brackets to this point, it's time to look at some of the key matchups in this tournament that will make or break some teams' title runs.
South Carolina vs. Florida & Arkansas Pitching Staffs
The Florida pitching staff boasts a collective 2.94 ERA on the season. The team's strikeout-to-walk ratio of 3.64 ranks first in the nation as well.
Despite losing their first game to South Carolina and now facing elimination, the Gators still have a very good chance at making a run to the finals. Florida beat South Carolina in the SEC tournament in addition to winning the regular-season series two games to one.
Arkansas has a 2.87 team ERA and ranks fifth in the nation with 7.6 hits allowed per nine innings. On Monday, the Razorbacks face off against a South Carolina team that beat them in two out of three games during the regular season.
The Gamecocks' lineup does look beatable, hitting just .272 as team on the year with only a handful of players over the .300 mark.
However, South Carolina has managed to win 12 consecutive games in Omaha, and it has yet to lose so far this postseason.
On paper, Florida and Arkansas certainly have the edge over the Gamecocks, but it seems that this South Carolina squad may just want it more.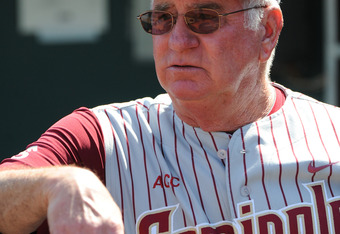 Al Messerschmidt/Getty Images
Coach Mike Martin vs. History
Florida State's head coach Mike Martin has been to 15 College World Series during his tenure. Unfortunately for him and the Seminoles, they have yet to bring home a title.
The No. 3 Seminoles have their work cut out for them after losing an extra-inning battle to the Arizona Wildcats in their opener.
They beat Stony Brook 12-2 on Sunday and now face the 2010 runner-up UCLA Bruins in an elimination game on Tuesday.
If they can make their way through the Bruins, Coach Mike Martin and company will have their shot at redemption as they'll take on Arizona in a situation where they must win two straight games to reach the finals.
UCLA's Starting Pitching vs. Arizona's Lineup
As was evident in its first matchup on Sunday, Arizona can bust it open at any point in time.
Sophomore Adam Plutko leads the charge with a 12-3 record and a 2.41 ERA for the UCLA Bruins. Unfortunately for UCLA, Plutko can't take the mound every game. 
The rest of the starters all own a plus-4.00 ERA.
Starter Nick Vander Tuig did pitch well against Arizona on Sunday, however. That is outside of the five-hit, four-run fourth inning that paved the way for Arizona's 4-0 victory.
The Arizona offense boasts a .331 average on the season and is very dangerous from top to bottom. If UCLA gets the chance to face them again, they're going to find it very difficult to shut them down in back-to-back games.
Conclusion
It will be interesting to see how these matchups pan out.
UCLA and Florida look to spoil South Carolina's championship run after both teams were runner-ups in Omaha the past two years.
Meanwhile, four other teams are all still in the hunt and looking for their own shot at glory.
As the Fresno State Bulldogs showed us just four years ago, anything can happen in Omaha.
It's all about getting hot at the right time.