A Genetic Task Force: Building the Perfect College Wide Receiver
June 18, 2012

Stephen Dunn/Getty Images
Oh, do we have an offer for you. For those lucky souls who have already purchased their genetically engineered college football running back and quarterback, we're giving you the opportunity to complete your dream offensive trio.
Sure, you've already spent $95 million on a running back, and you dropped a reasonable $125 million on the ultimate quarterback, but why stop there? 
For those new to this exercise altogether, allow me to provide the important details before you hand over your credit card. Actually, scratch that. We only take cash. Long story.
Thanks to advanced scientific breakthroughs by Dr. Pylon and his team, we are now able to genetically engineer the perfect football player. It's quite simple, really. 
Dr. Pylon has created the first-ever Genetic Committee, which consists of Nick Saban, Urban Meyer, Mack Brown and myself. We're the brightest minds the game has to offer, and we've been tasked to select various traits from current college football players to construct the ultimate pass catcher. We take the best the game has to offer and science takes over from there.
Also helping us out in today's session is the great Dana Holgorsen, a man that knows plenty about hauling in balls. He demanded I worded his background as such.
What's the price of this pristine DNA? Why, I'm glad you asked. We're having our best sale to date, and the dream wide receiver can be yours for the low, low price of $75 million! What a steal!
Here is what you'll be getting.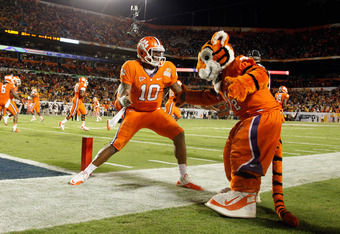 Mike Ehrmann/Getty Images
The Speed of Sammy Watkins (Clemson)
Tough task to pick a single player, and the committee struggled to reach a consensus. Sammy Watkins was the man targeted when the dust settled, however. It should be noted that Dana Holgorsen noted the 2011 Orange Bowl 58 times during this discussion. Nick Saban counted. 
Watkins burst onto the scene in 2011 in magnificent fashion. He was Clemson's main difference maker, and despite the fact that he'll likely miss some time after offseason "grass" issues, the committee is not concerned about that. He's blazing (phrasing), and he also uses his speed in a variety of ways. Just send the ball in his direction and watch him fly.
After discussing the score of the Orange Bowl, Holgorsen spent the next 20 minutes reciting his favorite lines from Half Baked. To the surprise of no one, Mack Brown thought it was a cooking show.
The Strength of Da'Rick Rogers (Tennessee)
A fascinating player that likely requires his own examination committee, Da'Rick Rogers could be dominant if he can keep his head on straight and avoid injury. Nick Saban pounded the table (and also agreed) when his name began to surface in the discussion.
His dominance starts with his size and strength, and Rogers is an incredible athlete. If you were building a wideout from scratch (and we are) his 6'3," 215-pound frame would be a magnificent foundation.
Rogers uses his build is to beat defenders deep and he's big and strong enough to go over just about everyone. Although a healthy Justin Hunter will likely take away from his targets, Rogers could be one of the nation's best players come fall.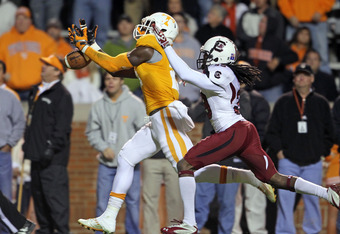 Andy Lyons/Getty Images
I brought this point to the table, and after throwing his pen in my direction, Nick Saban spent the next four minutes staring into my soul. I am now more convinced then ever that he doesn't have eyelids.
The Hands of Keenan Allen (Cal)
Much of world beyond Pac-12 territory isn't all that familiar with Allen just yet, but that will change next season as more folks have a chance to see him play. I could actually see drool coming off the side of Dana Holgorsen's mouth when Allen's name came up. An offensive toy he would certainly love to have.
As a sophomore, Allen hauled in 98 catches for 1,343 yards. He makes it look frustratingly easy and has the softest hands in college football. And he doesn't drop anything, either. There is a lot to like, and NFL scouts are no doubt fascinated by his potential. 
The committee found this particular selection to be a relatively easy one to make, so we spent the remaining time watching Urban Meyer draw up plays on his iPad. Meanwhile, Dana Holgorsen drew up his offensive plays on the table (our boss was not amused), while Nick Saban drew up varieties of the HB dive on Mack Brown's crisp orange polo. He also was not amused.
The Head of Robert Woods (USC)
You could make a case for Woods in just about every receiver trait possible, but the committee decided to take that impressive brain of his. We're not taking the actual brain; that would probably be more illegal than what we're doing now. I'm kidding, kind of.
Woods was tremendously productive in 2011, totaling nearly 1,300 receiving yards and 15 touchdowns on the season. What's impressive (other than the staggering totals) is that he's able to beat defenses in different ways. He can be a deep threat, certainly, but he's incredibly gifted at finding open space in the defense. He's also instinctive and finds ways to get open regardless of the situation or pattern.
The group called Lane Kiffin to share with him the good news, although it turns out he changed his number following last session's mass prank calls. After some careful digging, we eventually found his new cellular home, and Dana Holgorsen decided it would be best if we share this number on Twitter. So he did. 
Oops.