5 Backup NFL QBs Who Have a Legitimate Shot to Win a Training Camp Battle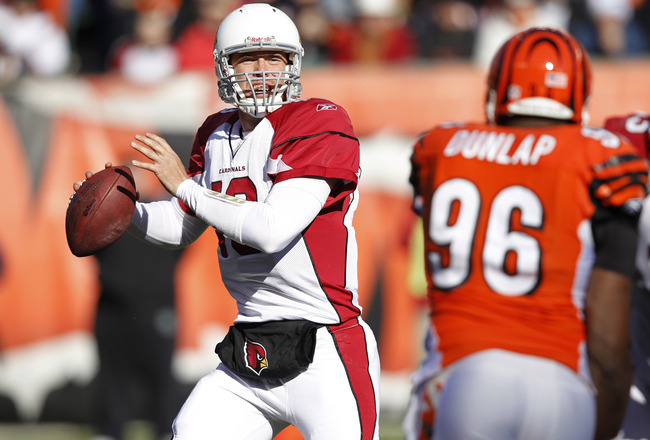 Arizona Cardinals quarterback John Skelton, a potential starter in 2012
Joe Robbins/Getty Images
Battles for starting spots will occur in all 32 NFL training camps this summer, spanning across every position. No battles will be more high profile, however, than starting-quarterback competitions.

Some changes in starting quarterbacks are clearly evident. Rookies Andrew Luck and Robert Griffin III, the first and second overall picks in the 2012 NFL draft, should start for their respective teams (the Indianapolis Colts and Washington Redskins) immediately. Meanwhile, legendary veteran Peyton Manning takes over as an immediate starter for the Denver Broncos after signing as a free agent this offseason.

On the other hand, there are numerous other quarterbacks who have a chance to unseat incumbent or projected starters, but will have to outperform their more proven counterpart to do so. The following five quarterbacks all have a very legitimate chance of moving from the second unit into the role of first-string signal-caller for their team.
Tennessee Titans: Jake Locker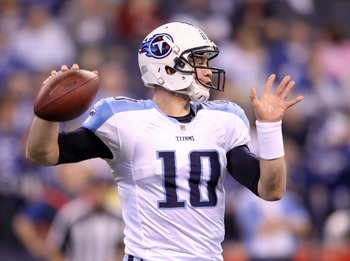 Andy Lyons/Getty Images
Veteran starting quarterback Matt Hasselbeck had a strong first season for the Titans. For the first time in four years, Hasselbeck started all 16 games and threw for 3,571 yards and 18 touchdowns while completing 61.6 percent of his passes.

That said, Hasselbeck is 36 years old and likely entering one of his final NFL seasons. The Titans also have a talented 24-year-old quarterback, Jake Locker, who is entering his second season after being the eighth overall pick in the 2011 NFL draft.

Hasselbeck proved last season that he is still capable of being an NFL starting quarterback, but Locker has the potential to be great, and being that he is a top-10 pick, the Titans will feel pressured to play him. The Titans are currently splitting snaps evenly between the two quarterbacks, and will continue to do so until they have determined a starter, according to the Associated Press (via ESPN.com).

This battle is going to come down to Locker's development from now through August. Locker is a more talented playmaker than Hasselbeck, with a stronger arm and more athletic ability. However, Locker must have a firm grasp of the Titans offense and be completing passes with consistent accuracy before the team can take the reins from Hasselbeck and turn them over to the sophomore signal-caller.
Miami Dolphins: Ryan Tannehill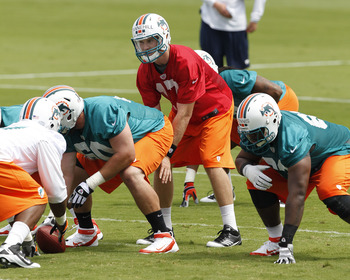 Joel Auerbach/Getty Images
Following in the footsteps of Jake Locker, Ryan Tannehill became the second consecutive quarterback with shaky passing skills and tremendous physical tools to be selected with the No. 8 overall selection in the NFL draft. Tannehill is currently slated to continue follow in Locker's footsteps by spending his rookie season as a backup, but there is still plenty of time for that to change this preseason.

Dolphins owner Stephen Ross told NFL.com on May 21 that he expects Matt Moore, who started the final 12 games of the Dolphins' 2011 season, to continue as the starting quarterback in 2012. This would probably be the best situation for Tannehill, who needs to become a more consistent and accurate passer and would benefit from at least one season as a backup signal-caller.

That said, the Dolphins drafted Tannehill as the No. 8 overall pick because they see him as their franchise quarterback. That means that he will have every opportunity to compete for the starting job, at least until Aug. 24, the deadline that Dolphins head coach Joe Philbin has set to select his team's starter, according to the The Palm Beach Post.

The Dolphins will likely make good on Ross' word, and Moore will end up starting this season while Tannehill is groomed to become the starter for 2013. That said, no one should be surprised if Tannehill starts the season under center.
Arizona Cardinals: John Skelton
Christian Petersen/Getty Images
The Cardinals made a very questionable move in July 2011, trading a second-round pick and cornerback Dominique Rodgers-Cromartie to the Philadelphia Eagles for quarterback Kevin Kolb, whom they subsequently signed to a five-year, $63.5 million contract extension.

After one disappointing season in Arizona, it is clear that the Cardinals are already questioning their decision. The Cardinals made a strong play in March to sign free-agent quarterback Peyton Manning, who would have replaced Kolb as the starter (via ESPN). Manning ended up with the Denver Broncos, but Kolb could still lose his starting job to John Skelton.

Cardinals head coach Ken Whisenhunt told Jim Rome (via CBSSports.com) that Kolb and Skelton will compete for the starting job until one quarterback establishes himself over the other.

Neither quarterback was particularly impressive last season. Kolb completed only 57.7 percent of his passes with only one more touchdown pass than interception, but Skelton's statistics were even worse, completing only 54.9 of his passes with three more interceptions than touchdown passes. However, the Cardinals went 6-2 in the eight games Skelton played last season, as opposed to 2-6 in the other eight games which Kolb started.

Kolb has the edge in this competition because, given the major investment that the Cardinals made in him, he should have every opportunity to establish himself as the starter. However, Skelton can earn this job by outperforming Kolb, and he just may pull off the surprise victory in this ongoing battle.
Jacksonville Jaguars: Chad Henne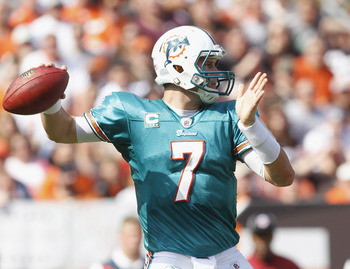 Matt Sullivan/Getty Images
Going into his second year, Blaine Gabbert is expected to be the Jaguars' starting quarterback, but he will have to earn his starting job after an unimpressive rookie season. Among 34 qualified quarterbacks last year, Gabbert had the NFL's worst quarterback rating (65.4).

Chad Henne, a second-round pick of the Dolphins in 2008, was a disappointment in his four seasons in Miami. However, signing with the Jaguars in March may give him one last chance to earn a starting quarterback job in the NFL.

Henne has talent, but he has yet to find consistency in his passing accuracy or decision making. It was clear last season, however, that Gabbert has the same issues in his game, and he may not be able to make enough significant progress in the summer to become an effective starter in 2012.

Considering that Gabbert was a top-10 draft pick in 2011, it is unlikely that the Jaguars will take away his starting role now, and Henne has not done enough in four NFL seasons to show that he should be a starting signal-caller.
However, a strong training camp for Henne, coupled with continued struggles for Gabbert, would be enough reason to make a change, at least temporarily.
Seattle Seahawks: Tarvaris Jackson/Russell Wilson
Tarvaris Jackson
Christian Petersen/Getty Images
Tarvaris Jackson started 14 games last season for the Seattle Seahawks, but the Seahawks did not sign Matt Flynn to a three-year, $26 million contract to be a backup quarterback.

However, while it can be assumed that the Seahawks signed Flynn with the intent for him to start, the team has made it clear that he still must earn the starting-quarterback job. The Seahawks are currently holding a three-way quarterback competition between Flynn, Jackson and rookie Russell Wilson.

The Seattle Times reported that during the Seahawks' three-day minicamp last week, Jackson took first-team snaps on Tuesday, while Flynn followed on Wednesday and then Wilson on Thursday. This could be an indication that the competition is favoring the incumbent Jackson, but the order may also have no meaning.

Jackson has a significant edge in knowing the Seahawks offense already. Pete Carroll has been adamant that there will be an open competition between the three quarterbacks and told The News Tribune that "draft picks and money and stuff like that is not going to play in the decision at all."

While Carroll is probably being honest about Flynn's contract not giving him any edge in the competition, the money that Flynn received is a clear sign of their belief that he is a starting-caliber quarterback. Flynn was very impressive in his few starts for the Green Bay Packers, while Jackson has yet to establish himself as a quarterback and Wilson is brand new to the league.

Wilson is unlikely to emerge from this competition as the starter, but Jackson has a very legitimate chance of winning the battle. However, I believe Flynn is the most talented passer of the trio and will eventually prove his worth as the Seahawks' starting quarterback for 2012.
Thanks for reading!

Follow me on Twitter @Dan_Hope.
Keep Reading