NHL Draft 2012: 20 Nastiest Goals on YouTube Scored by Draft Prospects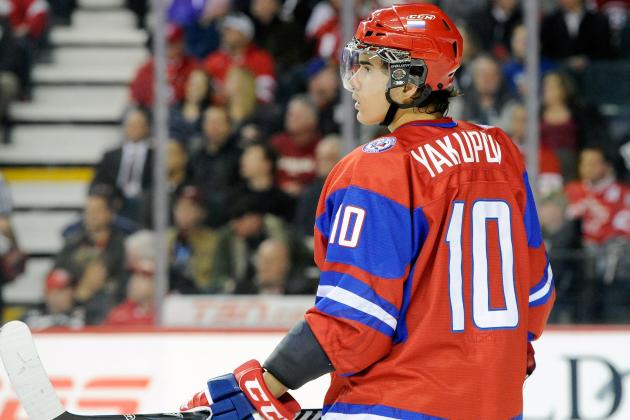 Richard Wolowicz/Getty Images

With the NHL draft approaching, it is a good time to take a look at some of highlights featuring players who are set to be selected this Friday. Some prospects in the draft have been prolific scorers during their minor league careers and have scored some nasty goals.
These players have superior skill and talent, so these goals are really something to marvel at. Some goals show a player's uncanny ability to be in the right place at the right time and others show a player exhibiting their speed and skill all in one package.
Here are 20 of the nastiest goals on YouTube scored by draft prospects.
Begin Slideshow

»
Nail Yakupov makes quick work of the opposing London Knights defense by spinning around while protecting the puck before accelerating to the goal. Yakupov fires off a quick wrister and gave the Sarnia Sting a 5-2 lead.
Yakupov is the consensus No.1 overall pick for the NHL draft this year.
The first goal was a simple case of having a talented player in the right place at the right time, but the second goal was a thing of beauty.
Russia clears the puck down the ice, but the goaltender shoots a pass up ice to Forsberg who had no problem deking in and out before blistering a wrister home.
Mikhail Grigorenko scored a beauty of a goal once his team won the faceoff. Grigorenko breaks to the net, dekes and puts away a sweet goal on his backhand.
Grigorenko scored a lot of nice goals during his minor league career, but this is one of the nicer ones. He is a player who can score and help others score, so either way he will be a top player.
Alex Galchenyuk is a solid prospect for the Sarnia Sting and a teammate of Nail Yakupov.
In this clip, Galchenyuk accelerates through the zone and beats the goaltender with a seeing-eye-shot.
Galchenyuk has a great shot and will become an NHL mainstay once drafted. Galchenyuk could be a steal considering he fell down the board after suffering a knee injury earlier this season.
Nail Yakupov and the Sarnia Sting were facing a potential overtime period until the Sting got possession of the puck. Yakupov shot up the ice and received a Hail Mary pass before beating the goaltender on a partial breakaway.
Yakupov has tons of speed and skill and will be a future star if he continues to develop as projected.
On this goal, projected top-10 pick Teuvo Teravainen picks up speed on the wing and accelerates through the zone before sniping a sweet wrister past the goaltender.
Teravainen is a player with solid hands and a great shot who will really help a future NHL team in a few years.
He could draw interest from many teams depending on how many forwards are drafted early on, but he could also fall in the draft if teams decide to draft defensemen early. Either way, Teravainen is a quality pick.
Mikhail Grigorenko scored this goal because of his patience and poise. He showed patience with his hands and juked the goalie out of position before scoring this sweet shootout goal.
Grigorenko has tons of talent and would love to play for any of the many teams currently in position to draft him. It is possible because of his skill set and size that he could get drafted first overall, but at this point it looks unlikely.
The Sarnia Sting were tied in this game with a little over two minutes remaining in overtime. Galchenyuk showed great net presence and was in the right place at the right time when he scored this game-deciding goal.
Galchenyuk is a quality goal scorer, and that is apparent in this clip.
Tomas Hertl showed solid determination on this goal. He plays the puck from behind the net to an area where he has an opening and blasts it from almost below the goal line. Hertl picked a nice spot and beat the goalie clean.
This may look like an ordinary goal but when you take into account the angle of the goal, it is quite impressive.
This highlight package displays two solid goals and a great shootout goal from the Sarnia Stinger. Yakupov dekes and dangles across the ice surface before extending his hands and pivoting to his backhand.
At that point, Yakupov has the goalie beat and he roofs a backhander. Yakupov has scored many goals like this before, so imagine what could happen when he hits the NHL level.
The first goal with Tom Wilson has him capitalizing on a rebound set up by his teammate. His second goal, although on an empty net, was pretty nice.
Wilson pokes the puck on through whilst diving and then accelerates the extra length of the ice to put it in the net. Wilson has good size and nice hands and should be a mid-to-late first round pick.
Mikhail Grigorenko had quite a game against the Saint John Sea Dogs. These three goals were pretty nice and really do a solid job illustrating the different facets of Grigorenko's offensive game.
Grigorenko could go anywhere between No.2 overall and No. 6 overall in this draft.
You don't see these types of goals often because of where it was scored. Mathew Dumba is a defenseman but on this goal he slides down the ice into the slot and receives a nice pass before slapping it home.
This goal really illustrates the offensive instincts in Dumba and displays his great shot.
Radek Faksa scored a pair of goals in this highlight. The first goal scored was a nice breakway in which Faksa breaks through and blasts one home.
Faksa is a player with solid upside and two-way play. In 62 games, Faksa scored 29 goals and assisted on 38 others for 67 points. He is a player who will go early in the draft.
Sebastian Collberg was a crucial player in this game, and he really came up huge in this spot. Collberg breaks in, freezes the goal with a leg kick and beat the goaltender with a nice backhand.
Collberg has solid skill and speed to be an impact player in the NHL. He plays for Frolunda of the SEL, so could you imagine if the Senators were able to draft him and pair him with Erik Karlsson on the power play?
Radek Faksa showed his tenacity and instincts in this clip. Faksa is speeding in and the goaltender seems to have the puck but his sly play allows him to steal the puck and banks it in.
Faksa also gets into the right position on the second goal and blasts a wrister from the top of the zone. Faksa is a player who really could flourish into a solid two-way player.
Nail Yakupov could occupy every slide in this slideshow because he has slick moves. Yakupov shows off his slapshot in this clip. The 2012 NHL draft's top prospect gives and goes with the puck and then positions into a nice one-timer position.
Yakupov has a blistering slapshot and could be a huge help to any NHL team's power play,
Nail Yakupov and Alex Galchenyuk both played a huge role in this goal. Sarnia was buzzing around the net and Galchenyuk was able to sting one home on a scramble.
It was also Galchenyuk's first of the year. Galchenyuk overcame a tough knee injury and is projected to go very early in the first round.
Brendan Gaunce almost scored on a shot earlier in this clip but was in the right spot when an opportunity presented itself to him. Gaunce goes to the net mouth and is fed a perfect pass from the bottom corner and it was a solid goal for Gaunce.
Zemgus Girgensons is a player with a good balance of size and speed. He is 6'2" and 175 pounds, but he has solid hands and a great shot.
On this penalty shot,Girgensons shows patience and good skill in waiting out the goaltender before beating him on the one-on-one attempt. Girgensons will play in the NCAA next year, so he should be able to continue developing against competitive talent.