Washington Redskins: 5 Biggest Roster Flaws as It Stands Today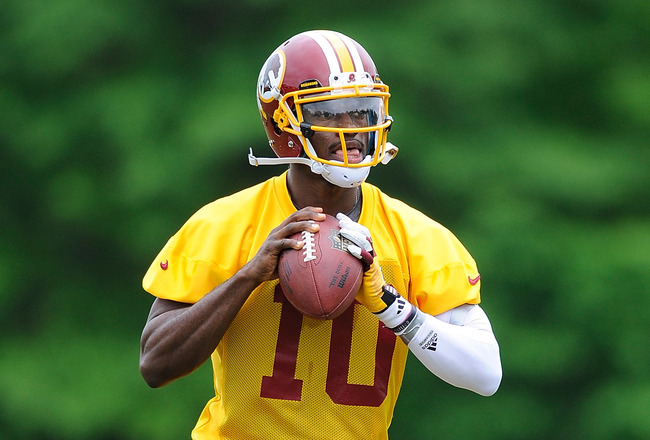 Patrick McDermott/Getty Images
Without question, the Washington Redskins roster as it stands today appears well ahead of what it was just one year ago. Although the 2011 season didn't go quite as well as fans had hoped, the locker room progressed and the team made the most of their offseason.
Still, like many NFL rosters, the Redskins' lineup has its flaws. That's not to say that things can't change between now and September, or that surprises can't occur once the season begins, but they're worth a note.
Running Backs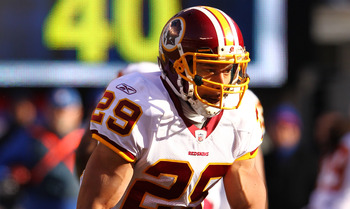 Al Bello/Getty Images
I fully expect to be blasted for this slide, but hear me out.
It's not that the Redskins backfield stable is flawed, but it's a distant promise at this point.
Last season, rookies Roy Helu and Evan Royster played well—even better than expected—and free-agent acquisition Tim Hightower was playing good ball up until his injury. But it appears as if fans are a little too high on the bunch.
As a true fan of both the Redskins and each of the running backs, I also attempt to remain honest. And honestly, no one knows how Hightower will return from ACL surgery, everyone should remember that Helu was drafted with durability concerns and Royster is far from proven after just five games last season.
The good news is that the Redskins backfield has potential. It also helps that head coach Mike Shanahan is known for turning non-household names into quality running backs.
Fire away.
Safety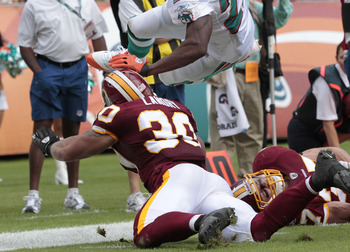 Joel Auerbach/Getty Images
Despite the deserved criticism that former safety LaRon Landry received when he was a member of the Redskins, his offseason departure could be felt this season.
The front office did its best to address the safety position in free agency by signing Brandon Meriweather and Tanard Jackson. Although both guys come with their own baggage (Meriweather has already earned a DUI this summer), each of them bring the physical tools that go a long way if they can grapple the mental part of the game.
Even when Landry was here, fans were accustomed to a certain style of play at the safety position. Landry wasn't known for his cover skills, but he was effective in the box and he intimidated the opposition. With their most recent additions, Redskins fans can generally expect the same style with Meriweather and Jackson.
Interior Offensive Line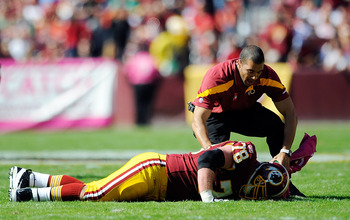 Patrick McDermott/Getty Images
It's hard to say if left guard Kory Lichtensteiger was the linchpin of the Washington Redskins last season, but it certainly appeared that way.
The Redskins were playing good football up until 'Steiger blew out his knee and sat out the rest of the year. Once he went out, the Redskins began to play like crap and their record went south in a hurry.
Lichtensteiger returns this season after recovering all offseason and we can only hope that he returns to last season's form. But if 'Steiger doesn't make that full recovery, depth along the offensive front may be a concern.
There is also some question regarding the center position, where last year's starter Will Montgomery is expected to return. Although dependable and serviceable, Montgomery is a better fit as a backup center. Not a starter.
Cornerback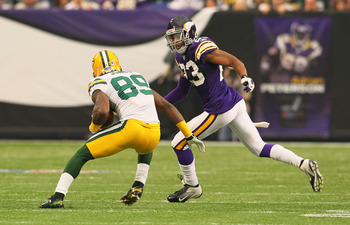 Adam Bettcher/Getty Images
Aside from DeAngelo Hall not being a true No. 1 cover-corner in the NFL, the Redskins don't have the strongest secondary unit as a whole either.
Adding free agent Cedric Griffin this summer was a positive move, but his knees are essentially mush at this point in his career. How does he hold up over 17 weeks?
DeAngelo could find himself working out of the nickel position more this season. How does he take to the switch both on and off the field?
Where does Kevin Barnes find himself come September? While some say that Barnes' versatility is too valuable, others will root to release him.
With such a strong defensive line, perhaps the secondary (and cornerbacks in particular) are given a little break. Added pressure from the front seven can make the secondary's job a whole lot easier.
Right Tackle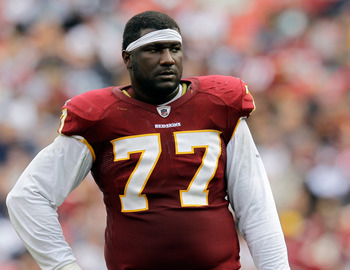 Rob Carr/Getty Images
I find myself harping on the issue, but Jammal Brown and the right tackle position portray a huge flaw in the Redskins roster this season.
When healthy, Brown is a dominant tackle—his strength and athleticism are perfect in Shanahan's system. But the injury bug has bitten Brown. And it doesn't look good.
Nagging injuries (especially in the hip) haven't sidelined Brown permanently, but it keeps him from lasting the entire season, which in turn alters the chemistry along the line. With a rookie quarterback prepared to start, inconsistency is the last thing this team needs.
The Redskins do have young backups like Tyler Polumbus and Willie Smith, but Jammal Brown and a solid 16 weeks is ideal. If he's not in, the Redskins have to make sure they're keeping Robert Griffin III off his back.
Keep Reading

Washington Redskins: Like this team?