NBA Free Agency 2012: Philadelphia 76ers Must Avoid Re-Signing Lou Williams
June 26, 2016
Drew Hallowell/Getty Images
Louis Williams, the Philadelphia 76ers' leading scorer from this past season, has opted out of the final year of his contract to become an unrestricted free agent this summer, the Philadelphia Inquirer reported this past weekend.
Had Williams not opted out, he would have earned $6.39 million this coming season.
No matter his asking price, the Sixers need to exercise caution when entering re-negotiations with Williams this summer. Overpaying a one-dimensional player is one sure-fire way to knock a team from championship contention in a heartbeat.
Williams may have led the Sixers in scoring this past season, but the Sixers need to face facts; they aren't in a position to retain him this summer.
The Sixers front office needs to recognize the team's limitations and let Williams go this summer, before doing something they regret for a long, long time.
Williams isn't a bad player by any means. He scored a career-high 14.9 points this past season, and he's only 25 years old, with plenty of good years ahead of him. With the right team, he could potentially become a valuable member of a contender's rotation.
But if the Inquirer's league source is right, and Williams could command a contract in the Thaddeus Young-range this summer (five years, $43 million), the Sixers would be committing franchise suicide by re-signing him.
There's no nice way to say this, but Williams is the epitome of a volume scorer. He had one of the top 20 usage rates in the NBA this past season despite shooting less than 41 percent from the field.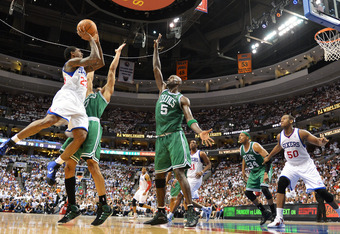 Drew Hallowell/Getty Images
Sure, he finished with a PER above 20 this year. Yes, extrapolating his season averages to 36 minutes per game would make him a 20+ point scorer.
That doesn't change the fact Williams provides little else for the Sixers than scoring and shot creation.
Williams "can't guard anybody," as Andre Iguodala told a Sports Illustrated reporter this year. He gambles for steals far too frequently, leaving his teammates on an island and out of position defensively.
Unless he suddenly turns over a new leaf of efficiency, his shortcomings can't keep outweighing the positives that he brings to the Sixers offense.
The Sixers have the No. 15 pick in a relatively deep draft, where they'll likely have a bevy of talented two-guards from which to choose. They'll miss Williams' ability to create his own shot, unquestionably, but will they miss his average of 5-of-12 shooting each game?
More importantly, is it worth $9 million a year?
For some team, it is.
It can't be the Sixers, though. Not with Thaddeus Young, another bench player, also signed for over $8 million per year for the next half-decade.
If the Sixers re-signed Williams to somewhere around $8 million a year, locking up $16 million of their cap space for two bench players, they'd be making the same cap-killing mistakes that kept the team from truly contending in the mid-2000s, after their 2001 NBA Finals run.
Why re-sign a guy who took nearly 40 percent of his attempts in the paint this season and only averaged just over 40 percent shooting? Williams isn't elite enough of a three-point shooter to offset his low shooting percentage in the frontcourt, or his often poor shot selection. (Besides the vaunted Lou-for-one at the end of quarters, of course.)
Stick Williams on a team like the Los Angeles Lakers, and suddenly they've got an infusion of youth and a legitimate scoring punch off the bench again. Interested in a sign-and-trade this summer, Mitch Kupchak?
Somewhat thankfully for the Sixers, Williams had a relatively awful postseason showing. He only averaged 11.5 points per game on just over 35 percent shooting, with a cover-your-eyes 16.7 percent average from three-point range. (That's despite averaging nearly four threes a game.)
God forbid, if they were to re-sign him this summer, that playoff performance should be fresh in the minds of the gentlemen signing the contracts, and should at least hopefully depreciate his price tag a bit.
Realistically, though, it's better for both sides if Williams has played his last game as a Philadelphia 76er.
Will the front office come to the same realization? Or will they choke off future cap space to re-sign a best-case Sixth Man of the Year?
Hold your breath, Sixers fans. These next few weeks could go a long way toward determining the future of this franchise.
And it's looking like a terrifying ride the entire way.