US Open Golf Purse 2012: What Will Tiger Woods and Other Past Champions Make
June 18, 2012

Stuart Franklin/Getty Images
It took an impressive final round of one of the toughest majors tournaments in recent history, but Webb Simpson was able to finish as the 2012 U.S. Open champion.
With a 68 in his final two rounds, the 26-year-old earned himself a nice payday of $1,440,000.
Former U.S. Open winners Graeme McDowell and Jim Furyk were in the hunt the entire day, but neither could get the necessary birdie on 18 to send the tournament to an 18-hole playoff.
McDowell and Michael Thompson will each get $695,196 for finishing in second place. Furyk must settle for $276,841 after a bogey on the final hole.
Still, the players at the top were not the only ones to receive a payday. With a total purse of $8 million, there was plenty of money to go around.
Tiger Woods had a good start to the weekend, but finished seven strokes over par to tie for 21st place with five other golfers. After all of the tournament wins and endorsements in his career, the $86,348 he earned will hardly make a dent in the bank account.
Despite the struggles by Woods, a few other veterans with multiple U.S. Open titles had successful runs at the tough course at Olympic Club.
Two-time champion Retief Goosen quietly worked his way into the top 10 by shooting even par over the last three days. Fellow South African Ernie Els used two eagles to finish in ninth place, his ninth career top-10 finish at this prestigious tournament.
Goosen will leave with $163,594, while Els should be happy to take home $200,280.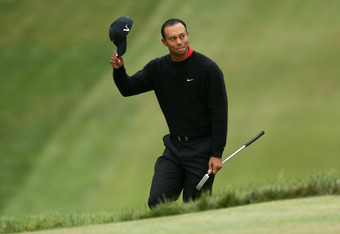 Andrew Redington/Getty Images
The only other former winner to even make the cut on this challenging course was 2007 winner Angel Cabrera.
Cabrera struggled throughout and finished 12 strokes over par, tied with five others in 46th place. 
Three-time Masters champion Phil Mickelson was only able to make $18,593 after finishing in 65th place.
Here is a complete breakdown of payouts courtesy of ESPN:
Leaderboard
| POS | CTRY | PLAYER | TO PAR | R1 | R2 | R3 | R4 | TOT | EARNINGS | |
| --- | --- | --- | --- | --- | --- | --- | --- | --- | --- | --- |
| 1 | | Webb Simpson | +1 | 72 | 73 | 68 | 68 | 281 | $1,440,000 | |
| T2 | | Michael Thompson | +2 | 66 | 75 | 74 | 67 | 282 | $695,916 | |
| T2 | | Graeme McDowell | +2 | 69 | 72 | 68 | 73 | 282 | $695,916 | |
| T4 | | Jason Dufner | +3 | 72 | 71 | 70 | 70 | 283 | $276,841 | |
| T4 | | Padraig Harrington | +3 | 74 | 70 | 71 | 68 | 283 | $276,841 | |
| T4 | | David Toms | +3 | 69 | 70 | 76 | 68 | 283 | $276,841 | |
| T4 | | John Peterson | +3 | 71 | 70 | 72 | 70 | 283 | $276,841 | |
| T4 | | Jim Furyk | +3 | 70 | 69 | 70 | 74 | 283 | $276,841 | |
| 9 | | Ernie Els | +4 | 75 | 69 | 68 | 72 | 284 | $200,280 | |
| T10 | | John Senden | +5 | 72 | 73 | 68 | 72 | 285 | $163,594 | |
| T10 | | Kevin Chappell | +5 | 74 | 71 | 68 | 72 | 285 | $163,594 | |
| T10 | | Casey Wittenberg | +5 | 71 | 77 | 67 | 70 | 285 | $163,594 | |
| T10 | | Retief Goosen | +5 | 75 | 70 | 69 | 71 | 285 | $163,594 | |
| T10 | | Lee Westwood | +5 | 73 | 72 | 67 | 73 | 285 | $163,594 | |
| T15 | | Martin Kaymer | +6 | 74 | 71 | 69 | 72 | 286 | $118,969 | |
| T15 | | Aaron Watkins | +6 | 72 | 71 | 72 | 71 | 286 | $118,969 | |
| T15 | | Fredrik Jacobson | +6 | 72 | 71 | 68 | 75 | 286 | $118,969 | |
| T15 | | Adam Scott | +6 | 76 | 70 | 70 | 70 | 286 | $118,969 | |
| T15 | | Steve Stricker | +6 | 76 | 68 | 73 | 69 | 286 | $118,969 | |
| T15 | | K.J. Choi | +6 | 73 | 70 | 74 | 69 | 286 | $118,969 | |
| T21 | | Raphael Jacquelin | +7 | 72 | 71 | 73 | 71 | 287 | $86,348 | |
| T21 | | Nick Watney | +7 | 69 | 75 | 73 | 70 | 287 | $86,348 | |
| T21 | | Tiger Woods | +7 | 69 | 70 | 75 | 73 | 287 | $86,348 | |
| T21 | | Justin Rose | +7 | 69 | 75 | 71 | 72 | 287 | $86,348 | |
| T21 | | Blake Adams | +7 | 72 | 70 | 70 | 75 | 287 | $86,348 | |
| T21 | | Jordan Spieth | +7 | 74 | 74 | 69 | 70 | 287 | $0 | |
| T27 | | Nicolas Colsaerts | +8 | 72 | 69 | 71 | 76 | 288 | $68,943 | |
| T27 | | Matt Kuchar | +8 | 70 | 73 | 71 | 74 | 288 | $68,943 | |
| T29 | | Francesco Molinari | +9 | 71 | 76 | 72 | 70 | 289 | $53,168 | |
| T29 | | Scott Langley | +9 | 76 | 70 | 70 | 73 | 289 | $53,168 | |
| T29 | | Beau Hossler | +9 | 70 | 73 | 70 | 76 | 289 | $0 | |
| T29 | | Morgan Hoffmann | +9 | 72 | 74 | 73 | 70 | 289 | $53,168 | |
| T29 | | Charlie Wi | +9 | 74 | 70 | 71 | 74 | 289 | $53,168 | |
| T29 | | Kevin Na | +9 | 74 | 71 | 71 | 73 | 289 | $53,168 | |
| T29 | | Alistair Presnell | +9 | 70 | 74 | 75 | 70 | 289 | $53,168 | |
| T29 | | Robert Karlsson | +9 | 70 | 75 | 72 | 72 | 289 | $53,168 | |
| T29 | | Davis Love III | +9 | 73 | 74 | 73 | 69 | 289 | $53,168 | |
| T38 | | Hunter Mahan | +10 | 72 | 71 | 73 | 74 | 290 | $44,144 | |
| T38 | | Charl Schwartzel | +10 | 73 | 70 | 74 | 73 | 290 | $44,144 | |
| T38 | | Sergio Garcia | +10 | 73 | 71 | 71 | 75 | 290 | $44,144 | |
| T41 | | Alex Cejka | +11 | 78 | 69 | 70 | 74 | 291 | $38,816 | |
| T41 | | Zach Johnson | +11 | 77 | 70 | 73 | 71 | 291 | $38,816 | |
| T41 | | Ian Poulter | +11 | 70 | 75 | 73 | 73 | 291 | $38,816 | |
| T41 | | Patrick Cantlay | +11 | 76 | 72 | 71 | 72 | 291 | $0 | |
| T41 | | Rickie Fowler | +11 | 72 | 76 | 71 | 72 | 291 | $38,816 | |
| T46 | | Bob Estes | +12 | 74 | 73 | 71 | 74 | 292 | $31,979 | |
| T46 | | Steve LeBrun | +12 | 73 | 75 | 69 | 75 | 292 | $31,979 | |
| T46 | | Angel Cabrera | +12 | 72 | 76 | 69 | 75 | 292 | $31,979 | |
| T46 | | Hunter Hamrick | +12 | 77 | 67 | 71 | 77 | 292 | $0 | |
| T46 | | Matteo Manassero | +12 | 76 | 69 | 73 | 74 | 292 | $31,979 | |
| T51 | | Branden Grace | +13 | 71 | 74 | 73 | 75 | 293 | $24,912 | |
| T51 | | Simon Dyson | +13 | 74 | 74 | 74 | 71 | 293 | $24,912 | |
| T51 | | Hiroyuki Fujita | +13 | 75 | 71 | 73 | 74 | 293 | $24,912 | |
| T51 | | Jesse Mueller | +13 | 75 | 73 | 74 | 71 | 293 | $24,912 | |
| T51 | | Nicholas Thompson | +13 | 74 | 74 | 72 | 73 | 293 | $24,912 | |
| T56 | | Jeff Curl | +14 | 73 | 75 | 71 | 75 | 294 | $21,995 | |
| T56 | | Michael Allen | +14 | 71 | 73 | 77 | 73 | 294 | $21,995 | |
| T56 | | Jonathan Byrd | +14 | 71 | 75 | 71 | 77 | 294 | $21,995 | |
| T59 | | Jae-Bum Park | +15 | 70 | 74 | 77 | 74 | 295 | $19,955 | |
| T59 | | Darron Stiles | +15 | 75 | 71 | 73 | 76 | 295 | $19,955 | |
| T59 | | Kevin Streelman | +15 | 76 | 72 | 72 | 75 | 295 | $19,955 | |
| T59 | | Matthew Baldwin | +15 | 74 | 74 | 73 | 74 | 295 | $19,955 | |
| T59 | | Jason Day | +15 | 75 | 71 | 76 | 73 | 295 | $19,955 | |
| T59 | | Bo Van Pelt | +15 | 78 | 70 | 76 | 71 | 295 | $19,955 | |
| T65 | | Phil Mickelson | +16 | 76 | 71 | 71 | 78 | 296 | $18,593 | |
| T65 | | Marc Warren | +16 | 73 | 72 | 74 | 77 | 296 | $18,593 | |
| 67 | | Kyung-tae Kim | +17 | 74 | 72 | 74 | 77 | 297 | $18,113 | |
| T68 | | Stephen Ames | +18 | 74 | 73 | 79 | 72 | 298 | $17,633 | |
| T68 | | Keegan Bradley | +18 | 73 | 73 | 75 | 77 | 298 | $17,633 | |
| 70 | | Rod Pampling | +19 | 74 | 73 | 74 | 78 | 299 | $17,153 | |
| 71 | | Jason Bohn | +21 | 70 | 75 | 78 | 78 | 301 | $16,833 | |
| 72 | | Joe Ogilvie | +23 | 73 | 75 | 76 | 79 | 303 | $16,512 | |