2012 NBA Mock Draft: Teams Under Most Pressure to Land Immediate Stars
June 18, 2012

Jim McIsaac/Getty Images
There's no such thing as an NBA team that isn't constantly under pressure to improve. As long as tickets don't come free, fans expect nothing less than the best possible rotation.
Still, some teams are on a bit more pressure than others, especially when it comes to landing a difference-maker who can take a team from the middle of the pack to the very top.
Clubs like the Houston Rockets, Milwaukee Bucks and Portland Trail Blazers are tantalizingly close to earning trips to the postseason. Still, something is missing.
On June 28, these teams will have a golden opportunity to complete their respective roster puzzles. 
For some, that will mean wheeling and dealing their draft position in an attempt to land proven veteran talent. Others will rest their hopes on a young prospect with the potential to become a star sooner rather than later.
1. New Orleans Hornets: Anthony Davis, PF (Kentucky)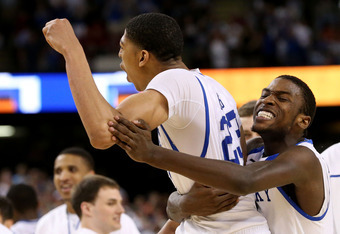 Ronald Martinez/Getty Images
Unless the Mayan calendar was off by a few months, the Hornets will indeed take Anthony Davis. Given his dependence on his athleticism and physical tools, he may be a bit over-hyped at this point, but there isn't much of an argument for taking anyone else here.
Davis is an elite defender and rebounder, and there's a good chance he'll be a fine scorer in time.
2. Charlotte Bobcats: Michael Kidd-Gilchrist, SF (Kentucky)
Unless Charlotte has an opportunity to land an absolute star, it'd be crazy to trade this pick. MKG is the full package, and he's set to be a perennial All-Star if he can improve his perimeter offense—something he's likely to do in time given that he played just one year at Kentucky.
The bottom line is that the things he excels at are hard to teach.
3. Washington Wizards: Thomas Robinson, PF (Kansas)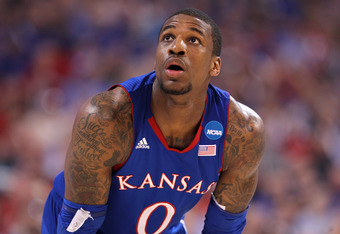 Andy Lyons/Getty Images
Robinson is an exceptional athlete at the power forward spot, and he's got the strength, quickness and explosiveness to be a beast in the paint—even against larger players. He can also shoot the ball from mid-range. But the thing teams like the Wizards will appreciate even more is the toughness he brings to the locker room.
4. Cleveland Cavaliers: Bradley Beal, SG (Florida)
Beal is unquestionably one of the best scorers in the draft, thanks largely to his ability to both shoot from anywhere and penetrate the paint. Cleveland could also take a small forward whether Alonzo Gee returns or not, but if Beal is still around, he's probably the best value on the board.
5. Sacramento Kings: Harrison Barnes, SF (North Carolina)
Given how bad Sacramento's defense has been, it wouldn't he at all surprising to see the team take Andre Drummond to help anchor its paint. But the team could also stand to improve its defense on the perimeter, and that's where Barnes comes in.
The small forward is also in good position to be a solid spot-up shooter and an intelligent all-around player.
6. Portland Trail Blazers (from Brooklyn Nets): Andre Drummond, C (UConn)
Yes, there are questions about Drummond's motor, consistency and lack of polish in the post. But there are no questions whatsoever about what he could be capable of given some time. He's huge and plenty explosive.
Even apart from his upside, though, he's already in a good position to defend the paint and help on the glass. If Portland keeps its two lottery picks, it's hard to imagine it passing up a center who can do those kinds of things.
Without Marcus Camby around, the Trail Blazers' options are limited in the middle. Given how close this team is to returning to the playoffs, filling that hole in the paint has to be a top priority.
7. Golden State Warriors: Perry Jones III, PF (Baylor)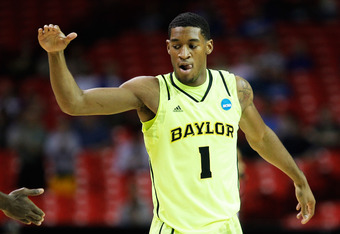 Streeter Lecka/Getty Images
The Warriors are tiring of mediocrity, and this upcoming season will be an important test. The newly acquired Andrew Bogut gives the team a legitimate center, and a healthy Stephen Curry would be one of the best point guards in the league—at least from a scoring standpoint.
Jones has a rap as a guy who won't make an impact right away, but that depends largely on how he's used. His physical gifts make him one of the draft's most versatile players—the trick will be putting him in the position to best succeed.
Of course, Golden State could make an even more immediate upgrade by using this pick to acquire veteran talent, but if a guy like Jones is still available, he might be tough to pass up.
8. Toronto Raptors: Jeremy Lamb, SG (UConn)
The Raptors need a swingman who can become a go-to scorer. Guys like Dion Waiters, Austin Rivers and Terrence Ross could get a look here, but Lamb may have the most upside of them all. He's an outstanding shooter, and he always has spidery length that translates into an impact on both ends of the floor.
9. Detroit Pistons: Terrence Jones, SF (Kentucky)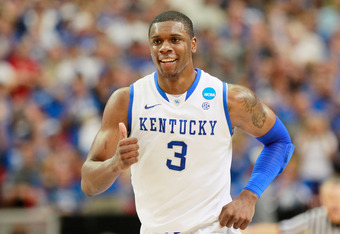 Kevin C. Cox/Getty Images
Detroit isn't the worst team in the league, but it still looks nowhere near becoming a playoff team either.
Rather than attempting to address a specific need, the Pistons should start thinking long-term and take a guy with tons of long-term potential. Jones can do a little bit of everything, and he has the combination of well-rounded physical tools and versatile skills that could help transform this club in time.
10. New Orleans Hornets (via Minnesota Timberwolves): Damian Lillard, PG (Weber State)
Lillard's stock has continued to rise over the last month, and there's an increasingly good chance he won't be around this late in the lottery. If he is, the Hornets would be crazy not to complete their backcourt with one of the most dynamic scorers in the draft.
11. Portland Trail Blazers: Kendall Marshall, PG (North Carolina)
In a draft with so many exciting prospects, we haven't heard a whole lot about Marshall. He could certainly fall outside of the lottery if teams elect to take guys with more All-Star potential, but he's exactly what the Trail Blazers need at the moment—namely a deferential point guard who can run the offense and set up his teammates.
12. Milwaukee Bucks: Tyler Zeller, C (North Carolina)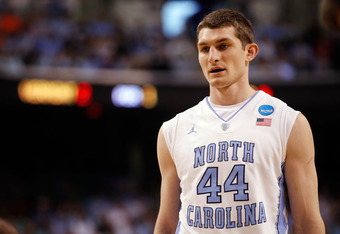 Mike Ehrmann/Getty Images
The Bucks are oh-so-close to being a legitimate playoff team. A full season of Monta Ellis and Brandon Jennings manning the backcourt together should help, but a replacement for Andrew Bogut at the center position is a necessity. Milwaukee has some good young talent in the paint (like the explosive Larry Sanders), but the team still lacks a true center.
Zeller would do far more than fill a hole in the rotation. He moves around well for a seven-footer, and he also has an unusually good touch. Even if Zeller doesn't have as high a ceiling as big guys like Andre Drummond and Meyers Leonard, he may be far more ready to step into a starting lineup from day one.
13. Phoenix Suns: Austin Rivers, G (Duke)
People seem to either love or hate this guy, but there's reason to believe his game could translate well into the pick-and-roll heavy NBA game.
He still needs to become more of a team player and learn how to play without the ball in his hands, but his shooting ability and instincts suggest he has the potential to be a star. Given the current state of Phoenix's roster, that potential has to look pretty good at the 13 spot.
14. Houston Rockets:  John Henson, PF (North Carolina)
Given how close the Rockets are to making a legitimate playoff run, it's bit hard to imagine them keeping both of their first-round draft picks. It's no secret this club needs a star, and at least one of those two picks could be used in a package to acquire one.
The next-best option, though, would be to go after a power forward who could give the team more of a defensive look in the paint. Luis Scola doesn't have the quickness or length to make that kind of impact, and Henson made a living doing just that at UNC.
Jared Sullinger might also be an option if he's still available, but he'd be far more redundant with what Houston already has in Scola.
15. Philadelphia 76ers: Terrence Ross, SG (Washington)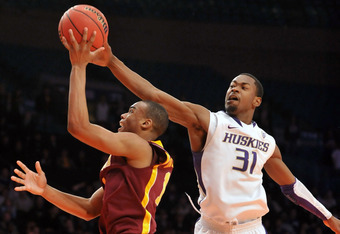 Jason Szenes/Getty Images
The 76ers proved to be on the verge of something special this season. Sure, the wounded Chicago Bulls weren't as much of a challenge as they otherwise would have been, but Doug Collins' young club still earned its status as one of this season's most impressive breakout stories.
That doesn't mean Philly is in any position to settle. If anything, it means precisely the opposite. The 76ers would benefit immediately from the acquisition of a starting shooting guard. Ross has great size for a 2 guard, along with the ability to impact the game with shooting, slashing and solid defense. He's a complete player, and if he isn't taken in the lottery, Philadelphia should jump on him. 
16. Houston Rockets (via New York Knicks): Dion Waiters, G (Syracuse)
Waiters could be a poor man's Dwyane Wade, or he could be the next promising slasher who never becomes enough of a shooter to make a significant impact.
With the Rockets' backcourt unsettled by free agency (Goran Dragic, Coutney Lee) and endless trade speculation, taking the best available should be Houston's best move.
17. Dallas Mavericks: Jared Sullinger, PF (Ohio State)
Sullinger took full advantage of the draft combine to dispel concerns about his perceived lack of size. He could very well be taken in the lottery thanks to his clever post game and excellent game IQ. If he slips, though, expect a team like Dallas to get lucky and add a different dimension to its interior rotation.
18. Minnesota Timberwolves (via Utah Jazz): Moe Harkless, SF (St. John's)
Jim McIsaac/Getty Images
Harkless has his share of fans and doubters, but there's no question about his potential. He stands at around 6'9" and has the kind of athleticism you love to see from a big small forward. The Timberwolves need help on the wing, so Harkless could be the perfect fit. 
19. Orlando Magic: Meyers Leonard, C (Illinois)
Leonard may not have the most impressive post-game in the world, but how many young seven-footers do? He's a big kid with athleticism and a good motor. No, he's probably not the next Dwight Howard, but he's a good start in preparing for the post-Howard era (whenever that officially begins).
20. Denver Nuggets: Arnett Moultrie, PF (Mississippi St.)
Moultrie played well in the NCAA tournament, and he's got the combination of mobility and hops that make big-men prospects especially intriguing. The Nuggets don't have a specific area of need on a roster that's already deep with young talent, so Moultrie would be worth a shot based on his potential alone.
21. Boston Celtics: Royce White, SF/PF (Iowa State)
Despite some concerns about how his struggles with anxiety could impact his pro career, there's a very strong argument that White is well worth the risk. He's an outstanding talent and has the size to make an impact at both forward positions in the NBA.
22. Boston Celtics (via Los Angeles Clippers): Fab Melo, C (Syracuse)
Rajon Rondo has plenty of good years ahead of him, so it's a good time for Boston to have two first-round picks. The second of those picks could go a long way in rebuilding an interior rotation that needs a legitimate seven-footer. Melo has work to do, but he's got the size and athletic ability to build upon.
23. Atlanta Hawks: Tony Wroten Jr., PG/SG (Washington)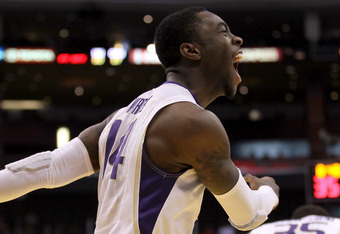 Stephen Dunn/Getty Images
The Hawks' bench has plenty of needs. If free agent Kirk Hinrich departs, the most pressing of those needs would be a combo-guard in the backcourt. With some polish, Wroten could get the job quite well.
24. Cleveland Cavaliers (from Los Angeles Lakers): Jeff Taylor, SF (Vanderbilt)
Cleveland's wing is in dire need of help. Taylor would help the roster's depth at the small-forward position, and he'd instantly make this a much better defensive team. His on-ball pressure on the perimeter is priceless, and the Cavs would be wise to take advantage if a playoff team doesn't grab Taylor first.
25. Memphis Grizzlies: Evan Fournier, SG (France)
Memphis' best move would probably be to trade this pick. The team is close to contending, and unless there's a steal on the board, a rookie probably isn't what head coach Lionel Hollins needs. If they keep it, a long-term project like Fournier could be a wise investment.
26. Indiana Pacers: Draymond Green, F (Michigan St.)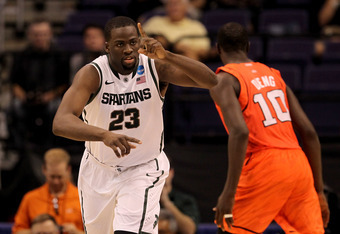 Jamie Squire/Getty Images
Green looked as fit as ever at the draft combine, and it looks more and more like he'll be taken somewhere in the 20s. His mature understanding of the game would make him a perfect fit with the young Pacers, a club that earns its success without the benefit of a superstar.
27. Miami Heat: Festus Ezeli, C (Vanderbilt)
Miami might be better off using this pick as part of a trade package to improve the team more decisively. Still, if a big man like Ezeli is still around, the Heat would be smart to bring him in for his defensive presence in the painted area.
28. Oklahoma City Thunder: Andrew Nicholson, PF (St. Bonaventure)
OKC has just about everything a roster could want, but it doesn't have a power forward who spreads the floor especially well (although, yes, Ibaka's mid-range game has improved significantly). Nicholson has a great shooting touch and good size for an NBA 4.
29. Chicago Bulls: Marquis Teague, PG (Kentucky)
Teague is a quick, intelligent point guard, and his shooting touch should improve with a couple of years at the pro level. The Bulls wouldn't need him to be a star right away. They just need him to add some depth to a position that will be in some trouble while Derrick Rose recovers from knee surgery.
30. Golden State Warriors (via San Antonio Spurs): Quincy Miller, SF (Baylor)
While Golden State could certainly use guys who will make an immediate impact, they may not have that luxury here. That's why a project with some real potential like Miller would make some sense. Trading this pick in an attempt to land veteran help would also make some sense, however.