Pacquiao vs. Bradley: Judge Duane Ford's Appearance on the Fight Game Is a Joke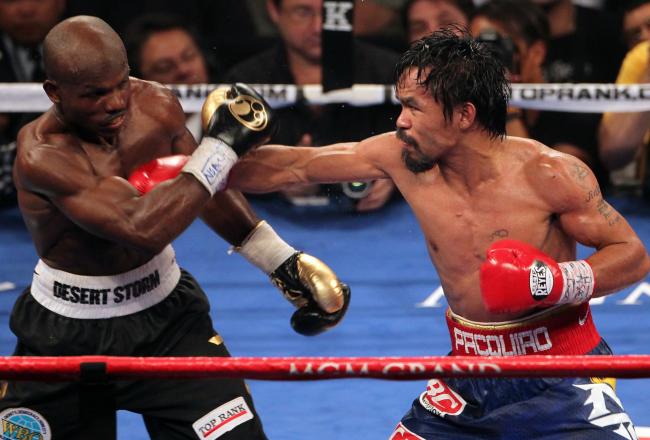 Jeff Bottari/Getty Images
I spent way too many years in college, first studying rhetoric and writing, later teaching them.
And this might be the single most valuable thing I learned: anytime a person prefaces an argument by listing their eminent qualifications and experience, it is a pretty good bet that whatever follows will be horse crap.
So when Nevada judge Duane Ford, who inexplicably scored the June 9 Timothy Bradley-Manny Pacquiao fight for the challenger, started off his appearance on The Fight Game with Jim Lampley by noting the impeccable experience and credentials of himself and the other two blind mice involved in that debacle, my eyes were already rolling back in my head.
Another good indication that somebody is making a less-than-legitimate argument is when they make a completely irrelevant point that vaguely sounds like it is relevant.
So when Ford makes a statement about how the Pacquiao he has scored for before would have finished off Bradley after hurting him, that really means absolutely nothing. Whether or not some earlier version of Pacquiao would have been able to finish Bradley means absolutely nothing.
Because the version of Pacquiao that was in the ring on Saturday night, June 9, still won that fight, easily.
But the most obnoxious point Ford made, and it is a point I have heard made again and again by those who would defend this clearly indefensible decision, is that all the uproar that has greeted this travesty is a result of Manny Pacquiao being so darned popular.
Somehow we are supposed to believe that the way over 90 percent of boxing fans and writers who feel Pacquiao got robbed are all merely united by our overwhelming loyalty to the Filipino congressman.
I'll make a disclosure at this point: I am not particularly a fan of Manny Pacquiao. He's one of the greatest athletes in one of my three favorite sports, so I have a deep appreciation for his in-ring performances.
But that's essentially the same thing I would say about Floyd Mayweather.
Moreover, I've scored fights against Pacquiao before, as recently as last November when I had Juan Manuel Marquez beating him.
A lot of fans and writers scored that fight for Marquez. And these would be the same people who are supposedly howling with outrage now.
Just because they love Pac-man so much.
Honestly, given the measly percentage of fans and writers who have come forward trying to defend this debacle, it would probably make more logical sense to ague that this tiny minority is part of a lunatic fringe that unreasonably hates Pacquiao so much that they are desperate to see him lose.
Even though I am not a big fan of Lampley's, I am glad that HBO has given him this show. I am all for additional boxing programming. It's the only reason I buy the premium channels to begin with.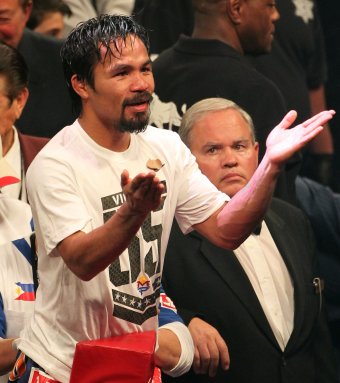 Jeff Bottari/Getty Images
But watching this episode was tough for me. I felt like I was pushing through a hard workout at the gym that I didn't really want to be there for.
Lampley directly addressed the sort of fallout these kind of decisions create: more fans swearing off the sport. HBO has made significant investments in the sport, and I can understand them being concerned about the sport becoming even more marginalized.
So I understand why there was so much spin going on here.
I am a big fan of Max Kellerman's. But even his segment was slightly hard for me to take.
Kellerman said that when he re-watched the fight he came up with seven rounds that were clearly Pacquiao's, one that was clearly Bradley's and four that were close enough to be toss-ups.
I think more rounds were clearly Pacquiao's, but that still sounds like an honest, reasonable assessment to me. And Kellerman's opinion was that even with Bradley getting the benefit of the doubt in every close round (statistically unlikely), he still couldn't see any way possible Bradley deserved to win.
Kellerman went on to state that he couldn't think of any possible motive for anybody stealing the decision from Pacquiao, so he had to chalk it up to being just a kind of a fluke or something.
Now Max Kellerman knows way more about what is going on in boxing than I do. So that makes it hard for me to believe he can't think of any motives anybody could have for robbing Pacquiao like this.
Because I can think of some myself.
Ultimately, the sport of boxing will go on. Hardcore fans realize that, for better or worse, these kind of decisions are just part of the sport.
As shocking as it was, this probably wasn't the very worst decision in the history of the sport. It was arguably not even the worst decision this year.
But I'll keep watching. I agree with what I heard veteran journalist Michael Katz say during his Hall of Fame induction last weekend, that crooked decisions can never destroy the fundamental beauty and nobility of the competition in the ring.
Just the same, I could do without transparently pathetic arguments designed to justify those decisions.
This article is
What is the duplicate article?
Why is this article offensive?
Where is this article plagiarized from?
Why is this article poorly edited?